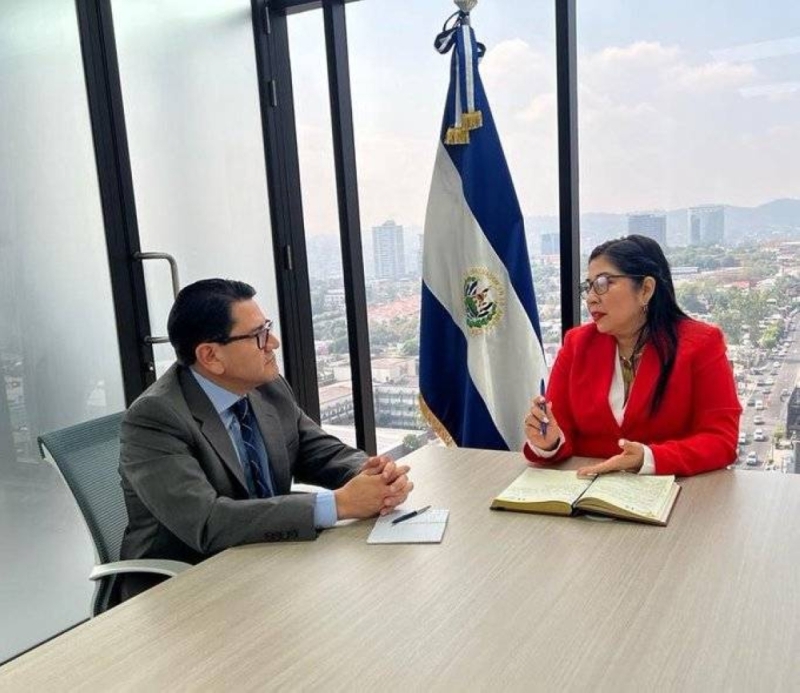 Juan Carlos Roncal, President of the Organization of American States (OAS) and Dora de Barajona, President of the Supreme Electoral Court (TSE). / Tokyo Stock Exchange.
The head of the Organization of American States (OAS), Juan Carlos Roncal, met on Tuesday with Dora de Barajona, president of the Supreme Electoral Court (TSE), who briefly reported on the meeting.
The chairman of the Election Commission explained to OAS representatives on Twitter the "importance of strengthening the cooperative relationship" between the TSE and OAS on "technical assistance and monitoring issues" for the 2024 general election. showed that.
"It was an opportune opportunity to explain to Dr. Roncal the importance of strengthening collaboration between @TSEElSalvador and @OEA_OFICIAL on the issue of #Elections2024sv technical assistance and oversight to strengthen El Salvador's democracy." said the TSE holder.
At the meeting, according to the president, they discussed "developing the process of the upcoming elections." The organization and his TSE magistrate hope El Salvador's 2024 elections will see widespread election monitoring, both nationally and internationally. Justice Noel Orellana assured that it would be "wrong for an interview to be conducted without accompanying the TSE" at such a "transcendental event".
Elections in El Salvador are held on different dates as follows:
Electronic voting abroad: From Saturday 6 January 2024 to 4 February 2024 (30 days before 4 February according to the Special Law on Foreign Suffrage).

President and Legislative Assembly: Sunday, February 4, 2024.

Council and City Council: March 5, 2024.
The Tokyo Stock Exchange does not yet have a budget for the general election. The budget project is due to be approved by the Legislative Assembly this Wednesday. The cuts to the state budget were submitted to the Legislative Assembly's Finance Committee on Monday.
The Tokyo Stock Exchange has not yet hired a company to administer electronic voting, which will begin in January 2024 for Salvadorans abroad. To Electoral Rolls and External Final Scrutiny. Originally, the budget for the audit was $7 million.
For national elections, TSE has allocated $33,507 for administrative, financial and computer audits conducted by TSE itself. Prior to the reduction, it was allocated $93,125.
Charged with the Election Observation Commission (JVE) for control and oversight, the post-reduction quota amounted to $815,557, an amount the JVE's opposition considers inadequate.

Source: Diario Elmundo