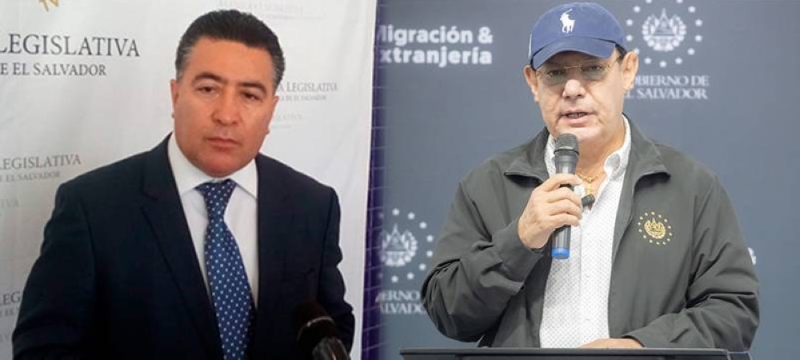 Rene Portillo Cuadra, head of the arena faction, with immigration director Ricardo Cucarón on the right.
Immigration Director Ricardo Cucarón said on his Twitter account that he expects the opposition, with or without a coalition, to lose the 2024 presidential election.
"The phrase will sound familiar to some on the frontlines and in the arena," the official began. Then, in a certain word, he predicted the opponent's defeat.

This phrase will resonate in the front and part of the arena.
If you want, clench your fists, make a ball, unite, unite, do what you want. But Belguada doesn't take it away.
Years ago someone said something similar, but you couldn't have imagined it fitting like a glove today.

— Ricardo Cucalon (@RCucalon_) May 23, 2023
After a journalistic publication about the opposition's sole presidential candidate, Republic President Naib Bukele declared that the Nationalist-Republican Alliance (Arena) and (FMLN) had completed the coalition, although it was denied by both parties.
Arena leader Rene Portillo Cuadra shared photos of Cucarón when he attended various events in the arena with Adolfo Torres, saying, "You didn't learn this phrase when you were from the arena. I imagine," he wrote to Cucharon.

The immigration director replied that he hadn't learned it, but that it "became a boom when it was shown on TV", telling Portillo Cuadra that "at the time" the lieutenant was "dirting the walls in support of the FMLN". ' he hinted. "I don't know, I'll ask," he replied.

I didn't learn it, but it appeared on TV and became a boom, so I'm sure they didn't like it.
Was it because you were dirtying the wall in favor of FMLN at the time?
I don't understand, I ask.

— Ricardo Cucalon (@RCucalon_) May 24, 2023
Opposition parties have ensured that they are in talks with civil society groups to find a candidate to replace Mr. Naib Bukre's de facto presidential candidate for the presidency of the republic.
Ricardo Cucarón appointed the Directorate General of Migration and Immigration (DGME), responsible for transmitting these data to the Supreme Electoral Court (TSE) for the issuance of passports and the creation of a new Electoral Register (Revel) for electronic voting. command. This will be the basis for El Salvadorans abroad to elect their President and Vice-President by remote or face-to-face electronic voting from 6 January to 4 February 2024. Migration has already delivered his passport data to TSE twice.


Source: Diario Elmundo