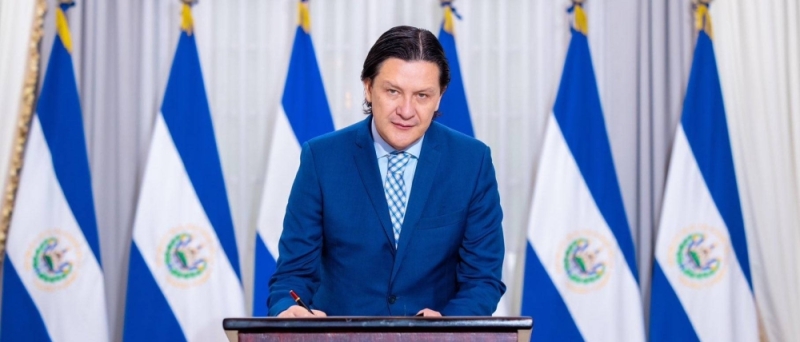 Andrés Alberto Guzman Caballero, a Colombian, has been appointed as El Salvador's new Human Rights Commissioner. / President of the Republic.
Opposition lawmakers today criticized President Naive Bukele's appointment of Colombian Andrés Alberto Guzman Caballero as Commissioner for Human Rights and Freedom of Expression, calling them "hypocritical" and "disappointing" It was rated.
The appointment was announced on Wednesday by the House of Representatives Twitter account, highlighting that he serves as a representative advocate for rights and freedom of expression in virtual environments at the Office of the Colombian Ombudsman.
"It's so ironic, even hypocritical, that the same day a journalist is violated, he leaves the appointment and walks away, as if to say he will act to protect the human rights of the people," Annabelle said. Mr Berosso said. , Farabundo Marti National Liberation Front (FMLN).
Veloso said the country had human rights activists who "could very well have been mandated for this task" but none had been appointed, leaving the new position functional in El Salvador. It criticized that it was compared with the defunct International Committee of Criminal Immunity of (Cichies). After reporting an investigation into possible misconduct in the current government. He added that the Human Rights Defense Department (PDDH) does not look in the same direction as the victims of human rights violations.
If he does his job and does what he is supposed to do, he will definitely get fired. It seems like all the government wants is to wash its face and pretend to protect the human rights of its citizens, when it really does. main attacker.
Annabelle Bellosso, Deputy Member of the FMLN.
'Illegal' Constitutional Congress: Let's Go
Deputy MP Claudia Ortiz from Vamos believed that the first body charged with protecting human rights was the Constitutional Court of the Supreme Court of Justice (CSJ), and that there is currently no legal (constitutional) court.
"The first organization to protect the rights of the people from human rights violations by the state is the Constitutional Council, but we do not have a Constitutional Council. said Ortiz.
With a "legal, independent and indomitable" Constitutional Council, "we can talk about human rights and freedom of expression commissioners," the paper said. On the other hand, we are fussing over nothing," he said.
Decide "sorry"
Nuestro Tiempo Deputy Councilor John Wright Sol said he did not know the profile of Guzmán Caballero, but said, "If you are an expert in human rights and know the realities of our country, you should take the position in the current situation. will be considered very seriously," he said. "
"It's a shame because I know a lot of Salvadorans who could fill the position," he said, adding that he questioned why a foreigner was hired for the position.
Source: Diario Elmundo