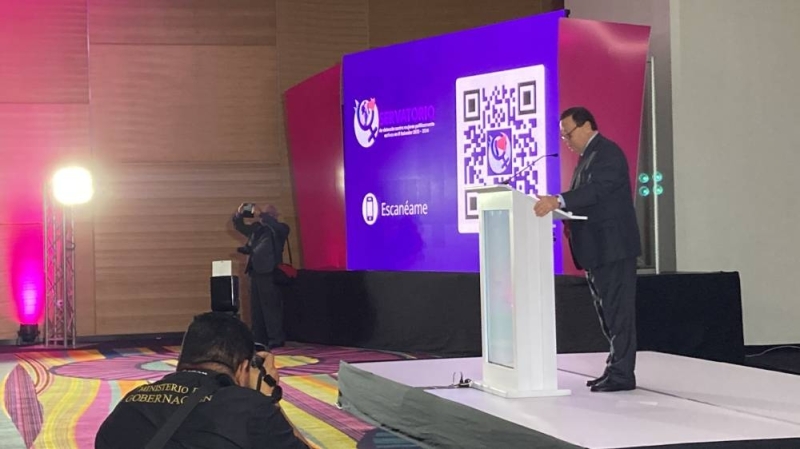 US Ambassador to El Salvador William Duncan stressed that there were almost 1,000 incidents of political violence during the 2021 election season.
The Observatory of Violence against Politically Active Women in El Salvador before the 2024 election cycle, announced today by the National Democratic Institute (NDI), will collect evidence of incidents and provide assistance to female victims. The aims.
The NDI Institute, with the support of the United States Agency for International Development (USAID), in partnership with UN Women and the Association of Congressional Mayors of the Redeemer (Andryusas), made this presentation as part of the Consortium for Strengthening Political and Electoral Processes (CEPPS). ).
US Ambassador William Duncan said monitoring the 2021 election cycle recorded 939 violent incidents, and he is almost certain the figure "understates the true scale of the problem." said. He said incidents could range from harassment, intimidation and emotional abuse to physical and sexual assault. Duncan said she was happy to work together to promote women's safety so that they can participate fully in politics without fear.
While the exercise of political rights for both men and women is essential to the development of any country, violence limits women's ability to rise to leadership positions in political parties and governments, women's participation in all spheres interfere with
William Duncan, US Ambassador to El Salvador.
The diplomat assured El Salvador that it was working on jobs, but explained that "we will see big changes" in El Salvador once spaces are opened and gender violence is fought.
For the 2021 Elections, the Observatory began on December 27, 2020 and conducted pre-election, during, and post-election monitoring through April 30, 2021. What were the results?
A survey of 20% of municipalities, or 49 out of 262 municipalities, counted 90 incidents of violence on election day, including 55 incidents of violence against female candidates and 55 incidents of violence against women on the electoral commission. There were 24 incidents, 12 incidents of violence against female voters, and 3 incidents of violence against female voters. Demonstrated journalism function. Ninety percent of the incidents were expressions or manifestations of symbolic, psychological or emotional violence.
Monitoring in 2021 recorded no murders. Also, Juan de Dios Tejada Portillo and María Gloria Rogel de Lopez died in an attack on 31 January 2021 against two extremists of the Farabundo Martí National Liberation Front (FMLN). However, no consideration was given to incidents involving state officials. .
The exclusion is due to the fact that it was a pilot exercise, according to Eduardo Nunez, director of NDI El Salvador. "Now that we're expanding our surveillance, we're going to see women politically exposed at the local level," he said.
There will be an opportunity to analyze the data and tell governments that this is real, this is a problem and what can be done to ensure women's rights.
Ms. Miriam Bandes, UN Women representative.
A democracy that does not adequately represent women's policies is not a healthy and strong democracy, and an election that does not create an equal footing is not a fair election. "
Eduardo Nuñez, Director of NDI El Salvador.
Cecia Rivas, president of the women's political party Vamos, assured that there is a selective justice system to investigate cases of violence against public officials. "If officials pay attention when they are in power, violence is becoming the norm," he said.
"This is a social and national effort that should show, in particular, that officials are not perpetrators, but allies in the fight against violence against women. We see what for as "Are we going to face off?" asked the prospective San Salvador delegate candidate, also of the Vamos Party.
Santa Tecla City Councilman Wendy Alfaro of the Vamos Party and Women's State Secretary Cecia Rivas said there had been attacks and symbolic violence. "We are facing a very big challenge today," said Wendy Alfaro.
Source: Diario Elmundo