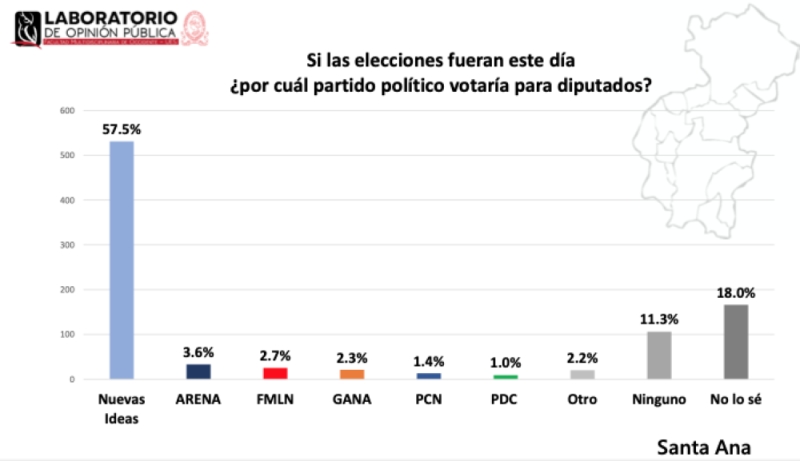 According to a UES survey, nearly six out of ten Santa Necos will vote for the Nuevas Ideas.
According to the Public Opinion Research Institute's "Evaluation of Public Management in Western El Salvador" survey, 57.5% of the population of Santa Ana, 46.8% of Huachapán and 90.4% of Sonsonate said they would vote for the legislative assembly's new idea. Researchers from the University of El Salvador (UES) Western Interdisciplinary Department announced this Friday.
in Santa Ana, The Nuevas Ideas has 57.5%, followed by the Nationalist Republican League (Arena) with 3.6% and the Farabundo Marti National Liberation Front (FMLN) with 2.7%. Grand Coalition for National Unity (Ghana) 2.3%, National Concert Party (PCN) 1.4%. and the Christian Democratic Party (PDC) at 1%. The rest of the party are not shown. In Santa Ana, 11.3% of Westerners voted nowhere, and 18% said they were "not sure."
The Santanecos family consists of Juan Carlos Mendoza (11.6%), Lorena Fuentes (10.8%), Jorge Castro (10%), Felipe Interioro (7.9%), Evelyn Merlos (7.1%) and Giovanni Zardagna. (7%) said they would vote again. % ) and Javier Palomo (4.3%).
In Ahuachapan, New Ideas 46.8%, Arena 3.1%. PCNs, 3%. FMLN, 1.9%. Win, 1.4%. PDC, 0.3%. 17.1% answered "nothing" and 24.9% answered "don't know".
13.9% said they would vote again for Serafin Orantes (PCN), 9.7% for Estuardo Rodriguez (Nuevas Ideas), 8.8% for Ricardo Godoy (Arena) and 6.9% for Luis Figueroa (Nuevas Ideas). 40.8% answered "No" and 19.9% ​​answered "Don't know".
In the Sonsonate Nuevas Ideas received 90.4% of vote intent. Sand is 2.8%. Win, 2.4%. FMLN, 0.9%. PCNs, 0.4%. PDC, 0.2%. 22.6% said they would vote for Raúl Chamagua, 7.5% for Hector Salé, 5.8% for Samuel Martinez, 5.7% for Mauricio Ortiz, 1.7% for Marta Pineda and 0.6% for Silvia Ostruga. 35.5% said they would not vote for anyone and 20.6% were unsure who they would vote for.
The survey was conducted from May 1 to 6, 2023, with a sample of 1,022 in Santa Ana, 643 in Ahuachapan, and 530 in Sonsonate, with a confidence level of 97% and an error of 2.4%.
And what about the mayor?
The survey also asked about their intentions to vote for incumbent mayors, with some having a lot of support and others having zero support. However, when the sample size is accompanied by departmental representativeness, municipality is less representative.
Results were highly variable. Santa Anna achieved 71% of vote intentions, while Chalchuapa achieved 3%. In San Julian, he won 82% of the vote. and 23% in Isarco. San Lorenzo has achieved 81%, but in Concepcion de Ataco the current mayor will only achieve 4%.
According to a UES survey, Sonsonate is the province most willing to vote for Nuevas Idea in the West.
However, according to statistical measurements, the Nuevas Ideas will vote for less than half of the Huachapanecos.
According to a UES survey, nearly six out of ten Santa Necos will vote for the Nuevas Ideas.
Source: Diario Elmundo