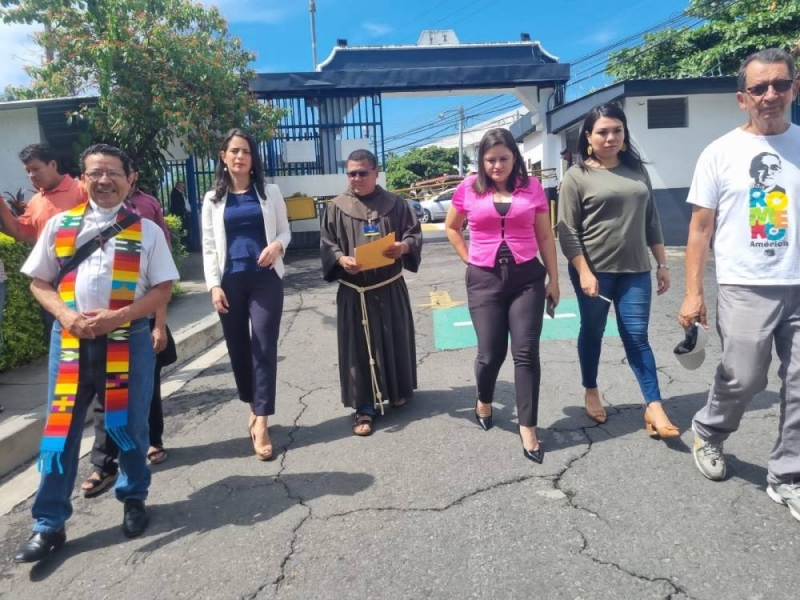 Lutheran pastor Santiago Rodríguez, a member of Caminata, and other environmental activists were greeted by MPs from Vamos, FMLN, and Nuestro Tiempo. / Jessica Guzman
Members of the XXIII Ecological Walk have submitted a letter to the Council of the Legislative Assembly urging it to resume consideration of various bills related to food security, water, environmental protection, compliance with the ban on metal mining, and disaster mitigation. requested the members of parliament.
In May 2021, members of the current parliament's environment committee archived all of their predecessor's files.
What projects do environmentalists hope to revive in the Legislative Assembly?
• Development and discussion of proposed climate change legislation.
• Development and discussion of the Food Security and Sovereignty Bill.
• Amendment of the Civil Protection, Disaster Prevention and Mitigation Act.
• Development and discussion of legislation on the drinking water and sanitation sub-sector.
• That the ban on metal mining achieved through the 2017 Ecological Walk be respected and that this ban on metal mining be elevated to constitutional status.
Lutheran pastor Santiago Rodríguez, a member of Walk, recalled that at the inception of the current Congress, "legal frameworks for environmental issues, water, food, risks and climate change issues were already on the table." The Parliamentary Legislature decided to "clean its tables and send all legal frameworks to the archives."
"We believe they did it to start over again…but we hope the board will refer our request to the environmental committee," he explained.
In the letter, they said: "Despite the fact that environmental problems continue to grow, the petitions and proposals submitted have been discussed, taken up and enforced by the responsible authorities in the last four operations. "The law is currently being implemented." At the national level, they blatantly claim that the state is violating the law without taking action.
Members of the XXIII Ecological Walk were greeted by Claudia Ortiz, deputy councilor of Vamos, who said, "The environment committee has not met for four months." She noted that he needs to listen to the social sector and "return to food, agriculture, climate attacks and water issues as human rights for all Salvadorans." Mr. Farabundo Martí of National Liberation and the Nuestro Tiempo Party.
"We join this initiative of the Walk, which has been working for 23 years to make environmental issues visible, and to demand that states promote public policy, in this case legislative assemblies to enact legislation aimed at preserving ecosystems. and the approval of the ordinance," Argueta said. . The Lutheran pastor reported that he would submit the letter to the Ministry of the Environment and the Ministry of Agriculture and Rural Affairs.
The letter from Ecological Walk was addressed to the Board of Directors of the Legislative Assembly. / Jessica Guzman
Source: Diario Elmundo