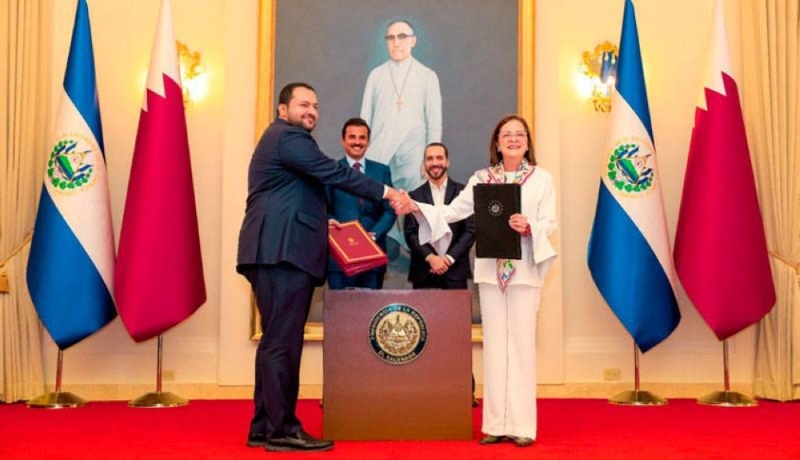 The agreement was signed by the foreign ministers in the presence of the leaders of Qatar and El Salvador. / Presidency.
Qatar and El Salvador signed an agreement on Wednesday on legal and security issues, agriculture, livestock, biotechnology, health and medicine, the President's Office reported through the Press Office.
The agreement or memorandum of understanding has not been made public, but it was signed by El Salvador's Foreign Minister Alexandra Hill and Qatari Minister of Foreign Affairs Mohammed bin Abdulaziz bin Al-Khraifi.
We mainly talk about different projects and common ideas. I would like to commend him for his work, especially on security issues. "
Tamim bin Hamad Al Thani
emir of qatar
Sheikh Tamim bin Hamad Al Thani, accompanied by President Naib Bukele, will greet Daniel Alvarez, President of CEL and Director General of Energy, Hydrocarbons and Mines. / Capres.
The government said Wednesday's official visit by Qatari Emir Sheikh Tamim bin Hamad Al Thani was a "response to an invitation" from El Salvador's President Naib Bukele in 2019.
The government reported that it had received donations of medical equipment and supplies worth more than $500,000 from the State of Qatar.
Suggestions are transportation, ports and airports.
The secretariat said the government had "proposed investment projects through the Ministry of Foreign Affairs and other agencies" before the meeting. He promised that his visit would delve into "proposals for joint work" in passenger and cargo transport, ports and airports, and mass passenger transport.
During their official visit yesterday, the leaders of both countries sang their national anthems in front of soldiers. / Capres.
"El Salvador welcomes the official visit of His Highness Sheikh Tamim bin Hamad Al Thani to strengthen relations between the two countries."
naive boucle
president of el salvador
Representatives from both countries also aim to "expand opportunities" for science and technology cooperation and funding in early childhood, education, culture, sports and development, according to official information.
The Salvadoran delegation included Foreign Minister Alexandra Hill, Communications Secretary Sofia Medina, Commerce Secretary Miguel Cattan, and Justice Minister Gustavo Villatoro.
Source: Diario Elmundo