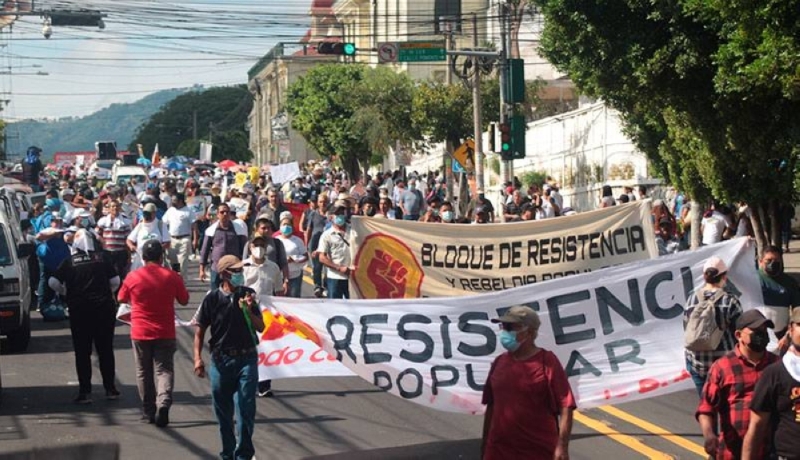 Opposition parties and groups will march against the president's re-election and the high cost of living. /DEM.
Militants from the opposition parties Nuestro Tiempo and Farabundo Martí National Liberation Front (FMLN) and groups will march this Friday to the Civic Plaza in San Salvador's historic center to express their dissatisfaction with the party seeking re-election as president. . , Naib Boucre.
Members of the Salvadoran Peace Alliance told Diario El Mundo that they would gather at 9 a.m. in front of the Rosales Hospital and then in front of the Salvadoran Institute of Social Security (ISSS) General Hospital to join Alameda Juan. Head to Pablo II and then Avenida España and end at Plaza Civica or Plaza Heraldo Barrios. Initially, they were scheduled to meet at Cuscatlan Park.
Representatives from the veterans' sector, the Movement of Victims of the Regime (Mobil), the agricultural sector, land defenders, and members of the National Opposition Union (Uno) will take part in the march. The motto of the march is "No to re-election, not for another day," said Jose Melara, the coalition coordinator.
Francisco Omar Parada, a member of the Rebellious Block of Popular Resistance (BRP), accused the government of "arbitrary capture of innocent people within the framework of the emergency regime", "political persecution of opposition people" and "reporting". Persecution of the Department."
In addition, they will oppose the high cost of the basic basket, cuts to local governments and councillors. and changes to the method of allocating seats in the Legislative Assembly.
This is the route the march will take
They meet in front of the Rosales Hospital, move along 25 Avenida Norte, then go to the ISSS General Hospital, take Alameda Juan Pablo II, enter Avenida España (by the old Majestic cinema) and head in the direction of Plaza Cívica. Proceed to
Source: Diario Elmundo