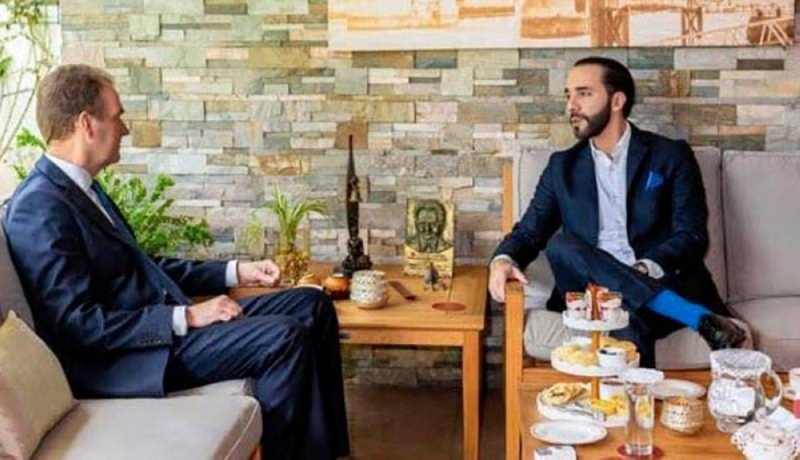 Ambassador David Elliott met with President Bouclet yesterday. / embassy.
The British Ambassador to El Salvador, David Lelliot, met with the President of the Republic, Nayib Boucle, in his capacity as presidential candidate for the February 4, 2024 elections.
Mr Lelliott has scheduled a series of meetings to "hear the views of all political parties" and ensure the "fairest and freest elections possible".
Regarding his meeting with Bukele, the diplomat said: "It was an honor to meet the president and learn about his policies and priorities as part of our meetings with political parties and candidates."
Ambassador Lelliot made it clear that he does not support any particular candidate or political party.
On September 13, the diplomat reported meeting with Salvadoran Independence Party (PAIS) presidential candidates José Cardoza and Irma Sasa to learn about "their policies and priorities."
2024 Election.
The meeting between diplomats and candidates will take place in the framework of next year's elections, in which El Salvador's people will elect 622 officials to popularly elected positions.
The Supreme Electoral Court (TSE) has decided to hold the elections on February 4, during the two-day presidential and parliamentary elections. City Council and Mid-America Congress on March 3rd.
Re-elected.
The Constitutional Council, appointed on May 1, 2021, issued a resolution in September of the same year supporting the president's immediate re-election. Almost a year later, on September 15, 2022, Bukele announced his intention to seek re-election as president.
In July 2023, he registered as a presidential candidate for Nuevas Ideas and was approved. According to the election calendar, candidate registration will begin on September 7th and end on October 26th.
The British ambassador has not commented on immediate re-election.
In September 2021, the U.S. Embassy's Chargé d'Affaires Jean Manez issued a condemnation of the resolution.

Source: Diario Elmundo