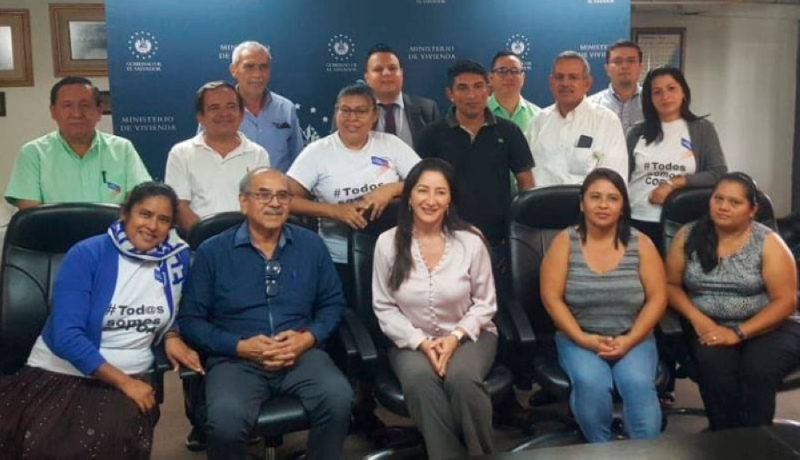 Housing Minister Michel Sol and 10 leaders and Kofoa's legal team are pushing for the recently approved regulatory amendments. / Kofoa
After delivering two letters addressed to the President of the Republic, Nayib Bukele, members of the Community of Faith and Action (Kofor) met with the Minister of Housing, Michel Sol, regarding possible amendments to the recently approved zoning law.
Cofoa Director Alberto Velasquez reported that the agreement of that meeting held on September 5 was that the Ministry of Housing would listen to their views at a new meeting.
"That was our agreement. They were positive and open to continuing the dialogue with us, and there was very strong political pressure, and we were applying pressure through the people," he said. .
Directors of Kofoa, an organization representing 69 subdivisions and 7,500 households, cited deficiencies or weaknesses in the Special Law on Regularization of Residential Subdivisions and Plots, which was approved on July 26 without consulting Kofoa. pointed out.
Although this law is still being written and framed, it does not offer a solution to the community, at least not in the medium term. "
Emerson Moreno
Kofoa Legal
Which void?
Under the new law, those in the industrial, commercial and service sectors will be subject to a fine of up to a minimum monthly salary of $200 if they fail to undergo regularization procedures within the statutory period.
However, due to weak deadlines, lack of sanctions and anti-bureaucratic guidance, families do not always receive certificates for the lots they paid for, Kofoa points out.
Emerson Moreno, a member of Kofoa's legal team, said that while the law provides for stages of regularization, it does not offer an alternative to landowners who have been waiting for title deeds for decades. He explained. He explained that there are cases in which "the owner of the land sells it to someone else and dies without giving him the title," and cases in which "his wife and children do not want to take over the management."
We will never end Kofoa's fight for her human rights and our work in dialogue with the authorities to make things right. "
Alberto Velazquez
Director of Kofoa
The problem is that although the law states that heirs must manage regularization, heirs must first acknowledge and accept the inheritance and may not necessarily choose to do so. he said. "The law presupposes that people are responsible or in a position close to it," he said, pointing to the lack of legal pressure tools.
Another problem pointed out by Kofoa in Zacatecolca, La Paz is the lack of guides for regularizing plots in the National Registration Center (CNR).
Kofoa's director said they had no intention of stopping their fight, and the September 5 meeting was requested by the minister after arriving at the presidential palace, where Kofoa had collected more than 12,000 signatures. He explained that he asked President Bukele to intervene to correct the policy. Legislate the Directorate General of Municipal Affairs (DOM) to manage 900 projects.
Cofoa's observations about the subdivision regularization process
1.- Responsibilities of heirs
The problem arises when the land is recognized as inherited and the heirs have to complete the necessary procedures.
2.- Special Fee
Administer local government boards or national registration centers (CNRs) to address specific issues of landowners.
3.- Lack of written guidelines in CNR
Mr. Kofoa asserted that he warned that the CNR does not have any written guidelines for regularization of land developers.
Source: Diario Elmundo