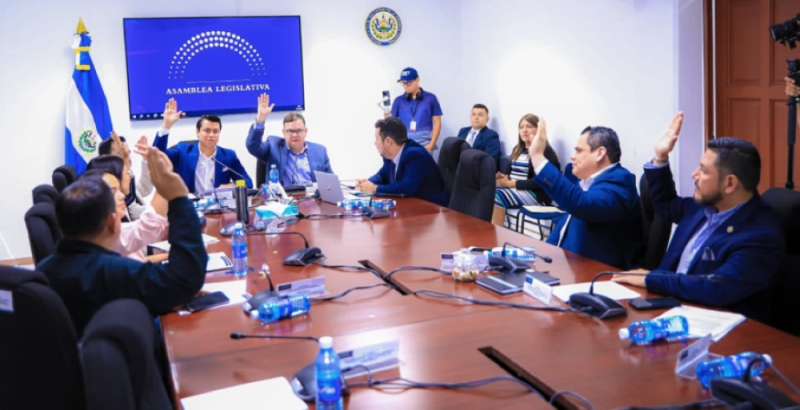 The Legislative Assembly's Finance Committee approved a favorable opinion on the new drug tariff law. / Legislative Assembly.
The Finance Committee of the Legislative Assembly approved on Monday this week a favorable opinion on the special law on prices of services of the National Directorate of Medicines (DNM). The law would increase most of the fees the agency charges drug companies.
The fee increase will result in DNM collecting an additional $4.6 million in the first year, $5.6 million in the second year, and $7.1 million starting in 2026.
National Pharmaceutical Director General Noe García Iraheta adjusted some of the tax rates proposed by Health Minister Francisco Alabi after receiving input from pharmaceutical companies. And MPs fully accepted the new DNM proposal.
El Salvador's Chemical and Pharmaceutical Industry Association (Inquifar) and the Salvadoran American Chamber of Commerce (Amcham) also called for a 12-month period for the tax rate to be implemented and for it to be phased in. Lawmakers approved an expiration date of January 2024, as proposed by DNM.
The law also establishes fees for registration services for chemical products used in medical devices and other health technology, pharmaceutical, cosmetic, sanitary, equipment, and controlled substance industries.
Similarly, DNM charges to perform laboratory analyzes for quality control, import/export permits, advertising or promotional permits, regulatory product approvals, clinical trial evaluations, registration of facilities including pharmacies, audits, etc. Rates are also regulated. service.

pharmaceuticals

service

current rate

Suggested rate

Approval rate

Biological, biotech, vaccines and innovative health registries

$352-$536

$3,000

$1,500

Generic Bioequivalence Health Registry

$352-$536

$3,000

$1,000

Other medicines

400 dollars

600 dollars

600 dollars

Complex modifications: evaluation of in vivo or in vitro bioavailability and bioequivalence studies

$25-$250

$420

$420

Changes in therapeutic indications or co-marketing approvals

$25-$250

$420

$120

Moderate complexity changes

$25-$250

$120

$120

Changes in Experts or Additional Representatives with Records Affected by Changes

$25-$250

$0.60

$0.60

Other changes to the registry

$25-$250

$48

$48

Annual renewal of marketing authorization

$50-$75

$24

$45

Annual maintenance fee for market monitoring

not exist

$120

100 dollars

Release or exemption of batches of biological products

not exist

$96

100 dollars
cosmetics and hygiene products

service

current rate

Suggested rate

Approval rate

Obtain health registration, manufacturing and sales approval, and renewal

$75 and $25 updates

$240

$240

Changes in Expert or Representative 1 Records

$25

$48

$48

Additional charges for registration due to changes

$25

$0.60

$0.60

Other later changes

$25

$48

$48

Annual renewal of authorization or marketing

$25

$12

$25

Annual maintenance fee for market monitoring (registered products sold domestically)

not exist

$48

$35
Source: Diario Elmundo