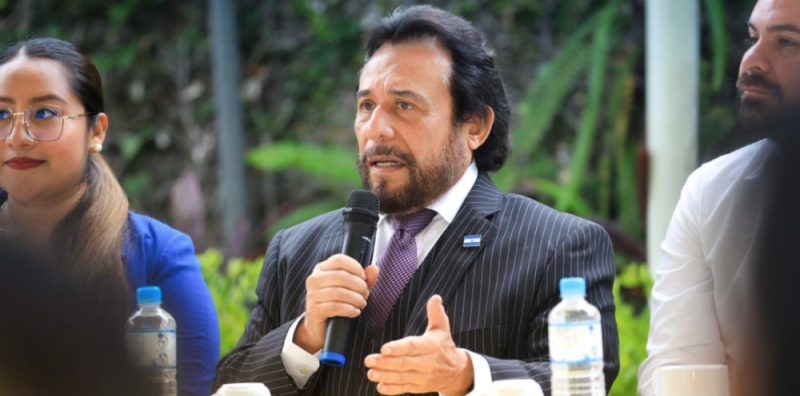 Vice President of the Republic Félix Ulloa pointed out the "false contradictions" about the relationship between the United States and El Salvador "created" by the media. /Vice Presidency.
Vice President of the Republic Félix Ulloa declared this Tuesday that relations between El Salvador and the United States are in "the best condition" and that many projects that were "in progress" are now "implemented." The official believed there were "false contradictions" "manufactured" by the media.
"We have ameliorated the differences that existed initially, but it was much more in the media than in fact, because the relationship between the two governments, the two administrations, was never affected," he said. the president said.
Ulloa criticized news outlets for their views on tensions between El Salvador and the United States. "What happens is that there are always tabloids and sectarian news outlets that try to stir up these controversies through the media. They start publishing news in defamatory and divisive terms and falsely "But now the relationship is at its best," he said.
The vice president asserted that the administration of William Duncan, the U.S. ambassador to El Salvador, "allowed the execution of many ongoing projects."
"We are not only seeing how USAID projects are unfolding, the improved relationship between the Biden administration and President Boucle, and the fact that agencies like the Peace Corps have a good relationship with the Biden administration; "We are witness to the fact that good relations exist. It is a favorable environment for them to return to," the source said.
Relations between the United States and El Salvador have deteriorated since the Constitutional Council was dissolved on May 1, 2021. On this day, the Legislative Assembly was inaugurated on the first day of office, replacing the Congress whose term ends in July 2027. Jerez, Ángel Pérez Chacon, former presidential legal advisor. Luis Javier Suárez Magaña, former intelligence officer of the FMLN and the state agency of the Nuevas Idea government. Judges Elsie Dueñas Lobos and Héctor Nahum Martínez ruled that the possibility of immediate presidential re-election does not violate the constitution of the republic.
The United States condemns the Constitutional Council resolution issued on September 3, 2021. The announcement was made by Gene Maness, U.S. Ambassador to El Salvador. "The weakening of judicial independence is a sign of democratic decline in El Salvador. This decline in El Salvador undermines the bilateral relationship between the United States and El Salvador," he said at the time.
The US State Department then added Salvadoran officials to Engel's list starting in July 2021, including new judges at the Constitutional Council and officials close to Bukele. However, the latest version of Engel's list included former presidents Mauricio Funes and Salvador Sánchez Cerén, although the previous version did not remove them.

Source: Diario Elmundo