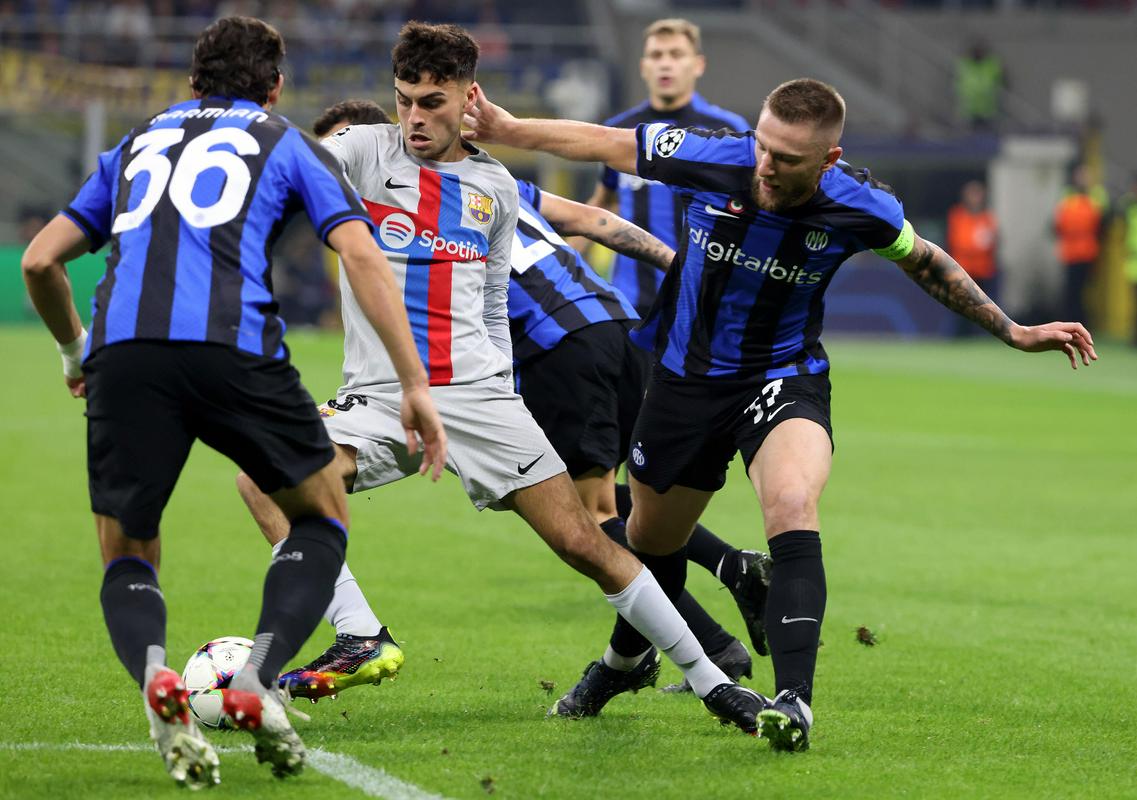 Napoli lead in Amsterdam
In the 3rd round of the Champions League, Bayern players defeated Viktoria Plzen 5-0 and won for the third time without conceding a goal. The derby of the evening in the same group is in Milan, where Inter and Barcelona compete.
The hosts lead 1:0 at San Siro. In the second minute of extra time in the first half, he shook the net Hakan Calhanoglu. The Turk, who closed at the beginning of the match, accurately measured from about 20 meters. He shot on the ground near the right post of Barca goalkeeper Marc-Andre ter Stegen.
The Catalans had much more time with the ball (33:67 percent), but they did not create a real opportunity in the opening 45 minutes. In the second half, they hit the post (Ousmane Dembele) and in the 67th minute they scored a goal through Pedri, but the Slovenian referee Slavko Vinčić annulled. After Dembele's breakthrough and cross from the right, the home goalkeeper Andre Onana was too short before Pedri sent it into the net, but according to Vinčić, it hit the arm of Ansu Fati.
Jan Oblak with Atletico Madrid visiting the leading team of Group B, Club Brugge. The result is currently 2:0 for the Belgians.
Champions League, 3rd round
Group A, today at 21:00:AJAX – NAPOLI 1:6 (1:3) Kudus 9.; Raspadori 18th, 47th, Di Lorenzo 33rd, Zielinski 45th, Kvarachelia 63rd, Simeone 81st.
LIVERPOOL – RANGERS 2:0 (1:0) Alexander-Arnold 7., Salah 52./11-m
---
Group B, at 21:00:CLUB BRUGGE – ATLETICO MADRID 2:0 (1:0) Sowah 36., Jutgla 62. Griezmann (Atletico Madrid) shot the penalty kick in the 76th minute.cloud (Atletico Madrid) started the match.
PORTO – BAYER LEVERKUSEN 2:0 (0:0) Zaidu 69., Galeno 87.
---
Group C:BAYERN – VIKTORIA PLZEN 5:0 (3:0) Sane 7., 51., Gnabry 13., Mane 21., Choupo-Moting 59.
At 21:00:INTER – BARCELONA 1:0 (1:0) Calhanoglu 45.+2
Handanović (Inter) is on the bench.
Inter: Onana, Skriniar, de Vrij, Bastoni, Darmian, Barella, Calhanoglu, Mhitarjan, Dimarco, Correa, Martinez.
Barcelona: and Stegen, Sergi Roberto, Christensen, E. Garcia, Alonso, Gavi, Busquets, Pedri, Dembele, Raphinha, Lewandowski.
Judge: Slavko Vinčić (Slovenia)
---
Group D:MARSEILLE – SPORTING LISBON 4:1 (3:1) Sanchez 13., Harit 16., Balerdi 28., Mbemba 84.; Trincao 1.RK: Adan 23./Sporting
The match was delayed by 20 minutes due to the late arrival of Sporting's bus to the stadium due to traffic congestion.
At 21:00:EINTRACHT – TOTTENHAM 0:0 (0:0)
Source: Rtvslo