Aston Villa was eliminated from the fourth division
Manchester City players barely beat Chelsea away from home in the English Championship during the week, this time the two giants of English football met in the 3rd round of the FA-Cup, and at the Etihad they convincingly beat the hosts 4-0.
Riyad Mahrez, who decided the 19th round derby on Thursday, was also the first to score this time, scoring a masterly free kick in the 23rd minute. Seven minutes later it is Kai Havertz played with his hand in his own penalty area, and from 11 meters he was an accurate world champion Julian Alvarez.
The hosts scored a third goal before the break, after Kyle Walker's pass, he was among the scorers. Phil Foden. Five minutes before the end of regular time, Kalidou Koulibaly brought down Foden, and this time Mahrez successfully executed the penalty.
The fans chanted the name of the previous coachThe away fans chanted the previous coach's name out of anger by Thomas Tüchlwhich was fired by new owner Todd Boehly in September.
In the next round (bržkone), City will face another London giant again, as the draw gave them the better of the match between Oxford and Arsenal. This match will be played on Monday.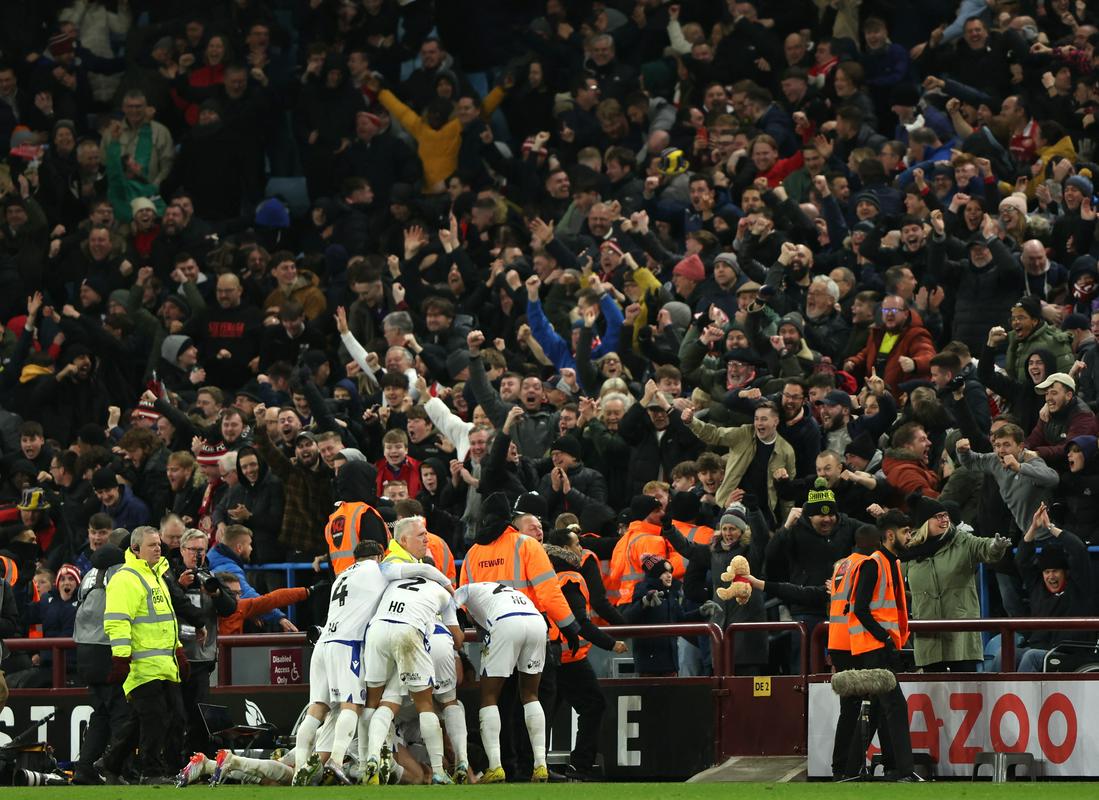 Aston Villa was eliminated from the fourth divisionA real surprise was provided by the fourth division team Stevenage, who eliminated Aston Villa 1:0 away from home. The hosts led most of the match, in the first half it was accurate Morgan Sanson. Everything got complicated in the 85th minute when Leander Dendoncker committed a foul in his penalty area, for which he received a red card. He took advantage of the penalty Jamie Reid. He completed the turnaround in the first minute of extra time Dean Campbell.
FA Cup, 3rd round, Premier League matches
MANCHESTER UNITED − Everton 3:1 (1:1) Antony 4., Coady 52./ag, Rashford 96./11-m; Coady 14.
Crystal Palace − SOUTHAMPTON 1:2 (1:1) Edward the 14th; Ward Prowse 37th, Armstrong 68th.
Gillingham – LEICESTER 0:1 (0:0)Iheanacho 56.
TOTTENHAM − Portsmouth 1:0 (0:0) Kane 50.
BLACKPOOL − Nottingham Forest 4:1 (1:0) Ekpiteta 17th, Poveda 64th, Hamilton 71st, J. Yates 87th; R. Yates 92.
Bournemouth − BURNLEY 2:4 (1:3)
Hull City − FULHAM 0:2 (0:1)
Middlesbrough − BRIGHTON 1:5 (1:2)
Brentford − WEST HAM 0:1 (0:0) Benrahma 79.
SHEFFIELD WEDNESDAY − Newcastle 2:1 (0:0) Windass 52nd, 65th; Guimaraes 69.
LIVERPOOL – WOLVERHAMPTON * 2:2 (1:1) Nunez 45th, Salah 52nd; Guedes 26th, Hwang 67th.
CARDIFF – LEEDS * 2:2 (2:0) Philogene-Bidace 24., Ojo 31.; Rodrigo 65., Perkins 93. RK: Bagan/Cardiff Rodrigo missed the penalty kick in the 81st minute.* – the second leg will be played
Aston Villa − STEVENAGE 1:2 (1:0) Sanson 33.; Reid 88./11-m, Campbell 91.RK: Dendoncker 85./Aston Villa
MANCHESTER CITY − Chelsea 4:0 (3:0) Mahrez 23., 85./11-m, Alvarez 30., Foden 38.
Monday at 21:00: OXFORD – ARSENAL
4th round, draw (January 27-30)
PRESTON − TOTTENHAMSOUTHMAPTON − BLACKPOOLWREXHAM − SHEFFIELD UNITED DIPSWICH − BURNLEYMANCHESTER UNITED − READINGLUTON TOWN/WIGAN − GRIMSBY TOWNDERBY COUNTY − WEST HAMSTOKE CITY − STEVENAGEBLACKBURN − FOREST GREEN ROVERS/BIRMINGHAM CITYWALSALL − LEICESTER CITYSHEFFIELD WEDNESDAY − FLEETWOOD TOWNMANCHESTER CITY − OXFORD UNITED/ARSENALBRISTOL CITY/SWANSEA − CHESTERFIELD/WEST BROMBRIGHTON − LIVERPOOL/WOLVERHAMPTONFULHAM − SUNDERLANDBOREHAM WOODS/ACCRINGTON − CARDIFF/LEEDS
Source: Rtvslo