Jesenice in the IceHL League – this can only be a positive thing for Slovenian hockey
Tuesday was a very exciting day in Tivoli. Only eleven days after winning the title of national champion, Mitja Šivic resigned. President Miha Butara failed to convince him to change his mind. There are many candidates for the new coach, but foreign strategists dominate.
The 43-year-old Šivic won the double crown with Jeseničani in the 2020/21 season. He was very emotional after the tense fifth game of the final. Already three weeks later, he led the first training session of Olympia. He turned out to be a great professional who is completely dedicated to hockey. Professional from head to toe. He knew the competitors in detail after numerous analyses.
After the bitter defeat at the beginning of January against last-placed Vorarlberg with 0:4, he admitted that the players no longer listen to him. This is certainly not the case for everyone, but some individuals are involved in many other things besides hockey. In such a strong league, only those who have hockey on their minds even in their free time can succeed.
The series of defeats in the IceHL League also had consequences for Šivic, who had enough of everything on Sunday after the match in Beljak. President Butara now has a difficult task, as there are only eleven games left until the end of the regular season. There are only 33 points left, nine points behind Graz, and the two teams will meet on Friday in the Merkur Hall.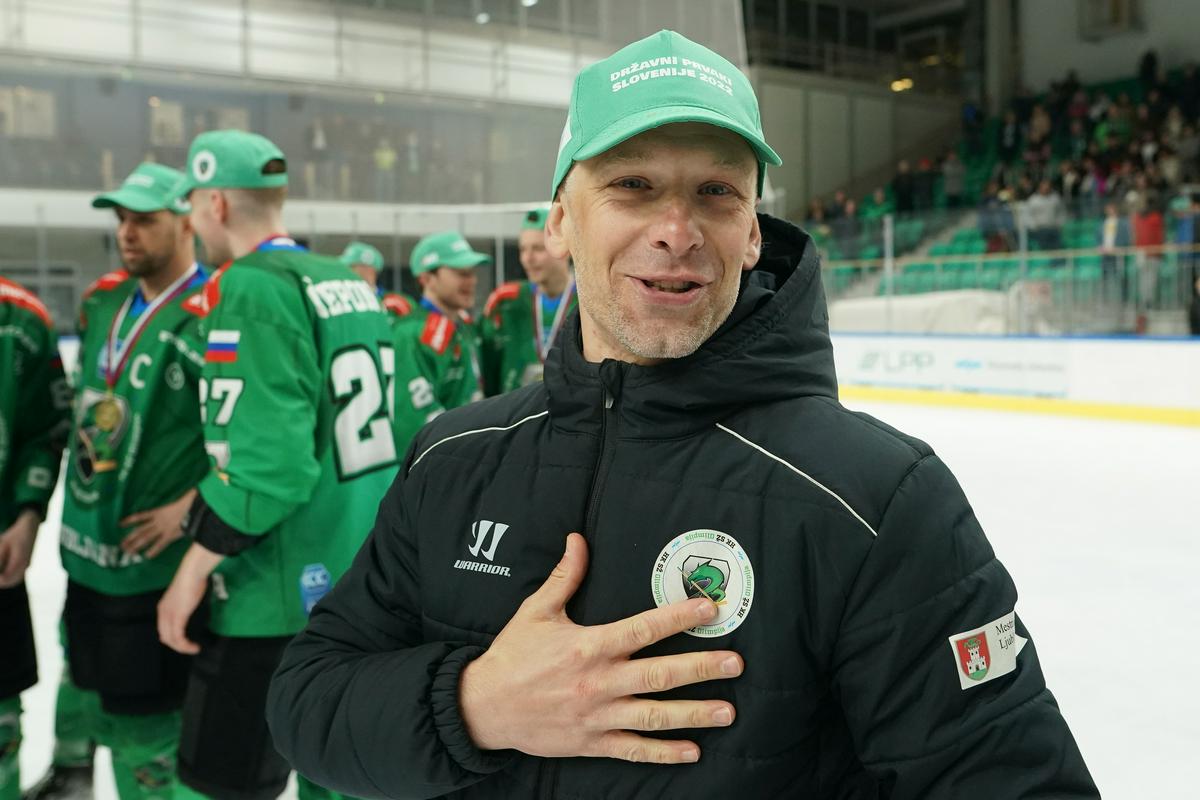 King: This is a difficult season for usOn Tuesday night, the Dragons lost to Salzburg 1:5. Assistant Matic Kralj was the head coach.
"It was a busy day for all of us. We are energetically exhausted. Strange events have been happening for quite some time. This is a tough season for us. We won't just give up. The tile doesn't bounce to our liking, but that shouldn't be an excuse. I believe this can be reversed. It will be necessary to change the training, the boys need to breathe and also have fun. The emphasis will be on defensive tasks. We're too weak when we don't have the puck," said the 40-year-old Kralj after the defeat with Salzburg.
"We were much better against Jesenice in the DP final, but the rivals in the IceHL League are much stronger." added Kralj, who would gladly accept the challenge and lead the team in the following weeks as well.
President Butara was very busy. His phone rang all the time, meetings kept coming. Nevertheless, he took a quarter of an hour to analyze the current position in the club.
---
What happened after the defeat in Beljak, where the score was still tied at 3:3 in the 54th minute? You played well and deserved a point, but coach Šivić resigned on the day of the match against Salzburg.Mitja Šivic is an exceptional person and he has done a lot for our club. Together, we won four laurels and reached the quarterfinals of the IceHL League last season. Every season can't be an above-average success, because we don't have as much money as our rivals.
Did his decision surprise you? His decision surprised me. I was very sorry. He was very firm in his decision. I tried to convince him to sleep and think things through. He estimated that his decision was the best for the team. I am very sorry that he made this decision. I first learned on Monday that he was considering resigning, and on Tuesday he finally confirmed it.
Olimpija defended the title of national champion ten days ago in Jesenice. The resignation came at a very unusual moment. After winning the title of national champion in Jesenice, he led the team in two more matches. After careful consideration, he decided that it was best for the team if he was no longer around.
Did you expect this laurel to give a boost to the IceHL League as well?Every laurel is important to us. I expected us to gain momentum. Players must ask themselves how they will find that spark.
The fans demanded a change of coach after some bitter defeats in Tivoli. Have you ever seriously considered this move?Not even once. Our project is being worked on for a longer period of time. We cannot build it overnight. We will not make impulsive decisions based on worse outcomes. Even Innsbruck and Graz did not qualify for the playoffs for many years, but they continued to work.
There are eleven rounds left until the end of the season in the IceHL League. The chances of breaking into 10th place are slim. I want the guys to get that spark back that they once had. There are still 33 points to go and we still have opportunities for additional qualifications.
Are there many candidates for the new coach?We are talking to a number of candidates. Most are from abroad. These are established names that are ready to come to Ljubljana immediately and lead the game. It's all about finances. We want the new coach to lead the team in the next season as well.
We are looking for a long-term solution. We will talk to all the candidates, including Matic Kralj, who led the team on Tuesday against Salzburg. We're not just looking for a firefighter for this season. Candidates come from Finland, Canada and also from Slovenia. Most of the candidates are from abroad. My wish is that we get a new coach by Friday's game. Director Anže Ulčar will also be present at the talks, and we also have some famous names in the club who have achieved a lot in hockey and we will consult together.
Joseph Garreffa and Carl Neill left the club. Garref has already scored a hat-trick in the Slovak Extraliga, and Neill will play for Schwenninger Wild Wings in the strong German championship.There is a big difference between these two departures. Garreffa left because he didn't live up to expectations. However, we parted on a good note. Carl Neill was very much in the teeth of our fans. He had four serious inquiries and two concrete offers for the German DEL league. He asked us to let him go, as this is a great opportunity for him and of course we will not hinder him. We did not get offers for other foreigners.
You were angered by an article in the Austrian media about Olympia's financial problems. You keep emphasizing that the wages are regular. This was also confirmed by the players. Financial problems are not the topic of conversation in the corridors of Tivoli. The first information was provided by the Kleine Zeitung. I don't know where they got the information. In five seasons, we have never been late with salaries and other obligations. Perhaps they tried to further push us to the ground before the decisive matches in the fight for 10th place.
We have confirmed our participation in the IceHL League next season. Director Christian Feichtinger publicly stated that we submitted the application. We have no outstanding liabilities. In five seasons, we have always paid everything. Rumors are one thing, facts are another. Someone show me what we didn't pay for. Slovenian Railways believes in this project and the contract is valid.
Jeseničani also signed up for the IceHL next season. Is it realistic that two Slovenian teams will play in this strong league this fall?The people of Jesenice paid the first application, the next is 25,000 euros, and then the difference up to 150,000 euros, followed by a bank guarantee of 100,000 euros. When they meet all the conditions, an audit is done. Clubs must have their say if the league is to expand. 11 clubs have full membership and can vote, Asiago and Vorarlberg do not yet have it. A two-thirds majority is required to admit a new club into the league. Jesenice in the IceHL League – this can only be a positive thing for Slovenian hockey.
After the final of the national championship, Jesenice coach Gaber Glavič declared that we have enough players in Slovenia for two teams in the IceHL League. What is your view?It's realistic, but it's all about finances. There are a lot of young guys abroad at the moment.
Source: Rtvslo