The big crystal globe is already in the hands of only 11. Eva Pinkelnig today
At the 3rd match of the Norwegian tour in Lillehammer, Emi Klinec managed to get on the podium again, she won 3rd place. Nika Križnar finished in 6th place, and Katra Komar set the best result of her career with 13th place. The big globe has already been cast!
The winner was the Norwegian Silje Opseth (the fifth victory of her career in the World Cup), second was the German Selina Freitag, 0.6 points behind. Ema Klinec, who consolidated her lead in the Raw Air tour total, was 6.5 points behind.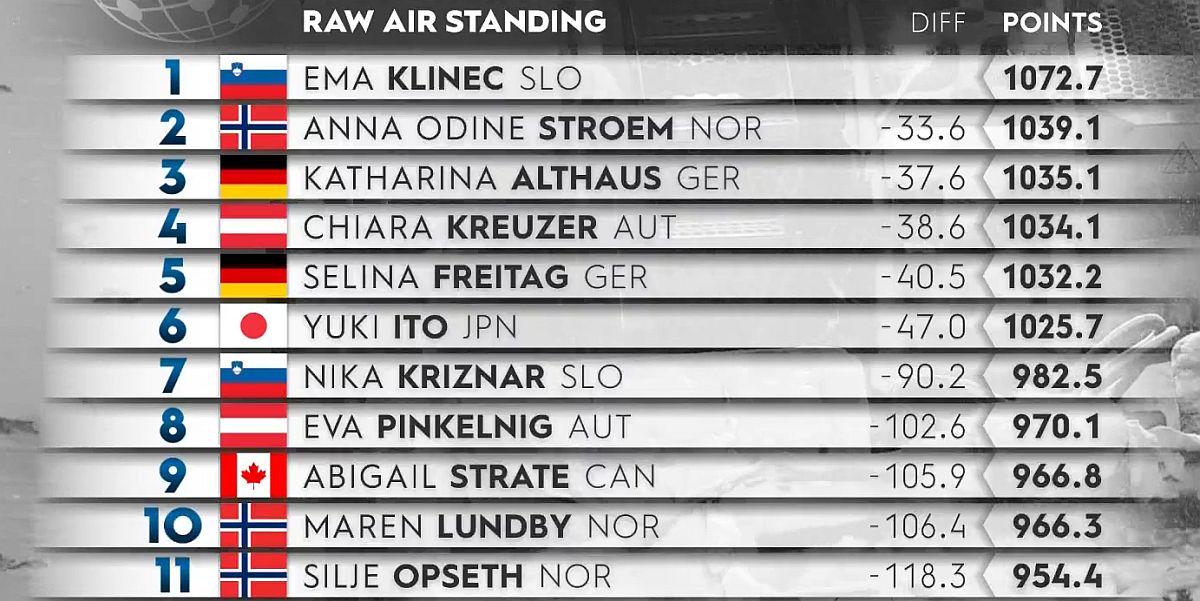 The best Slovenian jumper this winter was second after the first series (120.0 m), trailing Norwegian Eirin Maria Kvandal by 4.5 points. She landed at 122 meters in the final, overtaken by Silje Opseth and Selina Freitag, while Eirin Maria Kvandal slipped to seventh place after her trainer's tactics of lowering the runway did not pay off.
Nika Prevc for 22nd and Maja Vtič for 27th place also won points from Slovenian women.
The conditions were challenging, especially in the first series, it snowed heavily, as a result of which the match started half an hour late.
First Globe for Eva PinkelnigThe big crystal globe is already in the hands of Austrian Eva Pinkelnig (Katharina Althaus is behind by 215 points with two games to go), who otherwise did not shine today, after the first series she was 16th, but in the end she was eleventh.
In the fight for 3rd place overall, Ema Klinec increased her lead over Anna Odine Stroem (today 12th place) from five points to 43 points.
In the morning qualifiers, Nika Križnar was sixth, and Ema Klinec, who had previously been the best in both training sessions, was seventh.
On Wednesday, there will be another match in Olympic Lillehammer, it will start at 16:30 (broadcast on TV SLO 2).

Today at 20:30 (broadcast on TV SLO 2) the qualifiers for Tuesday's men's match will also be held in Lillehammer. Austrian Stefan Kraft is in the lead in the total of the Norwegian tour, who has 14.6 points ahead of Anžet Lanišek and 17.1 points ahead of Norwegian Halvor Egner Granerud.
On Wednesday, there will be two more games in Lillehammer, after which the caravan will move to the airfield in Vikersund. The best 15 girls in the total of the Norwegian tour will also get a chance to fly there.
Source: Rtvslo