Obradović: No one in Europe has such fans
In the derby of the leading teams of the ABA League, Partizan's basketball players beat Crvena Zvezda with 92:81. In the second quarter, the black and whites trailed by 20 points, but then they shined in the second half. 17,124 spectators watched the spectacle in the Štark Arena.
On November 28, Crvena zvezda was better with 90:74, and this time too the red and white started brilliantly. After some poor performances in the Euroleague, they were motivated. The excellent Facundo Campazzo provided the highest advantage for Red Star two minutes before the break (28:48). Duško Ivanović's team went to the break with a 14-point lead (34:48).
Partizan ended the third quarter with a partial score of 12:4 and after 30 minutes, they took the lead (63:66). Mathias Lessort opened the last quarter with a dunk. This brought the loud fans to their feet and the black and whites secured a decisive lead with a partial 13-0 scoreline. Zvezda did not score a single point in the opening five minutes and 15 seconds of the final quarter.
Partizan's striking trio was unstoppable. Lessort was the game's leading scorer with 27 points, hitting 15 of 21 free throws. Zach Leday scored 17 points and Dante Exum had 15. Campazzo led the Red Stars with 21 points.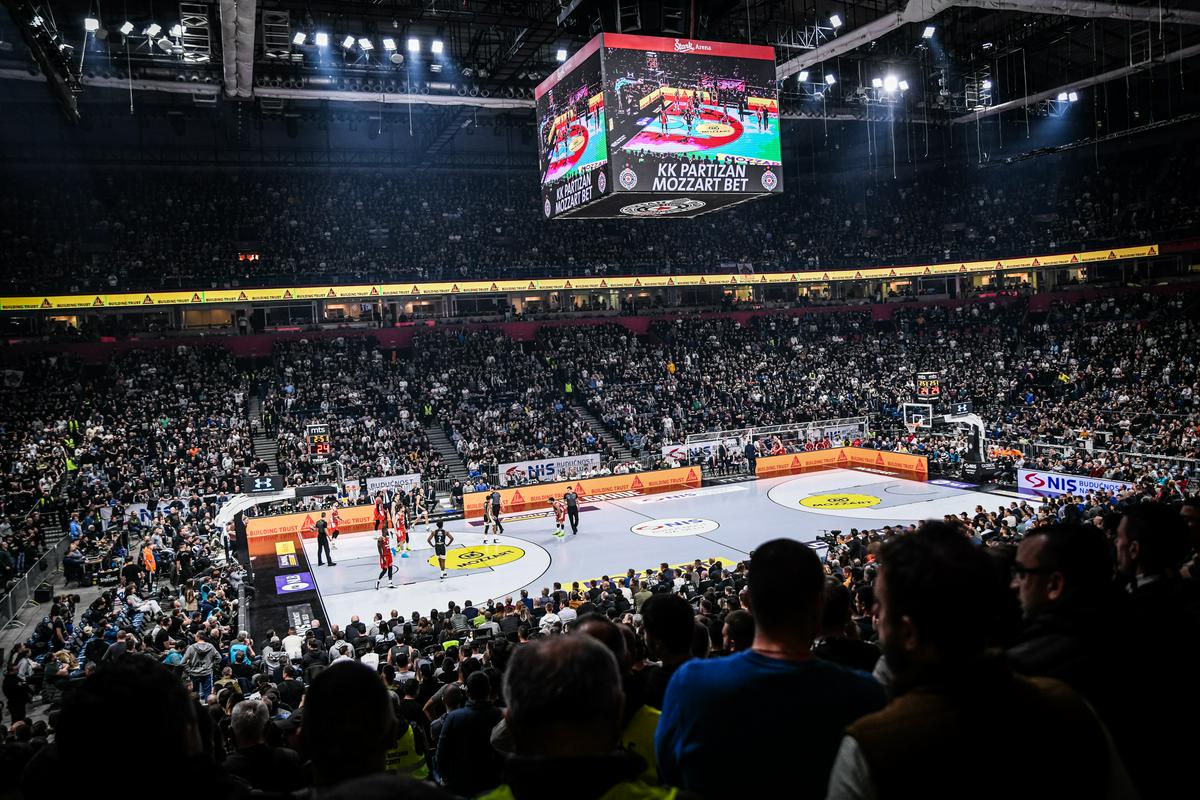 Obradović: No one in Europe has such fans"I am very happy with the performance in the second half. We were behind by 20 points in the 18th minute, but in the end we were better by 11 points. Against a strong rival, we managed to turn around by 31 points. We are in the lead in the ABA League and I hope that we will secure home field advantage. Even in the Euroleague, we have our fate in our hands, but the schedule is really tough in the coming weeks. The fans have been supporting us all season, they were in Milan and Bologna, we dedicated this victory to them. No one in Europe has such fans. Not even close", Partizan coach Željko Obradović was in a very good mood at the press conference.
Olympiacos, Olimpija, Barca and Real are coming to BelgradeThe next two weeks will be very varied in the Štark Arena. On Friday, Partizan will meet Olympiacos, then on Sunday Cedevita Olimpija, next Tuesday against Barcelona and next Friday against Real Madrid.
---
Round 21: PARTISAN – RED STAR 92:81 (13:24, 21:24, 29:18, 29:15) 17,124; Lessort 27 (6/10 for two, free throws 15/21) and 8 rebounds, LeDay 17, Exum 15, Punter 9, Madar 7, Avramovic 6, Nunnally 5, Smailagic 4, Papapetru 2; Campazzo 21 (3/5 for three, free throws 10/10), Mitrović 17, Bentil 10, Vildoza 8, Petrushev 7, Lazarević and Martin 5 each, Dobrić and Marković 3 each, Ivanović 2.
SC DERBY – SPLIT 96:84
---
Played on Saturday and Sunday:ZADAR – CEDEVITA OLYMPIA 81:59 (22:13, 21:13, 21:15, 17:18)
IGOKEA – FMP 77:70
CIBONA – THE FUTURE 83:87
MEGA BASKETBALL – MZT SKOPJE 93:86
SAILOR – BORAC 104:99
---
Source: Rtvslo