International cycling race broadcast
The season of international cycling races in Slovenia starts for the ninth time in Izola with the Slovenian Istrian Grand Prix. Watch the one-day race with five Slovenian teams and 25 Slovenians in the online broadcast on MMC TV from 15:00 onwards.
In eight days, three one-day races will take place in Slovenia, all of which you can watch in the webcast of the Cycling Association of Slovenia on MMC TV. On Thursday, the Grand Prix of Goriška and Vipava Valley will follow with the start and finish in Nova Gorica. Next Sunday, the trio concludes the VN Adria Mobil with a start and finish in Novi Mesto.
The broadcast of the race from Izola will start at 3:00 p.m. and will last until 5:30 p.m., or until the completion of the 156.5 km test with the awards and declarations of the best.
The Grand Prize of Slovenian Istria, powered by I Feel Slovenia, starts at 1:00 p.m. in Izola on Trg republike. Four clockwise circuits follow: Baredi climb (2.9 km with 6.7%) – Gažona – Dragonja – Sečovlje – Lucija/Portorož – Strunjan – Izola. At the end of the race, there are three laps around Izola itself.
A race for the taste of sprinters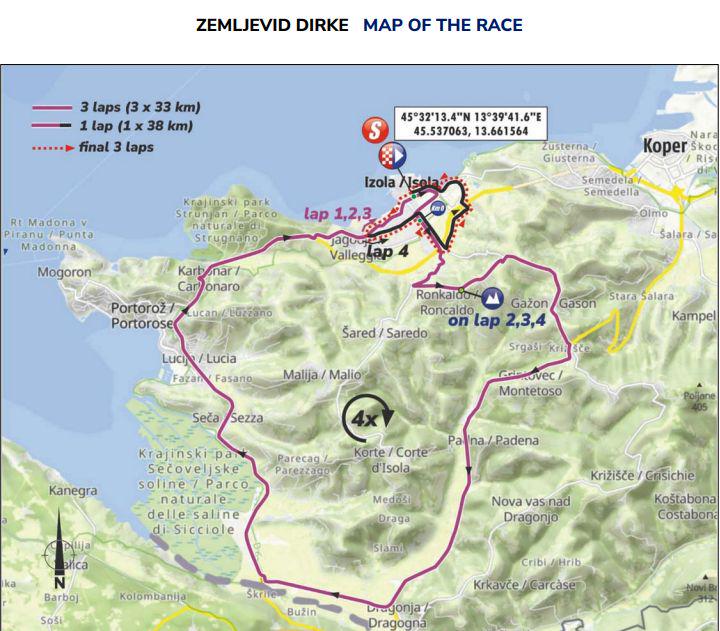 In its ten-year history, the race has usually started with a small or large group sprint. The last five performances were won by sprinters, so Sunday's favorites also belong to this category. The 24-year-old Italian stands out by name and team Luca Colnaghi, sprinter of the only present ProTour team Green Project Bardiani. Colnaghi was ninth in the last stage of the race From Tyrrhenian to the Adriatic Sea.
He is the first Slovenian trump card Tilen Finksht, who achieved his first member victory last Sunday in Umag, and behind him is the increasingly well-coordinated Adria Mobil. He was 9th in Izola last year, 10th the year before. At Ljubljana Gusto Santic, the Croatian Viktor Potočki is the sprinter's trump card. Among the foreign sprinters, the circle of favorites is rounded off by a Pole Barlomiej Proc from the Austrian team Santic Wibatech, led by Andi Bajc. The sixth-placed Pole, Marcin Budzinski (Mazowsze Serce Polski), is racing again from last year's best race.
---
Source: Rtvslo