Vlatko Čančar in the grand final, but after success he was again left without a chance to play
The Denver Nuggets will play in the NBA Finals for the first time in history! On the wings of Nikola Jokić, Zlata žrana swept the LA Lakers with a smooth 4-0 victory. Jezerniki led for a long time in the fourth game, but in the end "Joker" eliminated them with a throw for 113:111.
It seemed it would LeBron James single-handedly kept the Lakers alive in the Western Conference Finals. King James scored 31 points in an extraordinary first half performance that gave Los Angeles a 73-58 halftime lead.
But Nikola Jokic led the Nuggets' attack in the third quarter, scoring 13 points himself, and the guests won the quarter 36:16, catching and overtaking the Lakers. In the dramatic finale of the fourth quarter, Anthony Davis made four consecutive free throws to tie the game at 111-111, and then Jokić scored with 52 seconds left. It's in the last seconds James had two chances to tie the game and force overtime, but first he missed a shot with 26 seconds left and a good second before the clock expired. Aaron Gordon.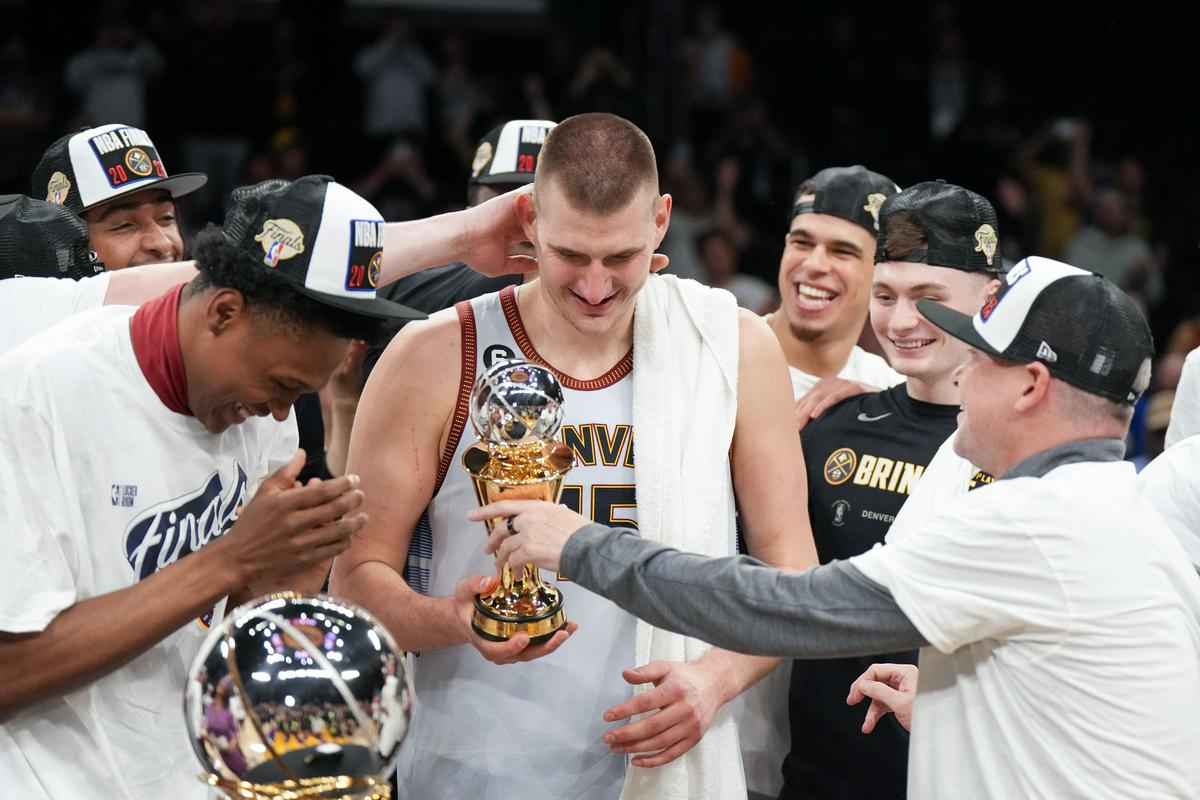 In Denver, Nikola Jokić shone as usual. The two-time NBA MVP finished the game with 30 points, adding 14 rebounds and 13 assists. The first star of the LA Lakers, LeBron James, finished the game with 40 points, 10 rebounds and nine assists.
Denver Nuggets belongs to the group of 11 clubs in the current NBA League that have never won the championship title. Basketball players from Colorado will face the winner of the Eastern Conference clash in the finals, where Miami leads 3-0 in victories against Boston.
The Slovenian basketball player, who is currently on the sidelines at Zlati zrneh, will also participate in the final Vlatko Čančar he didn't get a chance to play in the fourth game of the West final either.
more to come…
---
NBA LEAGUE – FINALS
West, Final, Game Four:
LA Lakers (7) – DENVER (1) 0:4 111:113 (34:28, 39:30, 16:36, 22:19) James 40 (15/25 from the field, 4/7 for three), 10 rebounds and 9 assists, Davis 21 (6/15 from the field ) and 14 rebounds, Reaves 17 (6/11 from the field), Schröder 13 (3/6 for three), Hachimura 10, Thompson and Russell 4 each, Walker 2; Jokic 30 (11/24 from the field, 3/6 for three), 14 rebounds and 13 assists, Murray 25 (10/18 from the field, 0/4 for three), Gordon 22 (3/5 for three), Porter 15 and 10 rebounds, Caldwell Pope 13 (3/7 for three), Brown 6, Green 2, Cancar did not play.
West Finals MVP (Magic Johnson Trophy): Nikola Jokic
East, final, fourth game:
Wednesday at 2:30: MIAMI (8) – BOSTON (2) 3:0
Source: Rtvslo