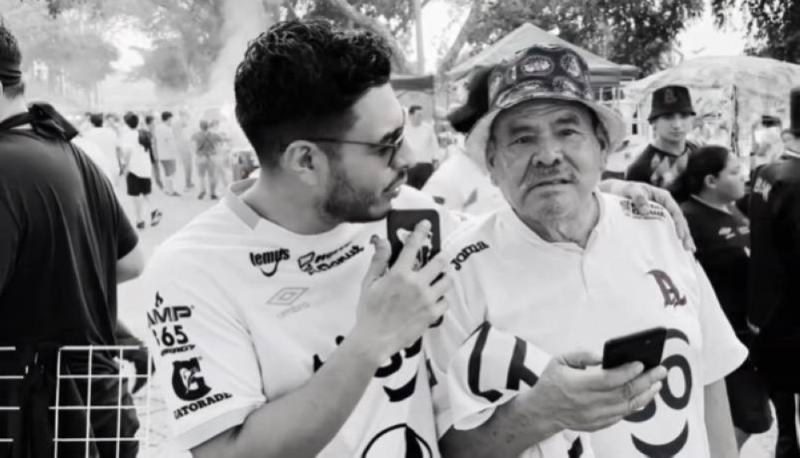 Mordokeo González, one of those killed in the rush at the Cuscatlan stadium
Sadness, pain, melancholy, and black and white video. This was published by El Salvadorian YouTuber Cesar Durán, who usually performs "El Color" before and during Alianza FC matches, citing the last words of one of the nation's people, Mardoceo González. It is recorded. He died last Saturday in a crowd at the Cuscatlan stadium.
Before the match between Alianza FC and CD FAS, Durán moved around the Cuscatlan stadium and randomly asked fans how they were feeling before the quarter-finals of the Clausura 2023 second leg, and a confident González appeared among them. He believed his team could overcome the unfavorable 1-0 score.
"How do you go into this match, knowing the score, but with the spirit and faith to come back?" asked Durán. Alliance always wins."
"We are used to winning all the time, is that a good thing or a bad thing?" asked a YouTuber, Mordecai replied. player. "
González sent a message to the Alianza FC players before the match against FAS. "Put your batteries on, bastards, pure Ariantha, we have to show that we are Katimbourne, let's go, Ariantha."
Durand said in the publication: A painful moment after hearing the news that Mordecai was one of the dead in the Cuscatla stadium tragedyno. "Over the weekend, I had the opportunity to interview Don Maldoceo at the stadium of Alianza FC's 'El Color'. said, "He made a video for me."
"Yesterday I noticed a photo of him among the victims and when I saw it, I was so touched. I wrote to Andrés Orellana to tell him how shocked I was. The wound is very deep and will take time to heal," he added.
others, Duran dedicated a segment of the song to the victims of May 20th last Saturday.. "Today, color is nothing to me because I go out every Sunday to talk and laugh with my fans and invite them to come as a family to support the team we love. because he did."
"That is why, in honor of all the victims of this tragedy, especially Don Mordecai, I would like to share with you a song that touches my heart and is dedicating it with love to my fans: THE LOST BENGAL – Luis Mordecai. A. Spinetta: "Don't come back here in vain. And there will be something. The game just wants to be played. I don't want the valley of the catacombs. Nothing more. I give them salt." I don't want to be filled with." May Don Mordeceo rest in peace," he added.
Over the weekend, I had the opportunity to be interviewed by 'El Color' at the stadium. @AlianzaFC_sv Don Mordecuo is the man who has spent his life supporting the colors he loves most, and the one I say, 'he made a video for me' right after finishing a clip. pic.twitter.com/fBYmsrvqmU

— Cesar Duran (@SoyCesarDuran) May 23, 2023
For this reason, in honor of all the victims of this tragedy, especially Don Mordecai, I would like to share with you a song that touches my heart and is a loving dedication to my fans: THE LOST BENGAL – Luis A. . Spinetta.

— Cesar Duran (@SoyCesarDuran) May 23, 2023
"Don't go back here in vain
and that there will be something
the game just wants to play
No more catacomb valleys
never again
I don't want them filled with salt. "

May Don Mordecai rest in peace.

— Cesar Duran (@SoyCesarDuran) May 23, 2023


Source: Diario.Elmundo