Valencia consider the punishment "disproportionate" and "unfair"
The Spanish Football Federation (RFEF) erased the red card of Real Madrid striker, Brazilian Vinicius Junior. This has been in the forefront in recent days due to racially oriented insults directed at him in Sunday's league game away to Valencia.
Judge Ricardo de Burgos Bengoetxea sent off the Brazilian in stoppage time for punching a rival after a fight with Valencia players. The referees in the room for Var saw that it was actually the home football player who hit Vinicius first, and Vinicius returned the ball at great cost.
Vinicius had previously been racially abused by fans, leading to a ten-minute stoppage in the match, with the Real player pointing at the people who had insulted him.
Spanish police arrested seven people on Tuesday in connection with racism. The RFEF announced that the club was fined 45,000 euros and the south stand at the Mestalla stadium was closed for five matches.
At Valencia, they consider it a penalty "disproportionate" and "unfair". They feel it hurts the fans who weren't involved in the "shameful incident". They added that they would appeal against the penalty of partially closing the stadium.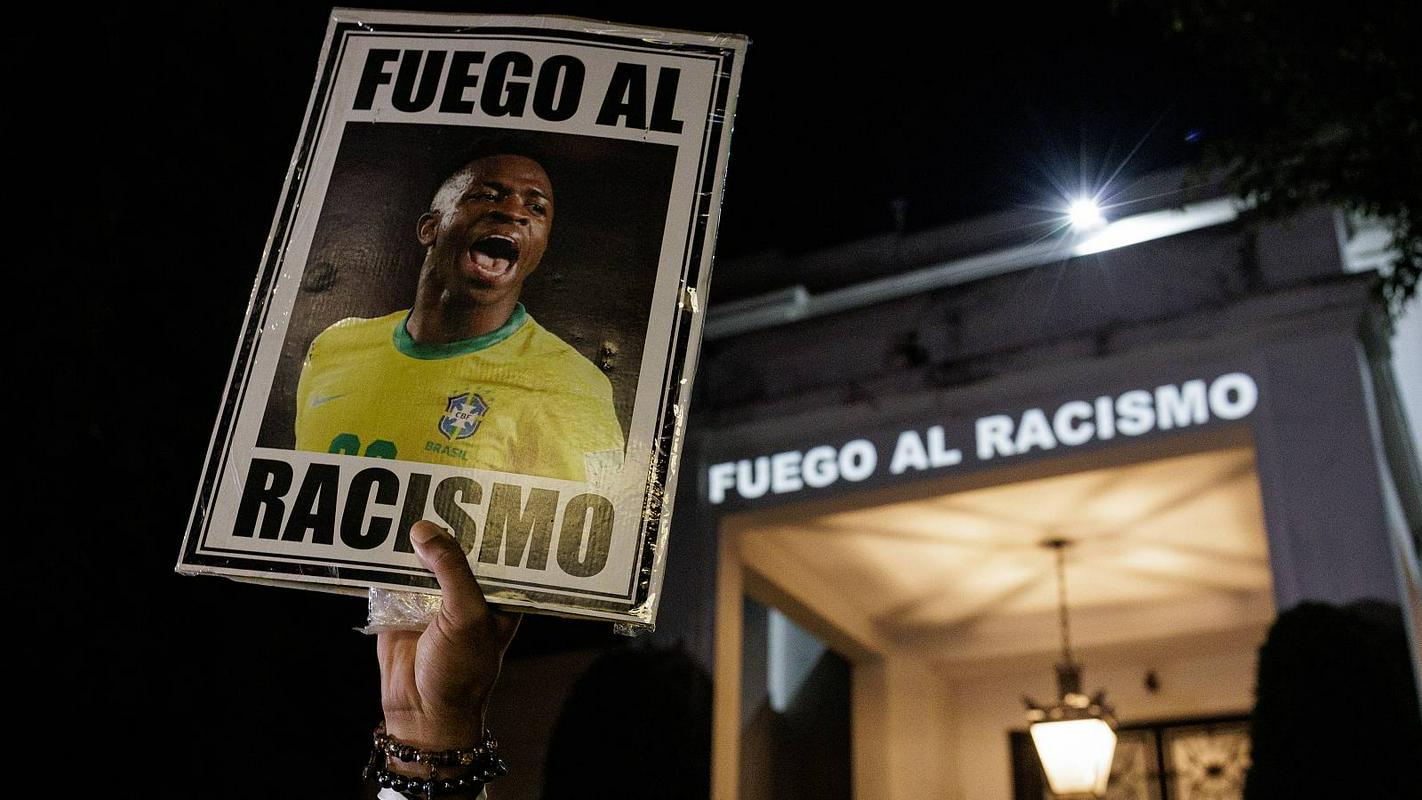 Protests against racism in BrazilMeanwhile, dozens of people protested outside the Spanish embassy in Sao Paulo over recent racially-charged hate speech against the Brazilian soccer forward. The Spanish government has been asked to take action over the incidents, Folha de S. Paulo newspaper reported. The problems at the match in Valencia quickly became a political issue as well. Brazilian president Luiz Inacio Lula da Silva and the Spanish Prime Minister Pedro Sánchez criticized insults against Vinicius, among others. Leading conservative politicians in Spain have also condemned all forms of racism, but rejected Vinicius' claim that people in Brazil now see Spain as a land of racists.
In Brazil, some media commentators and politicians have called on the Brazilian Football Association to organize a friendly match against one of the African countries in Spain in June.
Source: Rtvslo