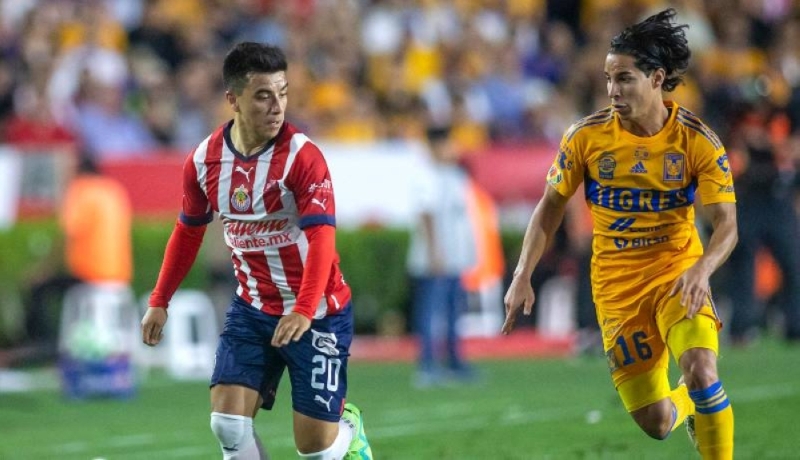 Tigres, Chivas all set for return in Mexico football final/AFP
Nuevo Leon Autonomous University's Tigres and Chivas de Guadalajara drew 0-0 in the first leg of the Clausura 2023 Mexican Football Tournament final at the Universitario Stadium on Thursday.
The first dangerous play was scored in the 16th minute, which went over the "Chivas" goal. Sebastian Córdoba entered the area from the left of the sector and fired a shot at the near post, which was deflected by goalkeeper Miguel Jiménez.
Guadalajara responded immediately and doubled down on attack, defender Jesús Angulo trying to solve the problem by deflecting the ball towards goal, but Argentine goalkeeper Nahuel Guzman took care to avoid an own goal.
The 20-point Chivas were horrified when defender Antonio Briceño deflected the ball inside the area and hit the crossbar.
Chivas ended the first half with Isaac Brizuela scoring over the crossbar in the 45th minute.
Tigres' only excitement of the second half came in the 79th minute when Brazilian Rafael Carioca fired a volley from outside the box that hit near the right post.
Guadalajara's technical director Veliko Paunovic said: "We achieved our first goal of keeping a clean sheet. We weren't good enough to score, but I'm happy to leave."
The second leg of the final will be played at Akron Stadium on Sunday. If the score is tied worldwide, extra time will be played, and if the tie continues, a penalty shootout will be played.
"We will start again on Sunday. Both teams are 0-0 but whoever can win," added the Serbian Paunovic.

Source: Diario.Elmundo