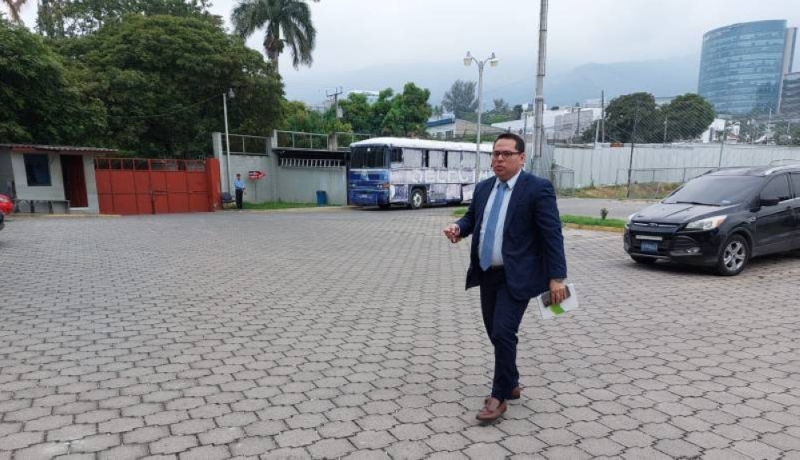 Alex Portillo, Attorney, Association of Professional Footballers of El Salvador (ASOFUTPROES) / Milton Aparicio
A delegation from the First Division, accompanied by a lawyer, visited the FESFUT facility to express their position on the cancellation of Clausura 2023.
FAS and Aguila players arrived at the El Salvador Football Federation to hold a meeting with the regularization commission. However, due to logistical problems, the meeting between federation bodies and players was not held.
Alex Portillo, legal representative of ASOFUTPROES, also accompanied the players' statement, pointing out the factors that will ultimately affect the players after the Primera División president's decision to cancel the tournament.
"There is the issue of payment of player fees and the date of payment, which opens up an opportunity to review issues that have always been on the table, such as reviewing player contracts," Portillo said.
"Neither[contracts]were in line with FIFA regulations and the players who were in the competition were still getting paid, so it will have the same impact that the players are suffering now." added.
Portillo has also sent a message to the first-team coaches, urging them to take their opinions into account in decisions of this kind, taking into account the position of the players.
"We will, together with the Presidents, know that when a decision relating to football is to be taken soon, the players represented here will be called to that meeting to see if the decision will affect us. I hope it will not be necessary," he said, "via Twitter, internet posts, social media and newscasts."
Finally, the lawyers and members of the association announced that they would meet with the normalization committee, chaired by Humberto Saenz, on Monday, May 29, to discuss the points made in the statement.
"Regarding the contract issue, I doubt that the regularization committee intends to review the contract and bring it into line with FIFA regulations. We are moving forward with a positive scenario that it will never happen again."

Source: Diario.Elmundo