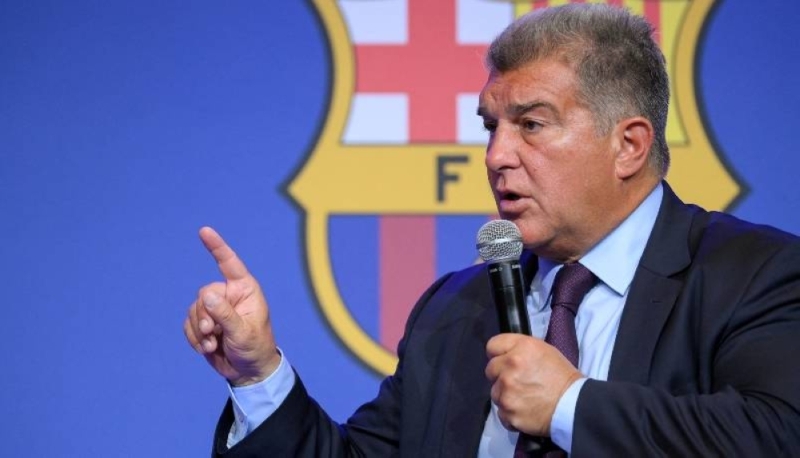 Joan Laporta, Barcelona president
Another blow for Barça: the Catalan club, already financially weak, hit the ceiling on expenses, especially wages, this Thursday. In Spanish football's La Liga, further cuts were made within the framework of respecting financial fair play.
The previous limit set for the reigning champions of the Spanish league was 649 million euros ($697 million).and is currently set at 270 million euros ($290 million). La Liga strictly controls spending on club salaries and player contracts.
Expenses covered by La Liga's restrictions include player and staff salaries, transfer amortization fees, agency fees and bonuses.
FC Barcelona's current spending level is approximately 400 million euros ($430 million). According to Spanish media. Therefore, if the sanctioned limit is exceeded, clubs can only use 50% of their income to strengthen their squad until normalcy returns.
Therefore, under the current circumstances, it is unlikely that any major reinforcements will be made in the winter market, and further cost-cutting will be essential if the club wants to strengthen its squad next season.
Barça, who are financially weak, have had several players leave this season, including: Sergio Busquets and Jordi Alba, or French player Ousmane Dembele, who moved to PSG.
German goalkeeper Marc-Andre ter Stegen He has agreed to extend his contract until 2028 and defer part of his salary for this season.. This allowed the loan transfers of Portuguese players Joao Cancelo and Joao Félix.
Barcelona president Joan Laporta said: "We have to thank him for restructuring the contract, as it now allows us to register other players."
La Liga president Javier Tebas made it clear in a press conference this Thursday that he does not know when Barcelona's financial situation will return to normal.
"You can never say that. It depends on Barça and its strategy in its business environment. We can monitor the situation for two or three seasons. Maybe a great player will be sold and take a big step. He "I don't know if they will do that."The overall strategy in the medium to long term is that the clubs will set it, but we will not set it for them," Tebas said.


Source: Diario.Elmundo