The Slovenians play for the bronze medal against the French on Saturday at 18:00
With the loss in the semi-finals against Poland, Slovenia was also without first passer Gregor Ropret due to an injury. Dejan Vinčić will replace him in the lineup for Saturday's match against France for the bronze medal.
The unfortunate event in the confrontation with the Poles – the latter then won the match 3:1 – happened when the score was tied at 1:1 in the sets and when the score was 12:12 in the third set. Gregor Ropret landed on the foot of Polish volleyball player Aleksander Šliwka after attempting a block and sprained his ankle. He could no longer continue with the game, and at the same time he was lost for Saturday's match for 3rd place, in which Slovenia will face France at 18:00 in Rome (broadcast on TV SLO 2).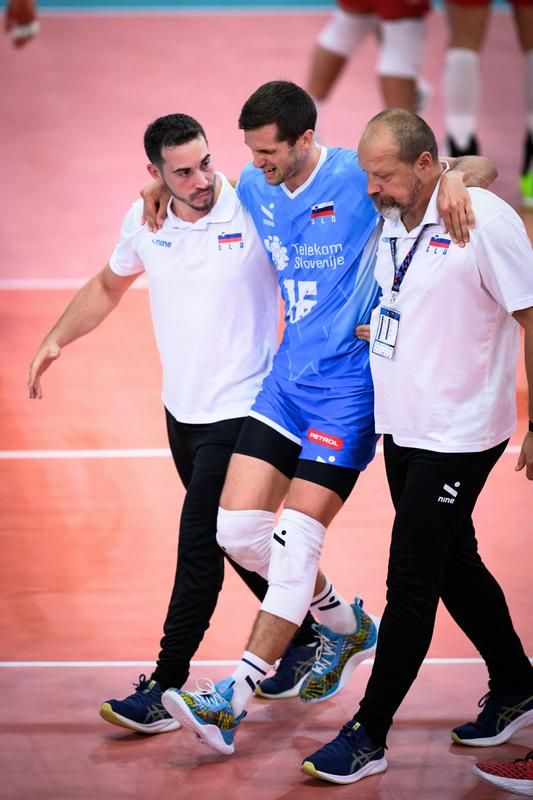 "Gregor sprained his ankle. After the match, we performed an X-ray at the hospital, which showed no bone damage, and we will get additional answers about the severity of the injury after an examination with magnetic resonance, which is expected to be performed on Friday. Gregor is already under the care of the national team's physiotherapists , which will primarily try to alleviate the swelling, and after the results of the second examination, we will be able to decide what the next steps of rehabilitation will be." the national team doctor spoke about the unfortunate event Mile Majstorović.
CEV allowed an extraordinary exchange
As Ropret's injury prevents him from continuing to play at this European Championship, the European Volleyball Federation (CEV) has approved the substitution of players. So he went to Rome hardened Dejan Vinčićwho underwent elbow surgery after the club season ended.
The 36-year-old pitcher began to forge a return to the pitch during national team training in preparation for the European Championship, and in the last period he trained with his new club employers from Bucharest.
Source: Rtvslo