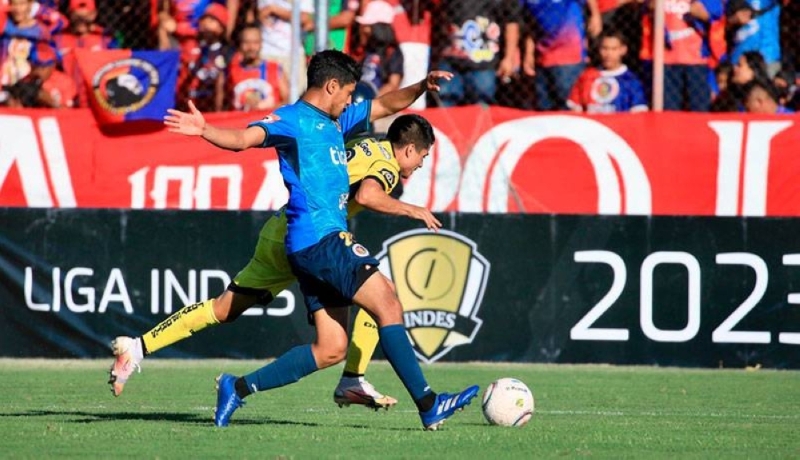 11th Deportivo visit FAS looking to maintain their lead. /DEM
Eric Dawson Prado's team, No. 11 Deportivo, emerged as leaders of the competition with 16 points on the eighth day of Apertura 2023, dejected after a 3-1 loss to Jocolo on Wednesday. They will play against Club Deportivo FAS, who arrived at the club.
The last three games have resulted in shared points (0-0, 2-2, 1-1). Moreover, "Tank Fronterizo" has not won against "Tigriros" in Quiteño since April 25, 2021, in Matchday 8 of Phase 2 of the Clausura 2021 Tournament, final score 2-3.
Since then, the two sides have played eight times, with FAS winning three and drawing five. Therefore, we will aim to break the winning streak and maintain our position at the top of the tournament. The match is scheduled for this Saturday at 7pm at Quiteño Stadium.
Remain undefeated.
The day begins this Friday with the match between Alianza and Limeño at the Ana Mercedes Campos Stadium in Sonsonate. The Albos, aiming to remain undefeated, will take on Nelson Ancheta's team, who are aiming for a come-from-behind victory after losing to Hokoro on the final day.The duel begins at 6 p.m.
First win.
On Saturday, action begins at 3pm at UES Stadium with a match between Santa Tecla and the Dragons. Pericos, who is in last place, will aim for his first victory in the tournament against the highly motivated Dragon who defeated Firpo in Usultan.
If the FESFUT Licensing Committee does not approve the university stadium, matches will be played simultaneously at the Ana Mercedes Campos Stadium on Monday, September 18th.
In the evening, Isidro Metapan will play at home against "Calero" Suarez's Fuerte San Francisco. The "Zarco" team will aim to stop the "Blue Warriors," who achieved a come-from-behind victory against Santa Tecla on the final day, to end their four-game losing streak.The match begins at 7 p.m.
On Sunday, Firpo will face Pratense at 3:15 pm at Sergio Torres, but the team led by Memo Rivera has not had a good time and will aim to improve their position against the Garros. .
The final duel of the day will take place at 3:30 p.m. in Tierra de Fuego de Morazán, where Jokoro will receive the "Emplumados" from Aguila. This duel promises a lot of emotion, as both men arrive motivated after winning their previous match.
Prior to this, Aguila will visit Platense this Friday at 3pm at the Antonio Toledo Valle de Zacatecolca Stadium for the pending match on the third day of the tournament.

Source: Diario.Elmundo