A challenging stage on Saturday, but it is very likely that Kuss will remain in the overall lead
The Italian Alberto Dainese is the winner of the 19th stage of the Race of Spain. The finishing sprint was spiced up by a fall that stopped the favorite for today's victory, Kaden Groves. There is no change in the total at the top, Sepp Kuss is one step closer to the final victory.
The stage after Leon (from La Baneza to Iscar) was flat, so it offered the expected outcome: the escape of a small group (the escapees were caught 20 km before the finish) and at the end a sprint of the main group, after which Dainese had a bike length advantage over the competitors. The second was his compatriot Filippo Ganna, and the third was the Dutchman Marijn van den Berg. Kaden Groves had to stop due to a fall and was unable to sprint, but he is still getting closer to winning the green jersey for the best sprinter of the race. Today, despite everything, he collected 17 points for second place in the flying sprint.
From the leeward side of victory"I'm sorry that some riders fell, I was already in a good position at the time. I knew there would be some headwind, so I waited for Ganna and a few others for the perfect moment to do a full sprint. I am extremely happy to end a very tiring Vuelta and also my episode with the DSM team with a victory. I felt some pressure because I knew it was the last chance," said Dainese, who celebrated the sixth victory in his career and the third in the three-week races. He also has two victories from the Giro.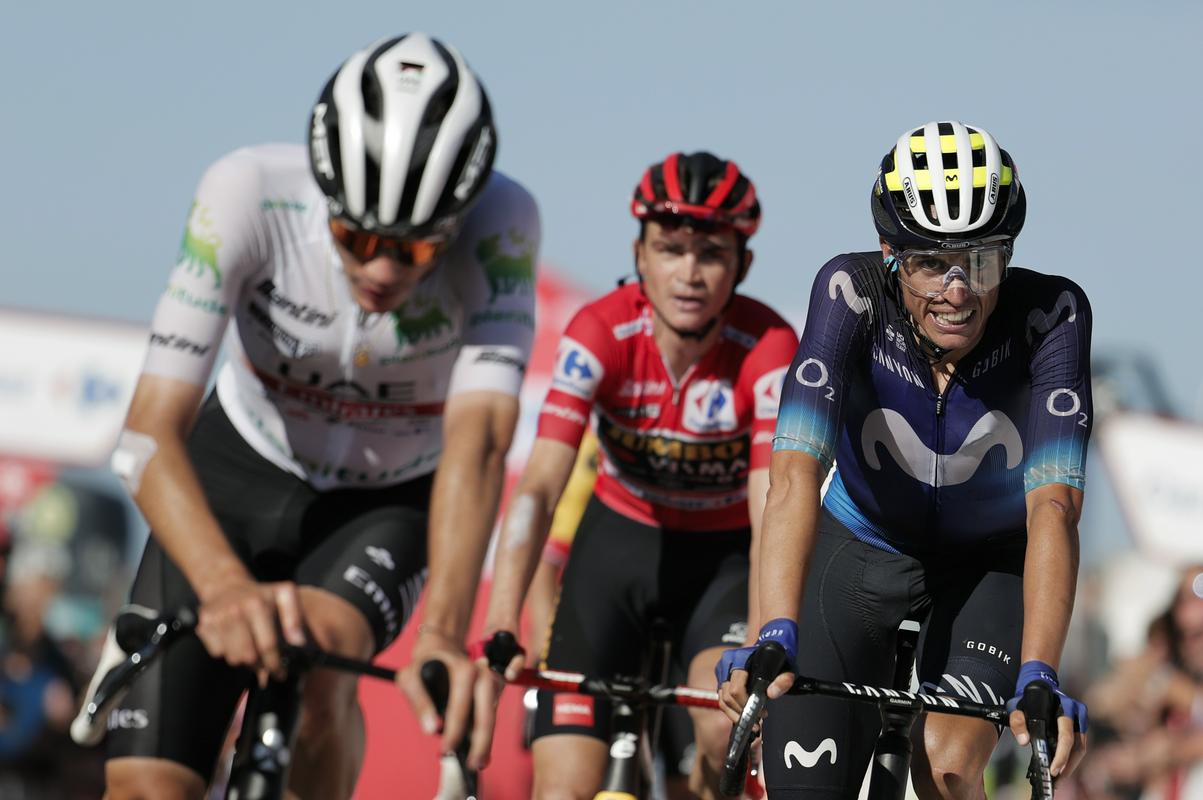 Kuss is still two stages away from career successThere were no changes in the overall standings among the best. Sepp Kuss (Jumbo Visma) is still 17 seconds ahead of Jonas Vingegaard at the top, while Roglič is 1:08 minutes behind in third place. Fourth-placed Spaniard Juan Ayuso (UAE Team Emirates) was four minutes behind.
An eventful Saturday stage without a meter of flatSaturday's test will be challenging and will include as many as ten climbs, but all of them are of the third category. With 208 kilometers, it will also be the longest stage of this year's Spanish circuit. On Sunday, there will only be a sprint procession through Madrid, after which the winner of the 78th Race across Spain will be officially announced.
Roglič with Movistar's offer?As Dare Rupar (Val 202) reported from the race scene, word spread in the caravan that Primož Roglič had a new offer on the table. He comes from Spain's Movistar, which, with the help of Spanish state-owned companies, is expected to considerably strengthen its budget for next season. Nothing new will probably be known before the middle of October, and of course Roglič is not giving clear answers on this topic for now. "As long as someone is interested in me, I'm obviously doing good things. But – let's first finish the Vuelta and the races that are still coming in the fall, and then we'll face new challenges. "
---
78. RACE ACROSS SPAIN
STAGE 19, La Baneza-Iscar, 177.1 km:

OVERALL PENDING ORDER AFTER THE 19TH STAGE


Source: Rtvslo