Čeferin: I did not imagine that we would collect so many funds so quickly
Stožice Stadium is hosting a charity football match this evening to help those affected by the recent floods in Slovenia. Starting at 8:30 p.m., the full stands will be entertained by many famous names from the world of football.
The event, which has been sold out for a long time, is the result of an initiative by the president of the European football association UEFA Aleksandar Čeferin.
In the afternoon, Čeferin is together with the captains of both teams Luis Figo (red) and Paolo Maldini (blue) participated in a press conference at the InterContinental Hotel. "As I have said many times before, football is more than just a sport. Football is part of our culture and history and connects us, so I expect a very positive atmosphere at the match today," said the first man of UEFA and explained how the idea for such an event came about.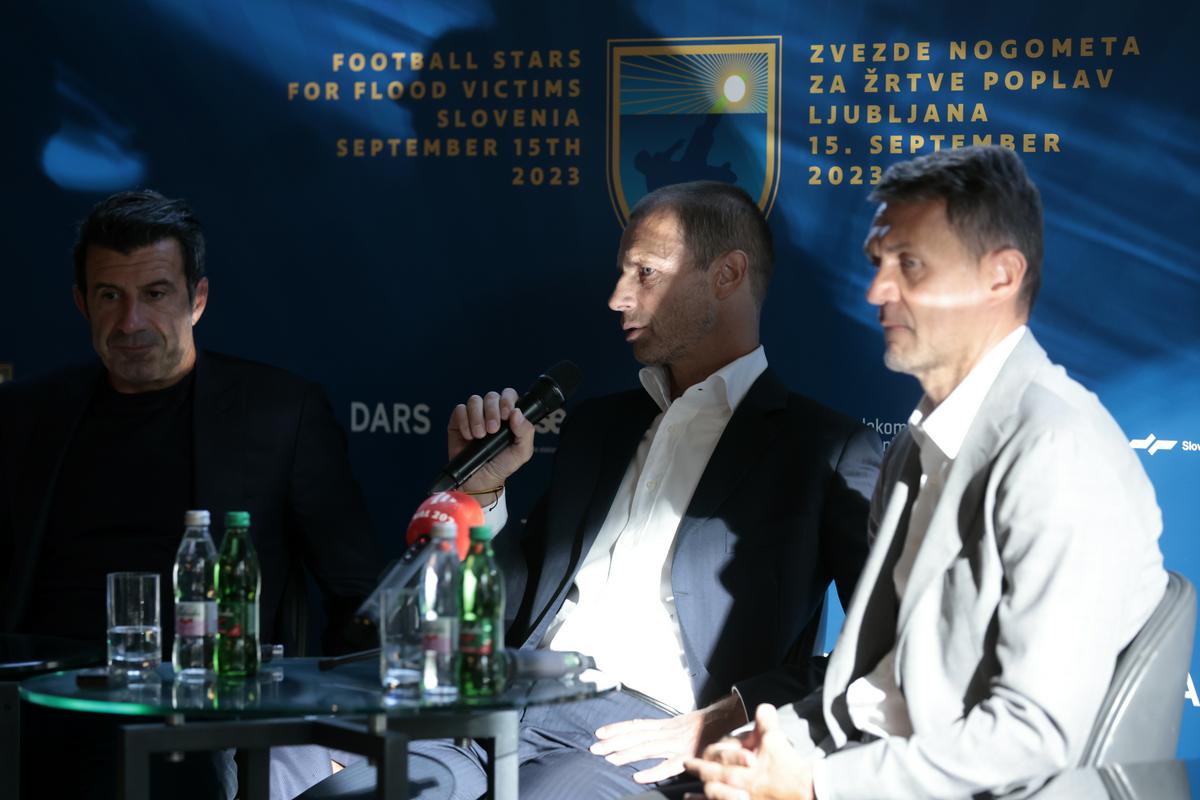 "When we saw what happened in Slovenia, we came up with the idea of ​​a charity match. I am very happy that my friends, football legends, responded. I am very happy with the support of all donors and sponsors and everyone who bought a ticket I expect that as many people as possible will send an SMS today as well (HELP5 on 1919) and an explosion of positive energy."
He emphasized that he knew from the beginning that they would assemble such a stellar team. "They are friends, they respect the charity, but I had no idea that we would raise so much funds so quickly, that we would sell out the stadium so quickly and that it would be an event of this level." The amount collected will be known after the match.
Figo: The most important thing is not to get hurt
He also added that natural disasters are now so common that they are quickly forgotten, and that it is a good idea to help wherever there are similar crises, but that it is still difficult to gather so many people each time. "As far as I can see the boys, I'm afraid they won't be able to play again for another year or so," he also joked about the physical fitness of the guests.
"It's a pleasure to be here. When you're young, you're not even aware of such problems, but now, when you can afford it, you can help. But it's always a pleasure to see friends and play a game," said Maldini, jokingly adding that he last played seven years ago, so there will be some pressure.
Figo also confirmed that he is always happy to help in such matches and events. "When the president asked me to attend, I had to follow. You always have to follow the boss," the Portuguese declared with a laugh. "I also feel a lot of pressure because I haven't played for a long time, but the most important thing is not to get injured."
There will also be some Slovenian football players on the pitch
Among the announced football stars, in addition to Figo and Maldini, were Gianluigi Buffon, Andrej Ševčenko, Zvonimir Boban, Javier Zanetti, Eric Abidal, Predrag Mijatović, Vladimir Šmicer, Nemanja Vidić, David James, Giorgos Karagounis, Mario Mandžukić and Mikael Silvestre.
Subsequently, the organizers announced that Miroslav Klose (with 16 goals, the best scorer in the history of the world championships), Clarence Seedorf, Robert Pires, Dimitar Berbatov, Hamit Altintop, Levan Kobiašvili and Vedran Ćorluka will also come.
Among the performers in both teams will be some Slovenian football players. They are participating with the selector Matjaž Kek confirmed by Boštjan Cesar, Mišo Brečko, Milivoje Novaković, Miran Pavlin, Branko Ilić, Robert Koren, Aleksandar Radosavljević, Bojan Jokić and Marcos Tavares.
The "coaches" of the teams will be Kek and Fabio Capello.
They will play twice for 30 minutes
The match will also be visited by many football workers, officials, presidents of foreign clubs and football associations, as well as businessmen, who will each contribute funds to the victims of the August floods in Slovenia.
The gates of the stadium, where more than 16,000 spectators are expected, will be opened at 6:30 p.m., the official program will begin at 8:00 p.m., and the soccer star match with two 30-minute halves at 8:30 p.m.
In total, there are 36 famous football names on the participating list, and the match will be refereed by the once most renowned European referee, the Italian Roberto Rosetti.
The fan zone is also open from 5 p.m
At halftime of the match, there will also be musical guests on stage, including Bojan Cvjetićanin (Joker Out), Hamo and Peter Dekleva (Hamo & Tribute 2 Love), Zoran Predin and the band King Foo.
The organizers urge visitors to arrive at the stadium on time and, if possible, by free public transport, as the stadium garage will only be open to accredited guests and guests. At 5 p.m., the fan zone was also opened.
Uefa and Čeferin responded to the floods already on August 8, when Uefa approved 300,000 euros in aid. The Football Association of Slovenia also came to the rescue with 20,000 euros.
Source: Rtvslo