Čeferin: I did not imagine that we would collect so many funds so quickly
Stožice Stadium hosted a charity football match to help those affected by the recent floods in Slovenia. Many famous names from the world of football entertained the full stands with pranks. Zlatan Ibrahimović also came as a surprise.
The legendary Swede received the biggest applause at the presentation of the 36 football players of both teams and shouts: "Ibra, Ibra!" He played for the Blues team. After 60 minutes of play, the score was 1:1, so penalty kicks were taken to determine the winner. The "Blues" were better in them with 4:3.
The only goal in the first half was scored by the "reds". In the 21st minute, he scored from the penalty spot Andrei Shevchenko, who beat Gianluigi Buffon. The "Blues" equalized in the 46th minute, when Ibrahimović was also successful from the penalty spot.
11-meter (the "red" shot first):Srna (defensive Buffon), Figo, Pires, Karagounis, Altintop (cross); Novaković, Berbatov, Tavares, Kobiashvili.
Line-ups of both teams
Red: James; Vidić, Srna, Silvestre, Ilić, Brečko, Jokić; Figo, Pires, Koren, Karagounis, Altintop, Asanović; Olić, Mandžukić, Bierhoff, Ševčenko, Aćimović, Savičević. Coach: Capello.
Blue: Buffon; Maldini, Abidal, Cesar, Ćorluka, Zanetti, Kobiashvili; Seedorf, Pavlin, Boban; Ibrahimović, Novaković, Berbatov, Mijatović, Šuker, Tavares, Klose. Coach: Cake.
The long-sold-out event was the fruit of an initiative by the president of the European football association UEFA Aleksandar Čeferin.
The official program started at 8:00 p.m., and the football star match with two 30-minute halves at 8:30 p.m. The judge was once the most renowned European judge, an Italian Roberto Rosetti.
At halftime there were also musical guests on the green, including Bojan Cvjetićanin (Joker Out), Hamo and Peter Dekleva (Hamo & Tribute 2 Love), Zoran Predin and the band King Foo.
Everyone can help by sending an SMS
In the afternoon, Čeferin is together with the captains of both teams Luis Figo (red) and Paolo Maldini (blue) participated in a press conference at the InterContinental Hotel. "As I have said many times before, football is more than just a sport. Football is part of our culture and history and connects us, so I expect a very positive atmosphere at the match today," said the first man of UEFA and explained how the idea for such an event came about.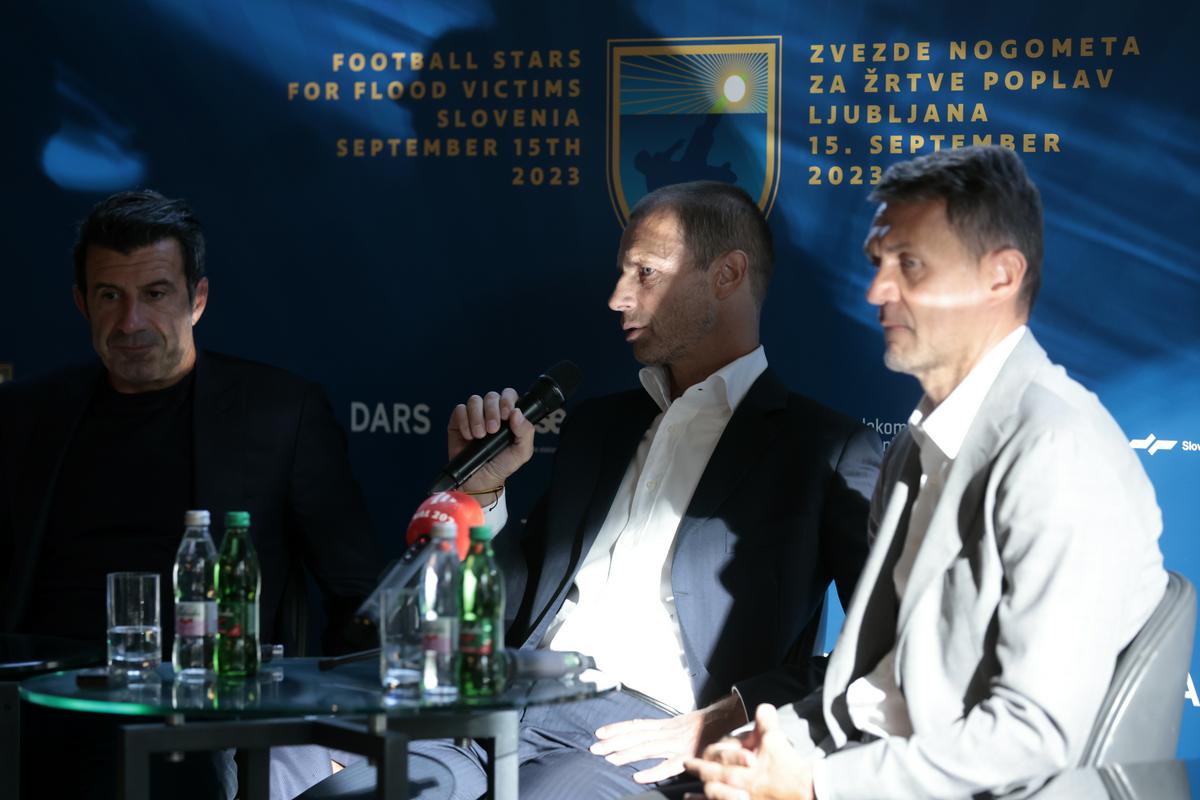 "When we saw what happened in Slovenia, we came up with the idea of ​​a charity match. I am very happy that my friends, football legends, responded. I am very happy with the support of all donors and sponsors and everyone who bought a ticket I expect that as many people as possible will send an SMS today as well (HELP5 on 1919) and an explosion of positive energy."
He emphasized that he knew from the beginning that they would assemble such a stellar team. "They are friends, they respect the charity, but I had no idea that we would raise so much funds so quickly, that we would sell out the stadium so quickly and that it would be an event of this level."
Figo: The most important thing is not to get hurt
He also added that natural disasters are now so common that they are quickly forgotten, and that it is a good idea to help wherever there are similar crises, but that it is still difficult to gather so many people each time. "As far as I can see the boys, I'm afraid they won't be able to play again for another year or so," he also joked about the physical fitness of the guests.
"It's a pleasure to be here. When you're young, you're not even aware of such problems, but now, when you can afford it, you can help. But it's always a pleasure to see friends and play a game," said Maldini, jokingly adding that he last played seven years ago, so there will be some pressure.
Figo also confirmed that he is always happy to help in such matches and events. "When the president asked me to attend, I had to follow. You always have to follow the boss," the Portuguese declared with a laugh. "I also feel a lot of pressure because I haven't played for a long time, but the most important thing is not to get injured."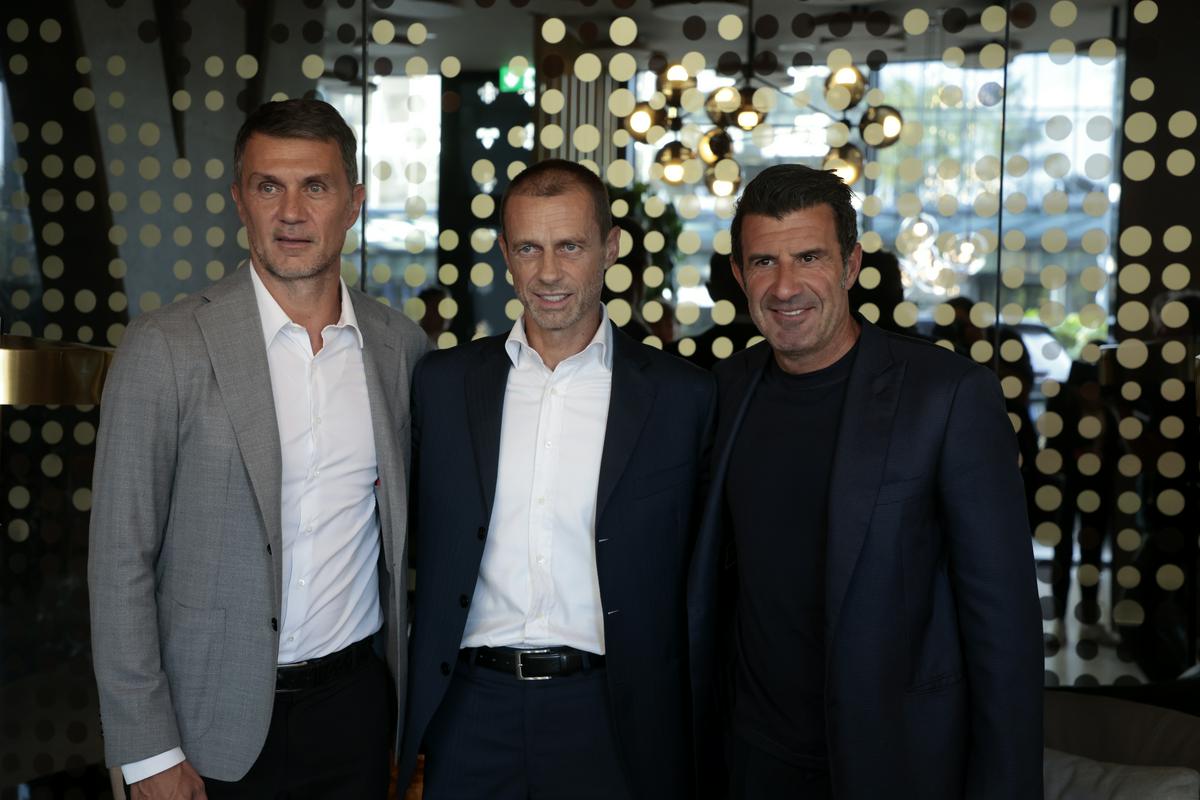 The match was also attended by many football workers, officials, presidents of foreign clubs and football associations, as well as businessmen, who have or will continue to contribute funds for the victims of the August floods in Slovenia.
There were more than 16 thousand spectators in the stadium. In the afternoon, a fan zone was also opened in Stožice.
Uefa and Čeferin responded to the floods already on August 8, when Uefa approved 300,000 euros in aid. The Football Association of Slovenia also came to the rescue with 20,000 euros.


Source: Rtvslo