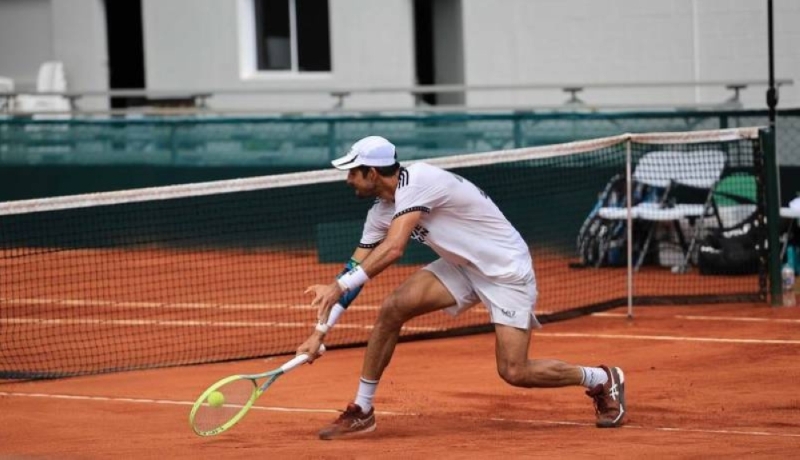 El Salvador will play Ireland in the Davis Cup this weekend. / INDES El Salvador
This Friday, the draw for the Davis Cup World Group II match between El Salvador and Ireland, to be played on the new clay courts of the Ana Mercedes Campos Stadium in Sonsonate, was held.
Tennis player Cesar Cruz will take on Connor Gannon in the series opener this Saturday.
Cruz, the Salvadoran team's second racquet, and Ireland's number one racquet, Gannon, will battle it out for one point in five games in an unprecedented series on new clay courts starting this Saturday (11am). At the Ana Mercedes Campos Stadium in Sonsonate.
Cesar is ranked within the top 150 in the junior world rankings and had a good feeling in the 2022 Davis Cup match against Poland.
"For me, at the age of 17, it is always a source of pride to represent the country in events of this kind and this is the third time. We are going to give our heart, our determination, our lives, everything, so every Please people come and support us," Cesar Cruz said.
The second match on Saturday will see the country's number one racket, Marcelo Arevalo, take on Irishman Osgar Ohuisin.
The series continues on Sunday, September 17th, starting at 10 a.m. with a doubles match between Marcelo Arevalo and Luis Mirales vs. Osgar Owasin and David O'Hare.
This will be followed by individual battles between Cesar Cruz vs. Osgar Ohisin and Marcelo Arevalo vs. Connor Gannon.
El Salvador's team was completed by Diego Duran and first-time call-up Jose Armando Flores.
"I think this Davis Cup will be very special for the team, for me and for Sonsonate. It's a historic moment for the World Series to be held in the city where I was born and raised and where I took my first steps in tennis. "It's true," said Celo Arevalo, one of the country's top tennis players.
The Irish team is made up of Osgar O'huisin, Conor Gannon, David O'Hare, Freddie Murray and captain Conor Niland.
"We are facing a big challenge. We know the level of the Salvadoran players, but our tennis players who play in the Davis Cup will raise the level and naturally come to win the matches." the Irish captain said.
"I am confident that with our play we can give Ireland a great fight. I cannot guarantee that we will win, but I can guarantee that we will give our heart, passion, determination and discipline. All If we can put them in place, we will get a good result on Sunday," said El Salvador captain Jari Bernardo.
The Salvadoran Tennis Federation (FST) confirmed that tickets for the general area will cost $1 per day, with children under 12 admitted free.
FST also reported that premium seats will cost $5 and VIP areas will cost $20.

Source: Diario.Elmundo