Football stars for flood victims
The superstars took turns praising the wonderful atmosphere last night in Stožice at the charity match. "We like to help. We contributed a little bit and I hope it will be a little easier for people," said Clarence Seedorf, the only footballer to win the Champions League with three clubs.
Today, the 47-year-old Dutchman was the concept of a modern midfielder for twenty years, reaching the top of Europe with Ajax (1995), Real Madrid (1998) and twice with Milan (2003, 2007). He is still in excellent physical condition, which he also proved to more than 16 thousand spectators in Ljubljana, who witnessed the Soccer Stars event for flood victims.
"I like to be healthy and I like to enjoy playing football, not to be afraid of getting injured after only five minutes," he remarked with a laugh after Friday's spectacle along the northern ring road.
"It was nice to spend some time on the court again with old friends. But I think we play too often, they should stop calling us, it's all too much (laughter). Joking aside: of course it's nice, but at the same time, unfortunately, it means that there are a lot of problems in the world, because we often play charity matches. It would be better if we gathered just to celebrate something. But if we need to help, we do what we can. The atmosphere was exceptional, many young people and families gathered in the stands."
Mijatović: It might be better for us seniors not to play anymore
He was also satisfied with the "attitude" at the largest Slovenian stadium Predrag Mijatovićbetween 1996 and 1999 Seedorf's teammate at Real and the man of the decision in the 1998 Champions League final against Juventus.
"The most important thing is that the stadium was full, the spectators did a great job cheering. I hope they were satisfied," said the 54-year-old Montenegrin. "There were a lot of younger players on the pitch who had only recently finished playing football, which you could see. Ibrahimović is extremely fit and played the whole game. Figo and Pires are also good. For us seniors, it might be better not to play more (laughter). We can come, but we play hard. But we like to respond to such invitations if we can. We are all only human and recognize the plight of helping those in need."
Olić stabbed Keko and Capello
The Croat thought similarly Ivica Olić. "I am glad that I was a part of it. The audience recognized the action of President Čeferin and the organizers. I was pleasantly surprised by how many people came."
They saw only two goals in 60 minutes of play. "There were a lot of quality strikers on the pitch but unfortunately few goals. Maybe it was because there were two coaches on the bench who are known for their defensive style of football, Kek and Capello (laughter). Neither team wanted to lose, but to win, both fought to the end for a positive result," said the experienced former striker from Germany (including Bayern – 2009-2012), who today is 44 years old. Currently, together with two other members of the hall of legends, Vedran Ćorluka and Mario Mandžukić, he is an assistant to coach Zlatko Dalić in the Croatian national team.
Kek: "Ibra" drove five hours from Milan on our roads
"Look at the result," answered the "remark" about Olić's defensive play from a distance Matjaž Kek, who was the coach of the winning team. In fact, reporters asked him if many of the stars on his team had followed his advice. "Blue" headed by Zlatan Ibrahimovićwho was "hidden" by the organizers until the last as a surprise and who made the crowd in the stands the craziest with his leap, won after shooting from the penalty spot with a total score of 5:4.
"It's a privilege to be in their company, I have great respect for all these names. But on the field they all went all the way. Some maybe with a gram too much, others with a hair less. But everyone still has an idea and above all a moment of will, with which they prove how great masters they once were. You can still see it in every move today." continued the Slovenian coach.
"Of course, I would prefer that the reason for preparing such a match would not be the way it was. But it happened at the right moment for Slovenian football. The organizers deserve praise for the idea, as well as the fantastic spectators who prepared a fantastic atmosphere. Thanks also to the great stars of world football, who did not find it difficult to reach Slovenia. 'Ibra' drove five hours from Milan on our roads (laughter). Everyone made their mark. We are glad that the money was collected, which will come in handy. A few more matches like this should happen to at least help a little. But it can be seen that Slovenia can come together if it wants to," he emphasized.
Aćimović was pulled onto the pitch despite knee surgery
Mile Acimovic today he is the coach of the Slovenian under-21 national team, and he himself counts 46 seasons. Among the 36 participants in the match, he was somewhat unexpected. "I had a really difficult knee operation, today I stepped on the field for the first time in a year. I didn't plan to play, but when you are so close to the field, it pulls you and you want to experience it. After the end of your career, you miss those feelings. Then you relive it and you can see it was really great."
"It was very interesting to share the dressing room with such players who shaped my career and won all kinds of laurels. We enjoyed it, a great event. Zlatan is certainly the freshest since retirement, it was a great honor that he came, but also other spectators they haven't forgotten. I don't think we talked about anything other than football, you know we're all still connected to it. We talked about the times when we played ourselves, what's happening now and the future. The main topic was football," introduced the pulse of the locker room.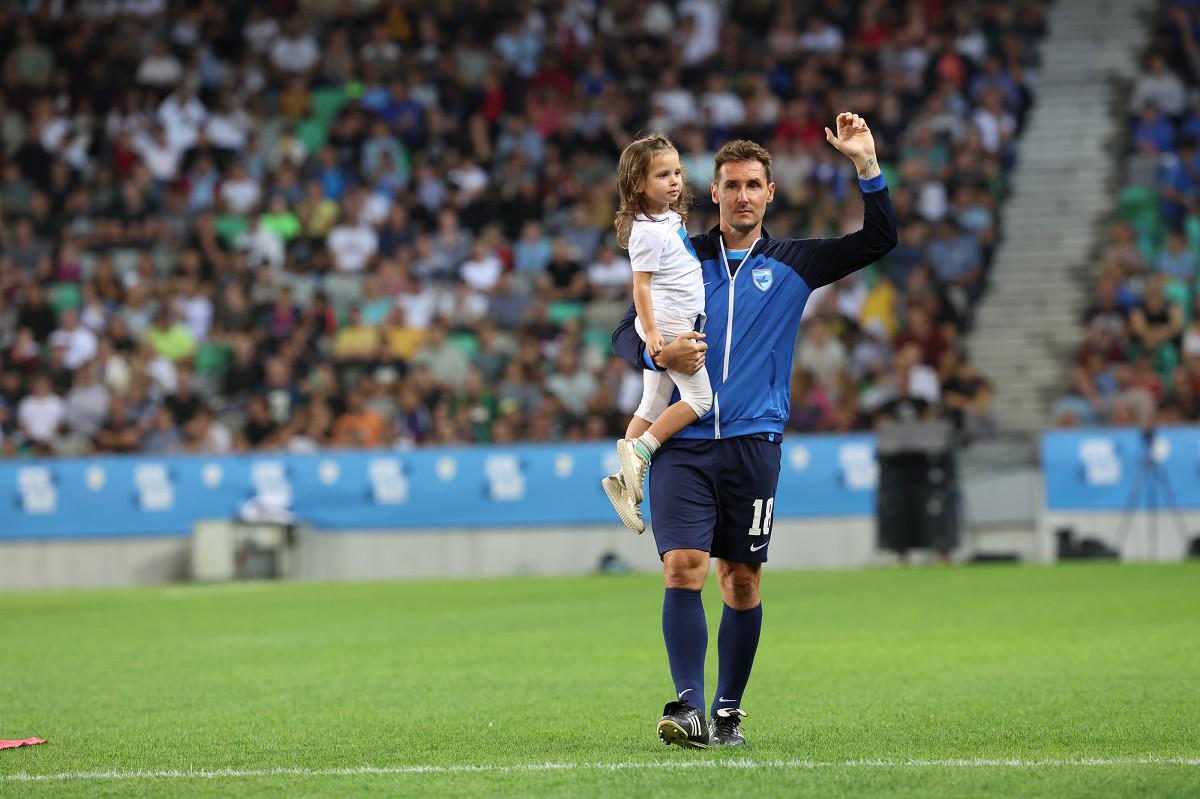 Klose praised Rejo
Miroslav Klose, the top scorer in the history of the World Cup with 16 goals and the top scorer of the German national team with 71 goals, revealed that there was also talk of Edy Reja. Zamejec was his coach at Rome's Lazio in two periods, in the 2011/12 season and the second part of the 2013/2014 season. "We talked about him in the dressing room. I really liked him as a coach and as a person. He has a soft approach and a lot of experience, he talked a lot with the players. That suits me very well."
The 45-year-old striker of Polish origin, who called Reja the best football player he managed, also tried his hand at coaching after the end of his career in 2016. Last season, he sat on the bench of the Austrian first division Altach from Predarlberg, where he lost his job in March due to poor results. "I am currently an expert commentator for the Champions League for Germany and Italy on the Amazon Prime Video platform, I am happy with this work. But I would also like to be a coach again. If the right opportunity presents itself, I will accept it," explained his current status.
He is also looking forward to the European Championship in Germany next year. "In 2006, I experienced the home World Cup as a soccer player, now I will be a fan. On Tuesday, I watched a friendly match between Germany and France live in Dortmund (2:1)."
Pires surprised him
And what memory will he keep of the charity evening in Stožice? "It was fun. It's nice that Zlatan also joined us. Of course, the players found out a little earlier today that he would come. We must not forget some others who are very well prepared. Pires surprised me, he is 49 years old, he is really good. Abidal also ran a lot on the wing. I could list 10, 15 more names. The more superstars like that come, the more money is raised."
Yesterday, the football players helped to collect money, which is otherwise extremely high in this sport. But as Klose says, most players don't think much of rustling bills. And he wants people to be aware of it. "It is important to show that in football it is not only about money, that it is not only that that counts. Even today we saw that it is not important. We all play with heart, we all started on bad and dirty pitches where we played. Because we just loved football."
Altintop: We are a big family
He was joined by his former teammate at Bayern, the Turk Hamit Altintop. They spent a four-year period together in Munich between 2007 and 2011. "It's love and passion. Football has opened many doors for us, so we have to give something back to it. We have to stay humble, stick together and protect the values ​​it embodies. I'm very grateful to have had the opportunity to come here and meet my former teammates and friends. This is always something special. Thank you Mr. Čeferin for organizing this wonderful event where we expressed our support and help to your country in difficult times. We have a nice dinner waiting for us to chat. We always fought on the field for our club or country, but in the end we are friends or a big family. There is always some excitement, and that was the case today as well."
Altintop, however, had the last action in the match, in the shirt of the "reds" he was not successful from the penalty spot in the fifth series: "I didn't shoot the 11-meter penalty well (laughter), but in the end we were all satisfied and enjoyed the match. Me too. I look forward to a similar opportunity in the future."
Source: Rtvslo