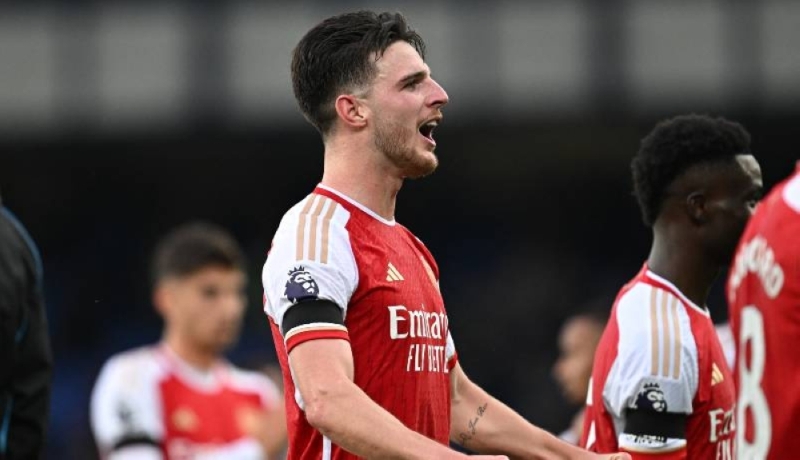 Arsenal won against Everton. /AFP
Arsenal, fourth in the English Championship, maintained their pace in the front group on Sunday, on their fifth day in the Premier League, with a hard-fought 1-0 win against Everton, who had not won at Goodison Park since 2017. alliance.
The Gunners have 13 points after five games and are ahead of Tottenham and Liverpool in terms of goal difference. Manchester City are alone at the top of the table with a two-point difference over this trio.
Mikel Arteta's side won in the 69th minute with a goal from Belgian Leandro Trossard, who came on in the first period after Brazilian Gabriel Martinelli was injured.
The 22-year-old winger has been suffering from a muscular problem, which could be a problem for Arsenal ahead of two high-profile events – Wednesday's return to the Champions League against PSV Eindhoven and next Sunday's Premier League clash with Tottenham. was bad news.
Arsenal decided to release the ball through the play of Bukayo Saka on the right. His backward pass was stopped first by Trossard, who reached the opposite post with quality and power.
With victory this Sunday, Arsenal broke the curse they had at Goodison Park. They haven't won since 2017, when legendary manager Arsene Wenger was still in charge.
Everton, who have had serious difficulties staying in the First Division for the past two seasons, appear destined to suffer once again. They are second from bottom with just one point from five games.
~Chelsea can't even raise her head~
In another game this Sunday, Chelsea drew with Bournemouth goalless, resulting in an even more disappointing result, leaving the West London club in 14th place.
Mauricio Pochettino's Blues, who have not played in any European competition this year, have invested heavily in the transfer market but are currently struggling to reach cruising pace.
In the current Premier League, they have only won once against newly promoted Luton, and have suffered two losses and two draws.
At the Vitality Stadium, Chelsea had several chances to score through Nicholas Jackson and the explosive Cole Palmer, but could have lost. Spanish goalkeeper Roberto Sanchez saved a goal against Dominic Solanke in the 80th minute.
Pochettino recalled his time in the infirmary to explain the team's situation: "We know what we need and we are strong for what we believe in. . We have 12 injured players and today we had three or four young players on the bench and two goalkeepers. Am I going?'
Next weekend, Chelsea host Aston Villa, who are seventh in the table with nine points.
Bournemouth are in 15th place with three points, behind Chelsea. On the 6th day, you will move to Brighton (5th day).

Source: Diario.Elmundo