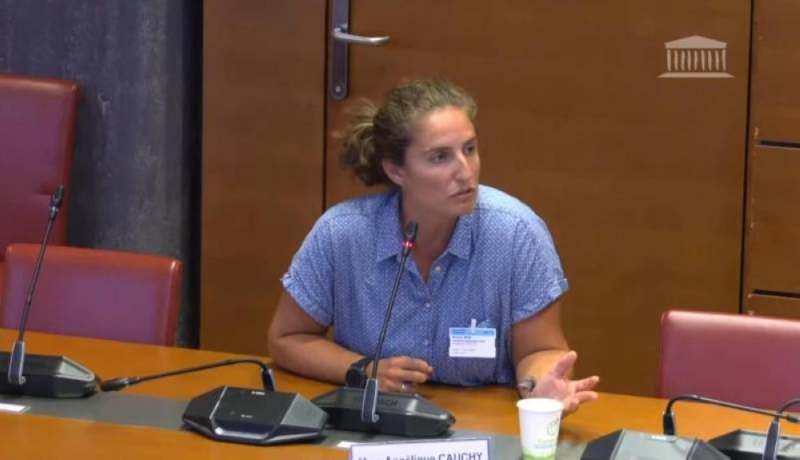 Angelique Cauchy has revealed that she was raped by Andrew Guedes starting when she was 12 years old. / Courtesy
Former tennis player Angelique Cauchy has given a moving and horrifying account of the years of abuse she suffered at the hands of her coach, Andrew Geddes. Guedes was sentenced to 18 years in prison in 2021 on various charges of sexual abuse of minors. . age. A French woman who currently works as a physical education teacher pointed out that what she experienced "ruined my career".
Cauchy started playing tennis at the age of 6 and at the age of 11 placed second among juniors in France. There he met his coach and future attacker, Guedes, who recognized his talent, but also his sensitivities and weaknesses.
The chilling testimony of Angélique Cauchy.
"Once he said to my parents, "I wish you could sleep at my house."
"He immediately tried to give me confidence, saying I was a diamond and had a lot of potential to be in the top 10 in the world."
"And he also devalued my family, telling me they weren't good enough for me and that I was smarter than them."
"I was not accepted by my family, especially my father. "He saw this loophole and took advantage of it."
"He really had a trick: first he would flatter you by making you feel alienated, then he would degrade you by treating you coldly and coldly, and then he would isolate you and then completely disown you. This person becomes your everything because you have nothing else left. "
"We didn't go out much with our family and we didn't go on vacation anywhere other than to my mother's family in Spain. But I was curious and wanted to discover the world. "My parents didn't think it was harmful, they just wanted to please me."
"There was nothing out of the ordinary except that I went to my coach's house to sleep."
"Then I started seeing him outside of tennis and he would write me letters and call me. He claimed that training was easy and that he could contact me directly. and asked for my cell phone."
"We didn't have much money, so it was a relief for my parents to have someone to take me to tournaments and manage my training. He said, "I'm like your second father, and you're like my daughter."
"It happened gradually and insidiously. He started by coming over to put me to bed at night, then coming to my bed and asking if he could hug me and telling me he didn't have any kids. Then he fondled my stomach and butt, and then he came to masturbate next to me."
"It was really hard to be away from my family for two weeks. "For two weeks, I was raped three times a day."
"The first night he asked me to go to his room. When I refused, he came to me and things got even worse. I felt like a prisoner because I had to stay where I was. Other nights I went there alone and it was terrible. "I had the worst 15 days of my life." "
Andrew Geddes was sentenced to 18 years in prison in 2021.

Source: Diario.Elmundo