NFL Round 2 Preview
The NY Giants football players were already trailing by 21 points on the road in Week 2 of the NFL League against Arizona, eventually erasing the deficit and looking forward to a 31:28 victory. Graham Gano scored the decisive points with a free kick 19 seconds before the end.
The game started out very one-sided, as the Cardinals scored all 20 points in the first half and still led 28-7 at the start of the third quarter. It's in the second half Daniel Jones passed for two scores (totaling 321 yards) and two were scored by a running back Saquon Barkley (one in the air, the other on the ground). The only concern for the Giants is Barkley's injury, which could keep him out for a long time. The last time the Giants caught 21 was in 1949, when they also shocked the Cardinals.
Cincinnati is still waiting for its first winCincinnati is also in trouble, having lost its second game of the season, the Bengals had to concede superiority to Baltimore (27:24) at home. Local star Joe Burrow limped at the end of the match, having injured his sword.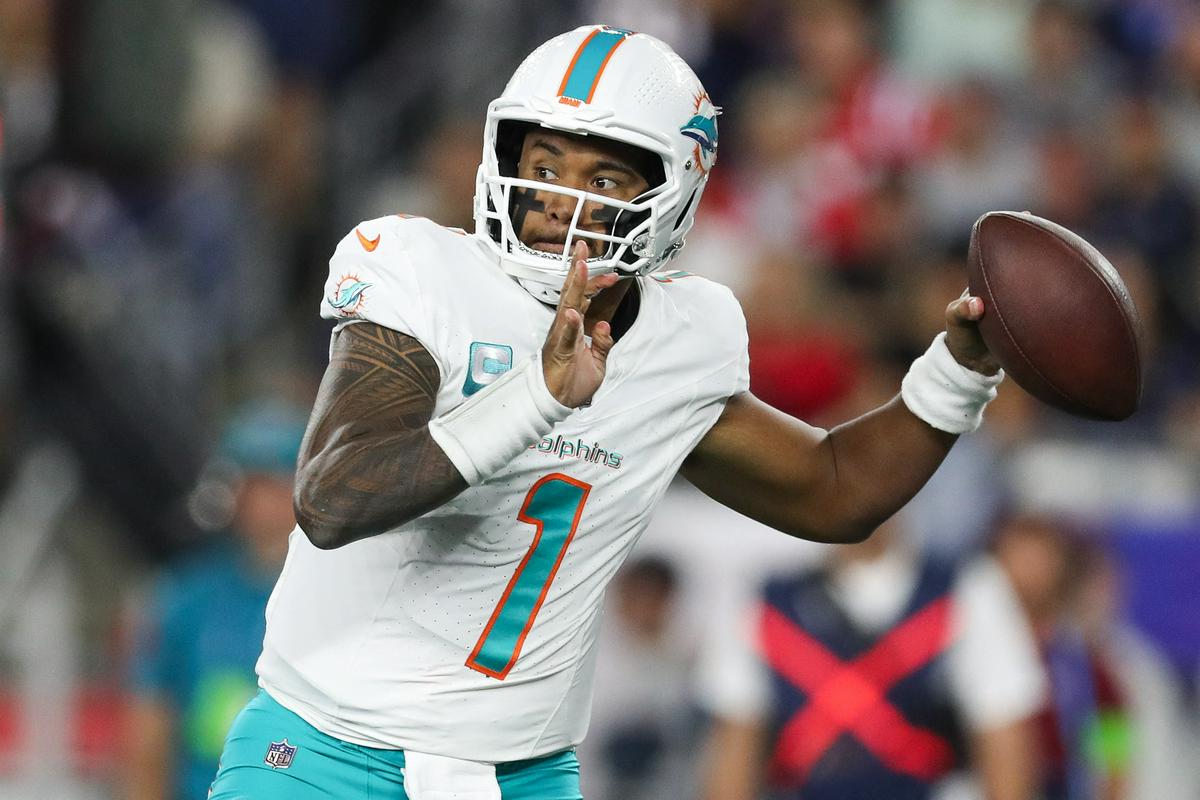 Tagovailoa doesn't know a loss against the PatriotsMiami started the season with two wins, this time beating New England 24:17 on the road. He scored two goals Raheem Mostert (had a great run for 43 yards in the last quarter), Tua Tagovailoa and had 249 yards and a touchdown pass (the ball was caught by his favorite target Tyreek Hill. Tagovailoa played five times against the team Bill Belichick and always won.
NFL Week 2
PHILADELPHIA − MINNESOTA 34:28ATLANTA – GREEN BAY 25:24BUFFALO − LAS VEGAS 38:10 CINCINNATI − BALTIMORE 24:27 DETROIT − SEATTLE 31:37 (extra time)TENNESSEE – LA CHARGERS 27:24TAMPA BAY − CHICAGO 27:17 JACKSONVILLE − KANSAS CITY 9:17 HOUSTON − INDIANAPOLIS 20:31 LA RAMS − SAN FRANCISCO 23:30 ARIZONA − NY GIANTS 28:31DALLAS − NY JETS 30:10DENVER − WASHINGTON 33:35 NEW ENGLAND − MIAMI 17:24
Tuesday:CAROLINA − NEW ORLEANSPITTSBURGH − CLEVELAND
Standings, AFC Conference
East
| | | | | | |
| --- | --- | --- | --- | --- | --- |
| The team | Wins | Defeat | Draws | Division | Conference |
| Miami Dolphins | 2 | 0 | 0 | 1-0 | 2-0 |
| New York Jets | 1 | 1 | 0 | 1-0 | 1-0 |
| Buffalo Bills | 1 | 1 | 0 | 0-1 | 1-1 |
| New England Patriots | 0 | 2 | 0 | 0-1 | 0-1 |
North
| | | | | | |
| --- | --- | --- | --- | --- | --- |
| The team | Wins | Defeat | Draws | Division | Conference |
| Baltimore Ravens | 2 | 0 | 0 | 1-0 | 2-0 |
| Cleveland Browns | 1 | 0 | 0 | 1-0 | 1-0 |
| Pittsburgh Steelers | 0 | 1 | 0 | 0-0 | 0-0 |
| Cincinnati Bengals | 0 | 2 | 0 | 0-2 | 0-2 |
South
| | | | | | |
| --- | --- | --- | --- | --- | --- |
| The team | Wins | Defeat | Draws | Division | Conference |
| Jacksonville Jaguars | 1 | 1 | 0 | 1-0 | 1-1 |
| Indianapolis Colts | 1 | 1 | 0 | 1-1 | 1-1 |
| Tennessee Titans | 1 | 1 | 0 | 0-0 | 1-0 |
| Houston Texans | 0 | 2 | 0 | 0-1 | 0-2 |
West
| | | | | | |
| --- | --- | --- | --- | --- | --- |
| The team | Wins | Defeat | Draws | Division | Conference |
| Las Vegas Raiders | 1 | 1 | 0 | 1-0 | 1-1 |
| Kansas City Chiefs | 1 | 1 | 0 | 0-0 | 1-0 |
| Los Angeles Chargers | 0 | 2 | 0 | 0-0 | 0-2 |
| Denver Broncos | 0 | 2 | 0 | 0-1 | 0-1 |
NFC Conference
East
| | | | | | |
| --- | --- | --- | --- | --- | --- |
| The team | Wins | Defeat | Draws | Division | Conference |
| Dallas Cowboys | 2 | 00 | 0 | 1-0 | 1-0 |
| Philadelphia Eagles | 2 | 0 | 0 | 0-0 | 1-0 |
| Washington Commanders | 2 | 0 | 0 | 0-0 | 1-0 |
| New York Giants | 1 | 1 | 0 | 0-1 | 1-1 |
North
| | | | | | |
| --- | --- | --- | --- | --- | --- |
| The team | Wins | Defeat | Draws | Division | Conference |
| Green Bay Packers | 1 | 1 | 0 | 1-0 | 1-1 |
| Detroit Lions | 1 | 1 | 0 | 0-0 | 0-1 |
| Minnesota Vikings | 0 | 2 | 0 | 0-0 | 0-2 |
| Chicago Bears | 0 | 2 | 0 | 0-1 | 0-2 |
South
| | | | | | |
| --- | --- | --- | --- | --- | --- |
| The team | Wins | Defeat | Draws | Division | Conference |
| Atlanta Falcons | 2 | 0 | 0 | 1-0 | 2-0 |
| Tampa Bay Buccaneers | 2 | 0 | 0 | 0-0 | 2-0 |
| New Orleans Saints | 1 | 0 | 0 | 0-0 | 0-0 |
| Carolina Panthers | 0 | 1 | 0 | 0-1 | 0-1 |
West
| | | | | | |
| --- | --- | --- | --- | --- | --- |
| The team | Wins | Defeat | Draws | Division | Conference |
| San Francisco 49ers | 2 | 0 | 0 | 1-0 | 1-0 |
| Los Angeles Rams | 1 | 1 | 0 | 1-1 | 1-1 |
| Seattle Seahawks | 1 | 1 | 0 | 0-1 | 1-1 |
| Arizona Cardinals | 0 | 2 | 0 | 0-0 | 0-2 |
Source: Rtvslo