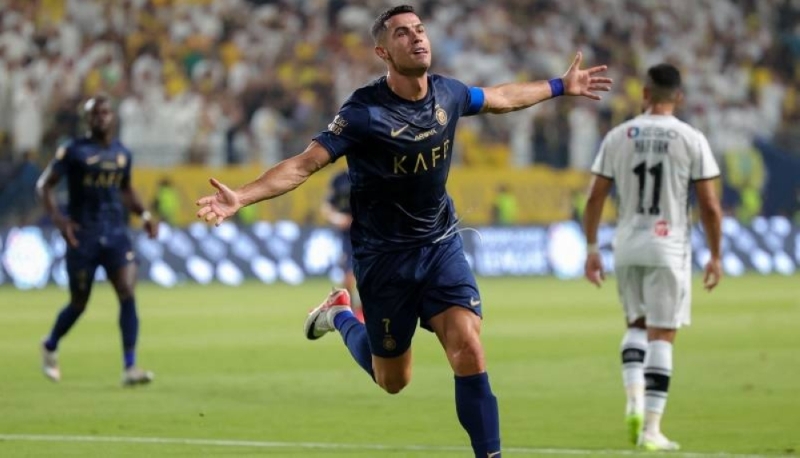 Cristiano Ronaldo, Al Nasr player
"Welcome Ronaldo!" Iranian football fans welcomed the Al Nasr legend in style against local team Persepolis Tehran. This duel was made possible thanks to improved diplomatic relations between Iran and Saudi Arabia.
Cristiano Ronaldo and his teammates were greeted by cheers from dozens of Iranian fans as they departed Imam Khomeini Airport with smiles on their faces.
CR7, 38, received a luxurious Persian rug as a gift from President Persepolis.
A large flag with a "Welcome" message and a picture of a Portuguese legend was hoisted on a highway bridge in Iran's huge capital, unaccustomed to receiving international icons due to its diplomatic isolation.

canceled training
"It's so exciting!" enthuses Ronaldo fan Navid Borhanifar, 28. He said he was looking forward to a "great match between Al Nasr's star players and Persepolis, who have experienced players."
Dozens of fans were so excitedThey briefly entered the entrance to the Saudi team's hotel to take photos.
Due to the madness that erupted around this idol, Al Nasr had to cancel his trip to the stadium for his final training session.
Unfortunately, Azadi Stadium, the country's largest with 90,000 seats, will have no fans on Tuesday. This comes after Persepolis was sanctioned by the Asian Confederation (AFC) after controversial posts were published on its Instagram page in 2021.
The match will be played behind closed doors and will be broadcast on television (6pm Japan time).
Until the duel begins, Al Nasr's players will be monitored by an "elite unit" of security forces specializing in presidential expeditions, according to the Varzesh 3 sports page.
The website states that among its duties is to "prevent any contact between fans and players" of the Saudi Arabian team.

Iranian fans celebrated Cristiano Ronaldo's yes on the streets of Tehran

Iranian GOAT Cristiano Ronaldo fever #CR7 pic.twitter.com/K1zQTCHtCG

— Blue (@BlueboyCR7) September 18, 2023
Al Nasr were forced to interrupt training in Iran today due to the number of people wanting to meet Cristiano Ronaldo.

There are also people from FIFA and the press. A real GOAT has people.pic.twitter.com/CkFXRJ19d7

— CR7STIANISM (@Cr7stianismo_) September 18, 2023
Cristiano Ronaldo's madness and enthusiasm in Iran

The number of people outside the hotel where Cristiano Ronaldo is staying is rapidly increasing, and there are already thousands of Iranians hoping to see Cristiano.
No one wants to leave, everyone wants to see it

Impact of Goat CR7 pic.twitter.com/iECZ0Rat38

— Blue (@BlueboyCR7) September 18, 2023
relationship restoration
The match was the opening round of the Asian Champions League, with the Saudi club emerging as favorites to win after making key reinforcements in the last window.
Al Nasr surrounded Ronaldo, who was signed at the start of the year, with Senegal's Sadio Mane and Ivory Coast's Seko Fofana.
The Saudi Arabian national team will play with the motivation of avenging their loss to Persepolis in the semi-finals of the 2020 tournament.
Persepolis, the club with the most titles and supporters in Iran, was twice a finalist in the continental competition, in 2018 and 2020, with Al Nasr winning the championship in 1995.
The match also has an important diplomatic dimension, as Saudi clubs and Iranian clubs will face each other on a "partial" rather than neutral basis, as has been the case for the past seven years.
On Monday, October 2nd, another Saudi club Al Ittihad will play against Iran's Sepahan.
The AFC approved these matches in August, five months after a China-mediated deal to restore relations between the two Middle Eastern giants was finalized in March..
Sunni-majority Saudi Arabia and Shiite-majority Iran severed diplomatic relations in 2016 after Iranian demonstrators attacked Saudi diplomatic missions overseas to protest Riyadh's execution of a Shiite religious figure.
The AFC described the period as "deeply disappointing" and found an agreement that would allow teams from both countries to play each other on neutral ground.



Source: Diario.Elmundo