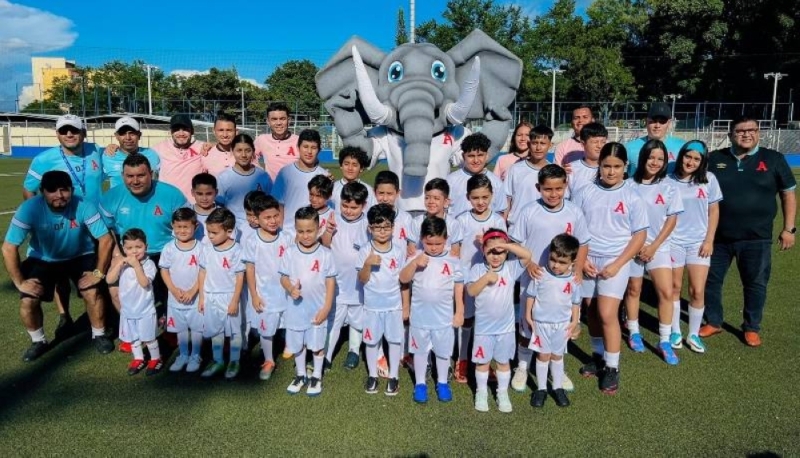 Alianza FC Soccer Academy
Alianza FC announced at a press conference a new football academy with three levels for ages 4 to 15.
Edgar Uribe, who has experience serving as the basic coaching staff for Pachuca in the MX League, will be in charge of coordination.
Albos announced that they currently have 30 children enrolled in the four levels they want to create. Mario Palacios, vice-president of Alianza FC, said that the goal is to introduce six levels, but at the moment there are three levels and that they hope to open up the ages 10 to 12 soon.
Former CD FAS women's coach Cristian Sagna will be in charge of the 4-6 age group, Edwin Delas will be in charge of the 7-8 age group, and Nelson Mauricio, Alianza FC's father and national forward, will be in charge of the 7-8 age group. do. Emerson Mauricio. Will lead the 12-15 year old level.
The registration fee for the soccer academy is $100, which includes two Alianza jerseys. Monthly cost is $60. Practice time will be from 4pm to 6pm.
In that respect, Academy benefits include: Comprehensive training, sport-specific training at the Goalkeeper School, access to international scouts, promotion to national and international high-performance programs, access to scouts in the under-15s and women's categories, first team players and coaching staff. Sports clinic by.
Priority admission to official home games (where permitted), Red and White games, halftime and home games (where permitted). Get his 20% discount on regular clothing and child insurance.
"This is what makes an organization like Alianza great. Our aim is to find a sports space that is needed not only for national sport, but also for El Salvador and to thank you for the trust you have placed in the academy of Alianza FC. "This project is a historic and important moment for our institution," Palacios said.
In that respect, Uribe hopes to sign new talent from Alianza FC. "It is a great pleasure for me that we can take part in the development of the only professional academy of the Alianza Club. Mr. Cibrian invited me to work with the boys4.・I had a great time working with the club."I had a very good experience at this club and from now on I would like to try to attract talent to the Alianza club. "
The press conference was attended by players from Alianza FC's first team, including Narciso Orellana and Marvin Monterrosa, who said he was happy that his son will be attending Albo's football academy.
"I am very happy with this project that Alianza is doing with this academy. It is important as parents that our children can come here and have physical activity. It is good for them and happy people I just hope that as "the kids also enjoy such a great experience in soccer," Monterrosa said.

•! •

On this day, we open our soccer academy. We encourage you to register as a small alliance member.

#GrowingWithIdentity #Alianza FC | #Ariansista than ever pic.twitter.com/9dYbWIa7jg

— Alianza Football Club (@AlianzaFC_sv) September 18, 2023
| Official release:
..

Alianza FC Vice President – Mario Palacios
Academy Coordinator – Edgar Uribe
Academy Teacher – Nelson Saul Mauricio
©️ First Team Principal – Marvin Monterrosa #Alianza FC pic.twitter.com/9JDNwSsgCn

— Alianza Football Club (@AlianzaFC_sv) September 18, 2023
This is the alliance:
! #Alianza FC | #Ariansista than ever pic.twitter.com/yXeDCK7kYW

— Alianza Football Club (@AlianzaFC_sv) September 18, 2023
Who is your favorite player among the small players in Academy Alliance? #Alianza FC | #Ariansista than ever pic.twitter.com/jm1Cu9fC9O

— Alianza Football Club (@AlianzaFC_sv) September 19, 2023
But the shield suits them well,
A small one! #Alianza FC | #Ariansista than ever pic.twitter.com/0ze6wlz1oy

— Alianza Football Club (@AlianzaFC_sv) September 19, 2023
| Instill a love of life from an early age. #Alianza FC | #Ariansista than ever pic.twitter.com/GY2eDyMphf

— Alianza Football Club (@AlianzaFC_sv) September 19, 2023
I'm not crying…

Don Roberto Vazquez, a member of the alliance since our team defeated Pele's Santos, today enjoyed and recorded all the first training sessions at the academy of his grandson Roberto Andres.#Alianza FC | #Ariansista than ever pic.twitter.com/wgBKss9iYK

— Alianza Football Club (@AlianzaFC_sv) September 19, 2023


Source: Diario.Elmundo