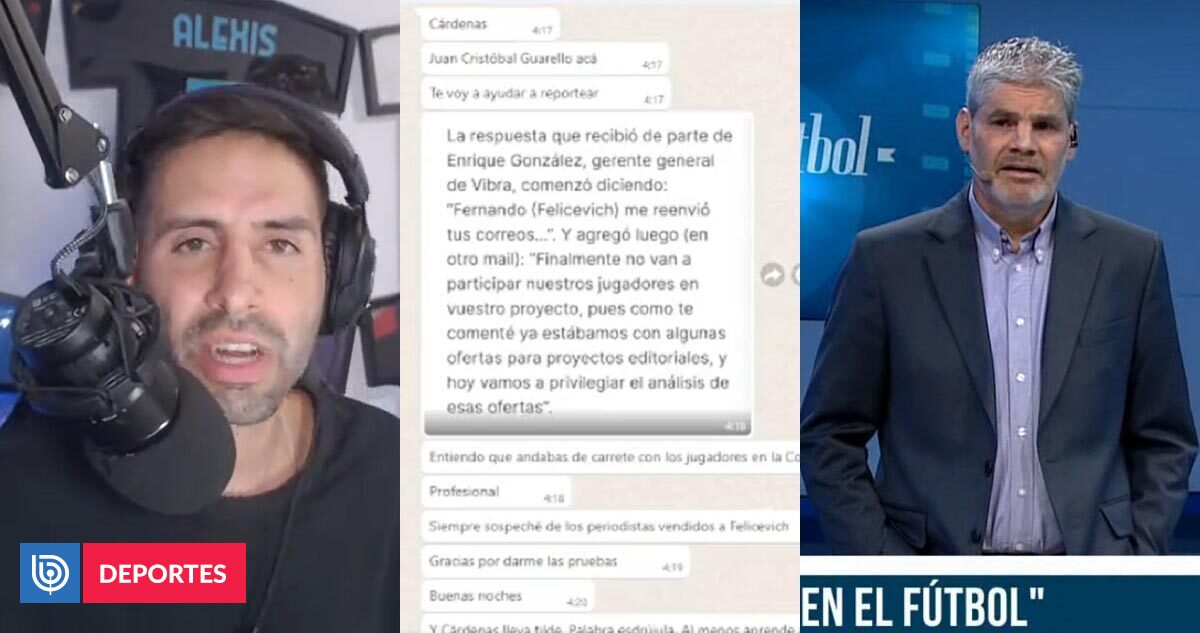 Juan Cristobal Guarello and Max Cardenas star in an ugly exchange of opinions after Medel, Sanchez and Vidal get into a dispute over Mineduk's book.
journalist Max Cardenas world Juan Cristobal Galero Gary Medel, Alexis Sanchez and Arturo Vidal starred in a proclamation "hot" duel that began due to the controversial book "Heroes and Legends of Chilean Sports".
DirecTV's commentators have launched harsh criticisms of La Roja's three cracks, notably: Against representative Fernando Felicevic in a book obtained by the Ministry of Education, he upheld the responsibility for the noisy marginalization of football players (Mineduk).
Cardenas questioned his revelations through social networks without mentioning his colleagues.
"To say that Vidal, Alexis and Medel did not agree to participate in the book is misleading and hurts their image. I wouldn't be surprised if anyone said that," the correspondent said at the outset.
"They have been portrayed in countless publications and even shared on networks.
But the discussion didn't stop there, and through live on his Twitch account, The communicator read live a message sent to him by Juan Cristobal Guarrero There he accused him of being too close to the three mentions of the Golden Age.
"I understand you were on reel with the players in the Copa America. Pro. I always thought the journalist was sold to Felisevic. Thanks for proving. Good night' was part of his WhatsApp sent to him by a La Tercera columnist.
In the same transmission, Cardenas commented on his colleague's surly message with the message "Juan Mentiloso Guarello."
"You are the National Award for Sports Journalism. Thank you for giving me a platform. What happens is that you go on like horses believing that you alone have the truth, and you only go to certain parts because you believe the truth is like that. " started commenting on Maks.
"That's why they took advantage of you and that's why I'm taking advantage of you now. That's why you and another national award for sports journalism screwed up and went out and apologized later." That's why you had to. Because they knew you were going to bite.
Cardenas then said, "What a pity for you that I am not related to Felicevic. You would have liked it. Unfortunately, you remained defamatory. That's all."
This was the release of Max Cardenas against Juan Cristobal Guarello.
Juan "Liar" 🤥 Guarello pic.twitter.com/oIO94DQbNO

– Max Cardenas (@MaksCardenas) October 4, 2022
Source: Biobiochile