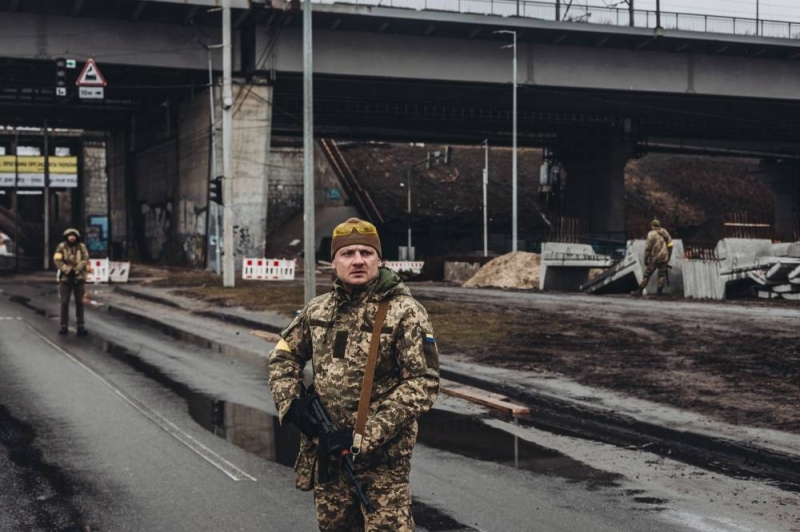 Kyiv road control a week after Russian attack on Ukraine / Europa Press.
Authorities in the Ukrainian capital Kyiv said on Wednesday that at least one person was killed and another injured in a new airstrike by Russian forces that cut power and water supply. district of the city.
The police chief of the aforementioned town, Andriy Nevitov, indicated in his Telegram account that a two-story residential building was hit by a missile in Vyshgorod, Kyiv region.
"Missile attacks on the Kyiv region. Fires started in residential buildings after being hit by one of these missiles," he explained, noting that police were already working at the scene.
Local authority spokesman Oleksii Kuleba warned that Russia had attacked critical infrastructure. "Housing Department" It has expressed the danger that these attacks will be repeated.
Earlier, Kyiv mayor Vitali Klitschko condemned the new attacks linked to the Russian aggression and urged the public to "stay in shelters" while anti-aircraft sirens sounded. It also confirms that various "civil infrastructure" in the capital have been affected.
Meanwhile, attacks during the day cut off power in the city of Lviv in western Ukraine, close to the border with Poland.
Mayor Andriy Sadvi "The whole city has no electricity" Indicates waiting for acquisition "Additional information from experts". "Drinking water supplies may also be interrupted. Please stay in shelters," he said, according to Ukrinform news agency.
Explosion in Crimea
These attacks were preceded by several explosions in the Yevpatoria region of Crimea, which was annexed by Russia in 2014. Some local media outlets have linked the blaze to various training missions for Russian troops in the area.
That same Wednesday, the Ukrainian government argued that attacks on the energy industry "do not help Russia strengthen its position." The Ministry of Defense has therefore indicated that this type of movement "does not carry out or halt the advance of troops to liberate temporarily occupied areas."
Deputy Defense Minister Hannah Marial indicated that "the majority of enemy missiles hit energy infrastructure", noting that these attacks were "directed at civilians".
"This will not demotivate civilians. If the enemy thinks that the destruction of these infrastructures will distract the Ukrainian army and keep them away from the eastern and southern fronts, they are wrong. " he insisted.

Source: Diario.Elmundo