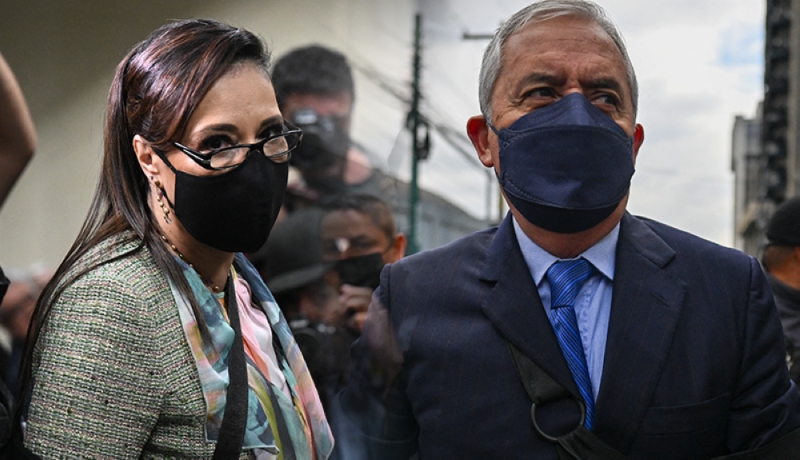 Roxana Baldetti and Otto Pérez Molina.AFP
This Wednesday, the former Guatemalan presidential duo of Otto Pérez Molina and Roxana Baldetti were found guilty of unlawful association and customs fraud, according to local media stationed in the high-risk court "B" in the Guatemalan capital. received.
At the sentencing hearing, Perez Molina and Baldetti were acquitted of the illegal enrichment charge in the La Linea case.
"There is no evidence of an increase in homestead, which supports the increase," said judge Cati Salseño.
The incident, known as La Linea, was uncovered by the defunct Guatemalan International Commission Against Impunity (CICIG) in April 2015, leading to the former president's resignation and arrest.
Perez has been incarcerated at Mariscal Zavala Prison since September 2015.
The trial ended after months of public hearings, according to the Repubblica news portal.
After hearing the resolution, Otto Pérez Molina told journalists in court that "no one said that I issued an illegal order" and that in "22 phone calls" investigated by the ministry, a "third claimed to be related to these incidents by public. "I am disappointed and frustrated…" he said.
An investigation into the La Línea case began in May 2014. At this time, attention was drawn to the fact that a group of importers were involved in smuggling operations. The group contacted a network of customs brokers to avoid paying actual taxes.
To do this, the network provides importers with a phone number known as a "line" and through analysis and interpretation of information collected in the wiretap, it is clear that part of the structure is made up of SAT personnel. established.
In this case, 29 people were charged.

Source: Diario.Elmundo