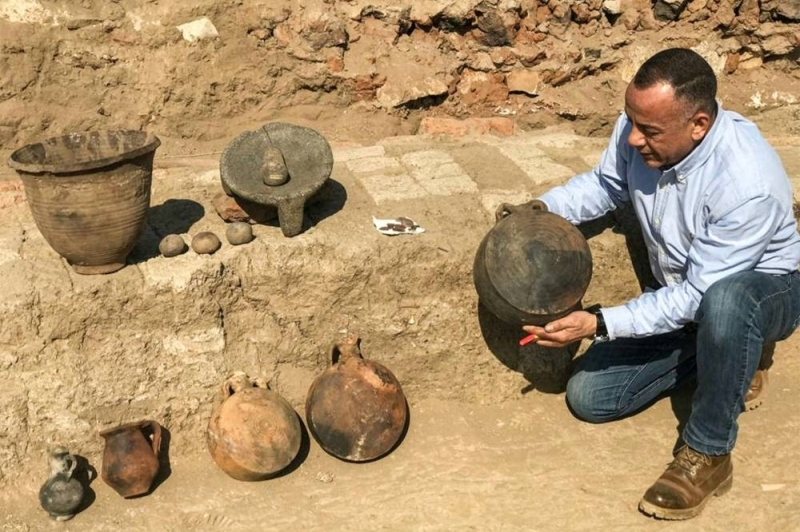 Mostafa Waziri, chairman of the Supreme Council of Egyptian Antiquities, inspects a ship uncovered during excavations of an 1,800-year-old "completely inhabited Roman city."
Egypt on Tuesday announced the discovery of the remains of "an entire Roman city" in Luxor, which dates back to the first centuries of the Christian era.
According to the Ministry of Antiquities, it is "an entire inhabited city" of the 2nd to 3rd century AD, found "on the banks of the Nile near the Temple of Luxor" about 500 kilometers south of Cairo.
In this "extension of ancient Thebes", the ancient capital, "metallurgical workshops" with numerous tools and "Roman copper and bronze coins" were found, said the secretary of the Supreme Council of Archeology. Mostafa Waziri explained.
"And excavations are continuing," the official added.

Excavations of the 1,800-year-old "complete Roman settlement" in the city center of southern Luxor.
In 2021, an archaeological expedition discovered "Egypt's largest ancient city," dating back more than 3,000 years, on the west bank of Luxor, home to the famous Valley of the Kings.
Egypt has revealed several important discoveries in recent months, primarily at the Sakara necropolis south of Cairo.
In January he announced that a tomb had been found in Luxor. It probably belongs to the wife of the 18th dynasty queen Akhenaten and Tutankhamun and dates to 3,500 years ago.
For some experts, these claims have more political and economic dimensions than scientific ones.
The country, with a population of 104 million and in the midst of a deep economic crisis, is relying on these announcements to reopen tourism hit hard by the covid-19 pandemic. .
The government wants to attract 30 million tourists annually by 2028, up from 13 million before the pandemic.
The sector, which employs two million people and generates more than 10% of GDP, has been in decline since the 2011 Arab Spring.

Source: Diario.Elmundo