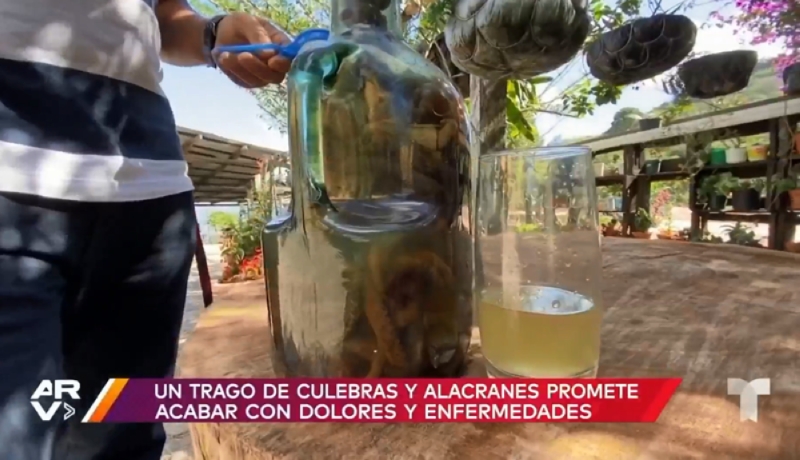 The bottles are filled with brandy and left to ferment for several weeks / Courtesy Telemundo.
In the small town of Santa Ana in western El Salvador, there are strange drinkers made of snakes, scorpions and fruit. In addition to being an alcoholic beverage, those who have consumed it have said that it has become a medicine that helps them fight illness and discomfort.
The producers ensure that this liquor contains various crawling animals and insects, but snakes and scorpions are the main ingredients. They also explain that the drink contains various fruits and hot water.
To prepare this exotic drink, residents put dead animals in glass jars, fill them with brandy, and let them rest for a few weeks before they say the drink is fermented and ready to be consumed.
This drink has been made for over 30 years. They ensure that it originated as a medicinal recipe, but over time it became more popular and consumption became more constant.
For many, this liqueur is a source of true medicinal properties. Because they emphasize that the level of healing is extensive and the effects are immediate.
"It works for rheumatism, bone pain, toothache. It actually puts the whole head to sleep," Santos Cabrera, one of the liquor consumers, told the Telemundo network.

Residents who consume it vouch that this drink is a medicinal extract / provided by Telemundo.
Experts and doctors told Telemundo that the drink should be considered a potential health hazard.
"All medicines are poisons and the only difference is the dosage and again, scientifically we don't even know what this extract that people use to heal contains. It is not known for sure whether they are beneficial, but the amount they are taking probably isn't harmful.
Doctors also believe that this type of home remedy has been practiced in many towns and communities for years, but overconsumption of these types of drinks can lead to long-term health complications. There is a possibility.
Source: Diario.Elmundo