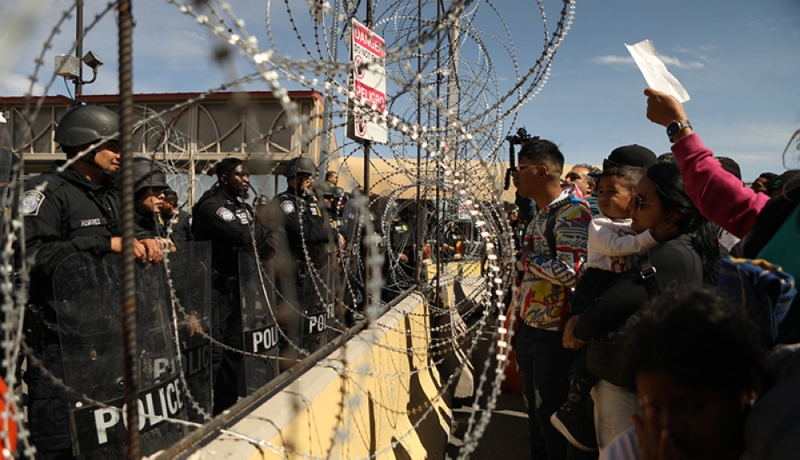 Mostly Venezuelan migrants voiced their claims to US border agents.AFP
A group of mostly Venezuelan migrants, packed in the hundreds, stormed Sunday toward the El Paso border bridge, which connects Ciudad Juárez to New Mexico and western Texas. There, US border law enforcement stopped their advance at a barricade.
The migrants said they were told in Mexican territory that they would be allowed to enter because the day was celebrated as migrants' day in the region. Authorities later realized that it was a strategy of traffickers to force immigrants into the United States.
All the tensions, allegations and frustrations were thus portrayed by AFP.

Most of the migrants have been in Mexico for months, claiming their CBP One applications do not work.AFP
Several Venezuelan families make up this migrant group at the border.AFP
Hundreds of migrants, mostly Venezuelans, tried to cross one of the border bridges in the northern Mexican city of Ciudad Juárez, desperate for asylum in the United States.AFP
Immigration officials estimated about 1,000 migrants made their way to the border bridge between Mexico and the United States.AFP
Migrants, mostly from Venezuela, are being forced to cross to the United States at the Paso del Norte International Bridge in Ciudad Juarez, Chihuahua, Mexico.
Border guards block illegal immigrants from entering the bridge between the US and Mexico.AFP
The migrants claim they have been in Mexico for months waiting for an opportunity to apply for asylum in the United States.AFP
Migrants have been duped on the apparent occasion of Immigration Day in the region, presumed to have been spread by traffickers.AFP
Migrants received by US security forces at barricades and barbed wire.AFP
Source: Diario.Elmundo