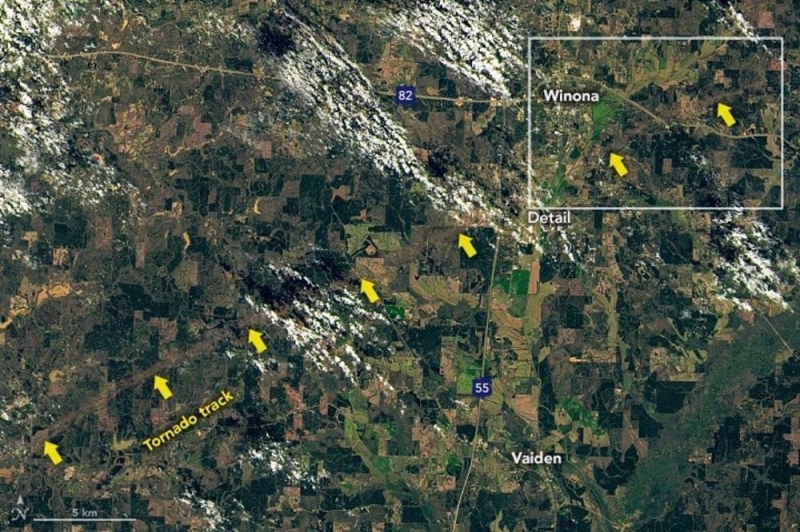 Image from outer space.
A powerful tornado caused by powerful thunderstorms that struck Mississippi and Alabama on March 24 left a trail in an area that can be seen from space.
There were 20 reports of tornadoes in two states that day. Communities in western and central Mississippi were particularly devastated by the storm after two deadly tornadoes tore through homes, businesses and farmland, he reports NASA Earth Observatory.
Around 8:00 pm local time, a violent tornado made landfall near the Mississippi-Louisiana border. As the tornado moved east on Rolling Fork, it snapped trees, ripped roofs off homes, and knocked over the city's water tower. The tornado was a 4 on the Extended Fujita (EF) scale and had wind speeds up to 274 kilometers per hour. It traveled about 97 kilometers northeast and lasted over an hour.
Shortly thereafter, another tornado landed near Black Hawk, Mississippi, 90 kilometers northeast of Rolling Fork. The slightly weaker EF3 tornado flipped cars, wrecked mobile homes and tore power lines with winds up to 150 mph. The tornado headed 47 kilometers east through Winona and stopped near Kilmichael.
Much of the EF3 tornado's path can be seen in the above satellite image captured the next day (March 25) by Landsat 9's Operational Land Imager-2 (OLI) instrument.
Another image shows the tornado's path as it passed over Winona. (The path of the EF4 tornado was out of Landsat 9's field of view.)
Source: Diario.Elmundo