An analysis conducted by central bank experts based on house price index data concluded that both apartment and house transactions and prices have contracted over the past year compared to 2021. It was the only one to show negative behavior throughout the entire period.
2022 property market hit negative figures, according to statistics from Central Bank .
Based on the statistics of Home Price Index (IPV) buy and sell transactions have declined over the past year compared to the previous year and the average of the past five years.
In addition Prices showed negative movements Through 2022, the value of second-hand properties, in particular, will increase. And on a geographic level, the metropolitan area was the biggest contributor to negative IPV numbers over the three quarters.
26% decrease in the number of properties traded
32,000 properties per quarter . That's the average number of homes traded in 2022, down from 39,000 over the past five years and down 26% year-on-year. Specifically, newly listed properties decreased by 33%, and pre-owned properties decreased by 23%.
The central bank said the decline was match the movement of both demand and supply .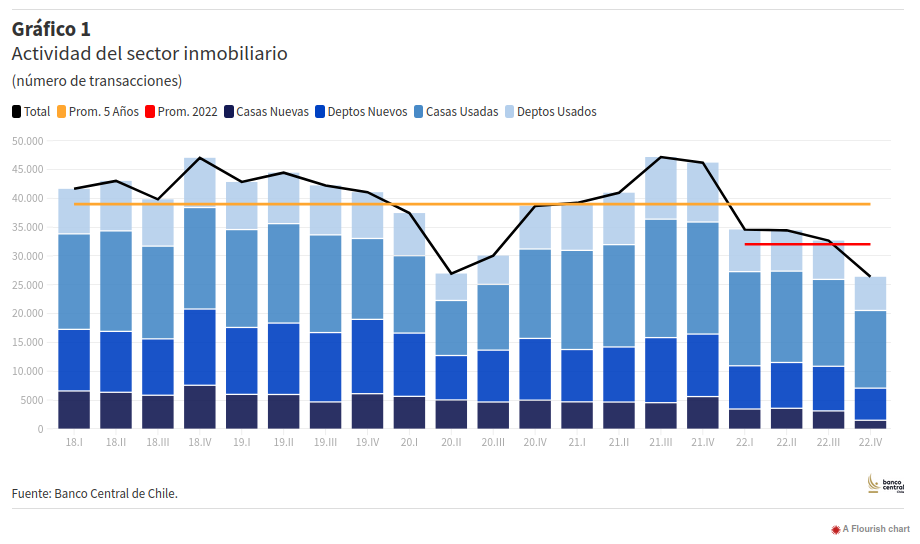 "On the latter, tougher access requirements for mortgages (from December 2021) and higher interest rates (from March 2021) have made access to mortgages more difficult. On the supply side. , activity fell at the same time as construction costs increased and credit limits for new projects," they commented. Juan Jose Barça and Javier Vazquez an economist in the corporate microdata department.
Pre-owned home prices drop sharply
The price of a second-hand house is 11.9% reduction in the last quarter of last year.
"This is in line with demand impacted by further difficulties in accessing credit, higher mortgage rates and lower real wages."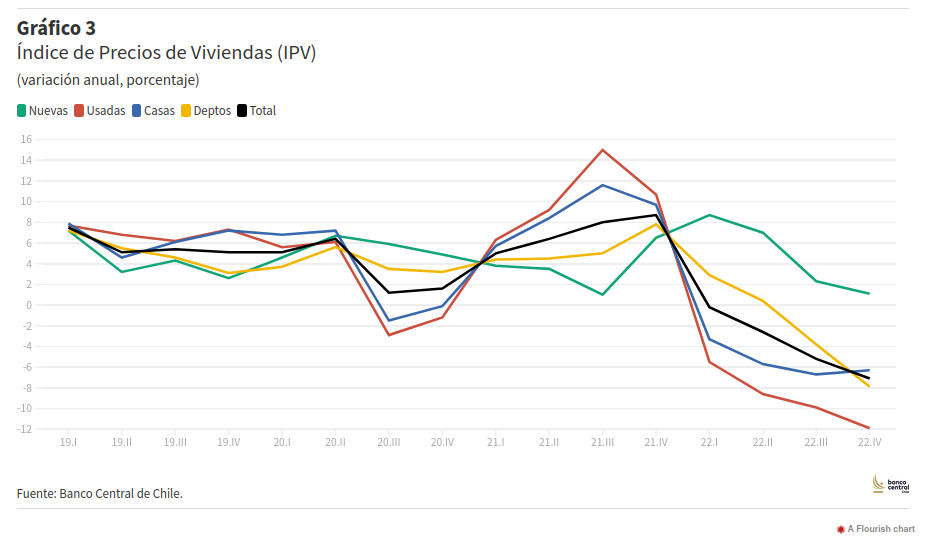 In terms of new homes, despite the economic slowdown, we saw positive annual volatility, which the issuer said could be related to ease of access due to price reductions by real estate.
Downward movement was seen in all areas
Finally, the BC publication concludes with a breakdown by geographic region, showing year-over-year declines in IPV numbers in both the North, Central, and South regions and the metropolitan area at the end of last year.
of Major metropolitan areas with negative levels throughout the year Coquimbo, Valparaíso, O'Higgins and Maule, on the other hand, showed declines only in the last quarter.
The Home Price Index (IPV) is obtained based on: SII management data addressing effective transactions of residential real estate at the national level registered through Form F2890 and complementing the information with data. Land Registry (CBR) .
"IPV is an indicator that allows us to analyze the real estate sector and know the development of relevant Chilean house prices from the perspective of financial stability. While it is one of the main items of household spending, banks and financiers are also involved in this area through mortgage loans and lending to real estate companies." Publication author.
Source: Biobiochile