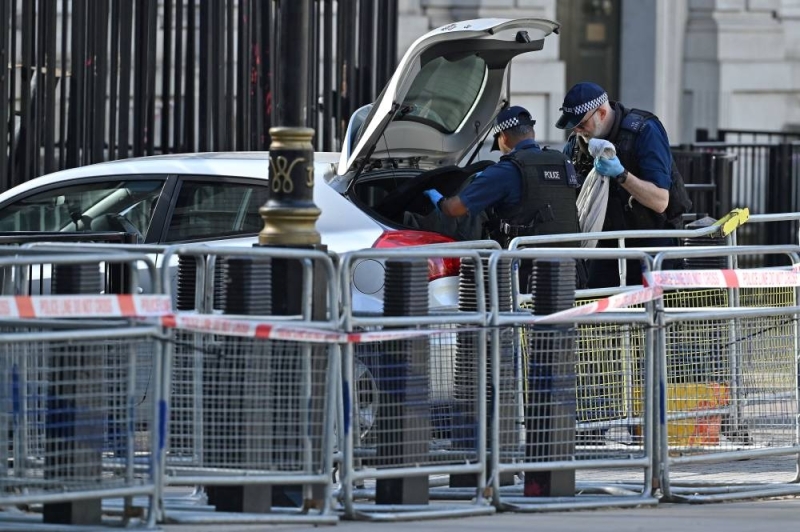 A police officer examines items in the trunk of a car driven to the gates of 10 Downing Street, the British Prime Minister's residence in central London.
Police said on Thursday that a man had been arrested after crashing his car into the metal access gate to Downing Street, the prime minister's residence in central London, and police said they did not consider it an act of terrorism.
"At approximately 4:20 pm (03:20 GMT), a car struck the gates of Downing Street in Whitehall," Scotland Yard said in a statement.
"Armed police arrested a man at the scene, suspected of damaging property and driving dangerously," he added, without giving details of his identity, but he was not injured and an investigation is underway to find out what happened. said it is.
Two hours later there was still a "small cordon outside Downing Street", a second statement said.
"Westminster local police are responding to the incident, which is not believed to be linked to terrorism at this time," it added.
An hour and a half after the incident, the thoroughfare reopened to traffic and pedestrians.
Television footage showed a white car driving slowly down Whitehall before pulling onto the pavement and lightly crashing into a tall black fence that appeared to be intact.
Blocking access to the famous street where the Prime Minister's residence and offices are located, these metal bars were installed in 1989 for security reasons.
Previously, citizens could approach the famous Black Door No. 10 on foot. Over the decades, many Prime Ministers have appeared before cameras around the world at this door.
Source: Diario.Elmundo