There were no reports of casualties
The Ukrainian military said it had shot down ten Russian missiles and 25 drones overnight, which were sent by Russian forces over the capital Kiev, the city of Dnipro and the provinces of eastern Ukraine.
In May, the Russian army intensified its attacks on Ukrainian cities, mostly targeting infrastructure and logistics facilities on Ukrainian territory. According to Kiev's claims, its army shot down ten rockets fired from near the Caspian Sea during the night, 23 drones of Iranian manufacture and two others drone. A few missiles hit targets in the Kharkiv area and Dnipropetrovsk. No casualties were reported.
"We have a very difficult night behind us. It was very loud as the enemy launched a large-scale attack on our countryside," said the governor Dnipropetrovsk Sergius Foxwho added that it was in Dnipro several houses and cars destroyed. They were in Kiev in the roof of the shopping center, a private house and several vehicles were damaged in the attacks. "Another air raid on Kiev, the thirteenth in a row since the beginning of May! And as always at night," the city's military administration announced on its Telegram account. They wrote that Russian Tu-95MS strategic bombers fired cruise missiles at the city from the Caspian Sea area.
It is the Ukrainian General Staff in reported 55 Russian airstrikes on his daily morning report in in the last day, of which 36 by drones and four rocket attacks. An S-300 missile hit a dam in the area Karlivka in Donetsk region, so there is a high risk of flooding other nearby settlements, they also wrote.
In Russia, meanwhile, the detonation damaged a building, according to local authorities in place Krasnodarwhich lies near the Ukrainian peninsula of Crimea, but claimed no casualties.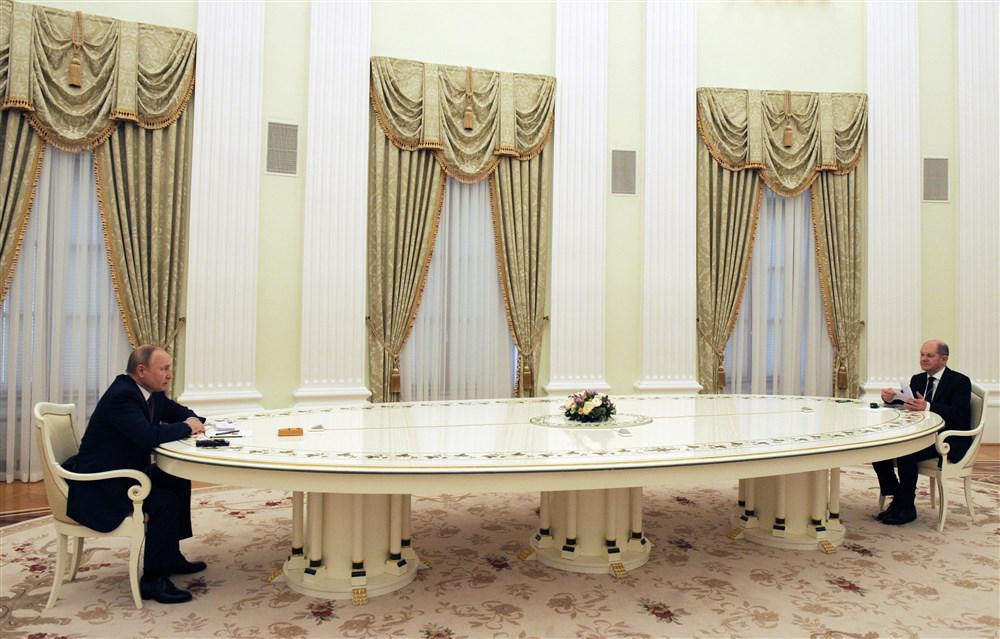 Scholz still plans to talk to Putin
German chancellor Olaf Scholz it is in interview for a German newspaper Cologne Stadt–Anzeiger said he intended in to speak with the Russian president again in the future Vladimir Putin. He insisted that his goal was further "actively support Ukraine", however "while also preventing direct conflict between NATO and Russia".
When asked about the possibility of ending the conflict through negotiations, he said that Putin must understand that the war cannot be ended by concluding some kind of cold peace. "For example, by changing the current front line in a new 'border' between Russia and Ukraine," he said. A condition for a just peace is the withdrawal of the Russian army.
He declined to answer the question of whether Putin should step down, saying that in the end an agreement between the two governments would be necessary in Moscow and Kiev. Some time has passed since his telephone conversation with Putin, he admitted, but he is ready for further talks. "When the moment is right, I plan to talk to Putin again," he said.
The two leaders last spoke on the phone in beginning of December last year. In that hour-long conversation, Scholz called on Putin to withdraw Russian troops from Ukraine, and Putin accused the West of pursuing a "destructive" policy.
Since then, tensions between Moscow and Berlin have only escalated, particularly after the Scholz government authorized the shipment of German-made battle tanks in January in Ukraine.
Japan tightens sanctions
Meanwhile, Japan announced a new package of sanctions against Russia and condemned Russia's announcement that it will install tactical nuclear weapons on the territory of Belarus. "Japan is the only country that in experienced the consequences of a nuclear bomb during wartime, it will never come to terms with a Russian nuclear threat, let alone the use of nuclear force," said the chief of staff of the Japanese prime minister Hirokazu Macuna. At the same time, Tokyo announced that it would freeze the assets of 78 Russian organizations and 17 individuals and ban exports for 80 Russian companies.
Source: Rtvslo