The Boeing 757-200, the successor to the Tango 01, has a capacity of 39 passengers. Arrived from Miami at 5:14pm and identified as "ARG-01".
After months of negotiations and waiting, the President Albert Fernandez From May 25th of this year, Argentina's new presidential aircraft will be available. Boeing 757-256.
But when he landed at the airport, Jorge Newbery from the city of Buenos Aires Controversy arose due to a maneuver that was performed several meters away from the truck.
Minutes before actually landing, the aircraft descended several meters from the runway, It can fly just 45 meters above the ground.
The pilot then turned the plane sideways, turned in the direction of the Rio de la Plata and resumed flight. Prior to this event, he had flown above. May Plaza, Directly above Casa Rosada, just after the end of the bill led by the Vice President Christina Kirchner.
The plane practically landed at the airport at 5:14pm in heavy rain coming from Miami. A place prepared and painted to serve the Argentinean Head of State.
Longtime aviation pilots are furious about flying the presidential plane.
crazy pic.twitter.com/2ohmweZ1ir

— Luis Gasulla (@LuisGasulla) May 25, 2023
The operation provoked criticism from experts. In this sense, pilot and consultant Carlos Linzelli thinks: "Quite illogical."
"Can you do this on an airplane?" If so? If nothing is coordinated and no one asks him for it, it's totally illogical," he commented. Dialogue with TN
"This is a new plane and the pilots have just qualified to fly the plane. Added.
Features of the new Argentine presidential aircraft
It's an autonomous aircraft overseas trip.
It was obtained after delivery of the historic Tango 01, It is worth about $3 million and is currently unused. The difference is just over $22 million.
The new aircraft was manufactured in 2000 and is a model that started operating as a commercial aircraft. In 2009, the interior was changed to VIP specifications.
According to U.S. registration records, the plane originally belonged to Iberia Airlines. It had the identifier EC-HIP.
Later, on May 28, 2005, it was changed ownership by Funair Corporation of the United States and renamed N757AG.
On April 13th, it appears that ownership has already changed in favor of the Argentine government. It is identified as ARG-01.
In the rear of the aircraft you can see the new name "Argentina 01" given to the presidential vehicle.
This will give you the abbreviation "ARG01", It will be used after it has been handed over to the national authorities.
As for origins, the new transport has some technical updates and has gone through some changes from passenger to executive.
In addition to technological development, Argentina 01 also has bedrooms, meeting rooms, and a small number of spaces.
The crew required for operation is two pilots and three cabin attendants, and the capacity is 39 seats.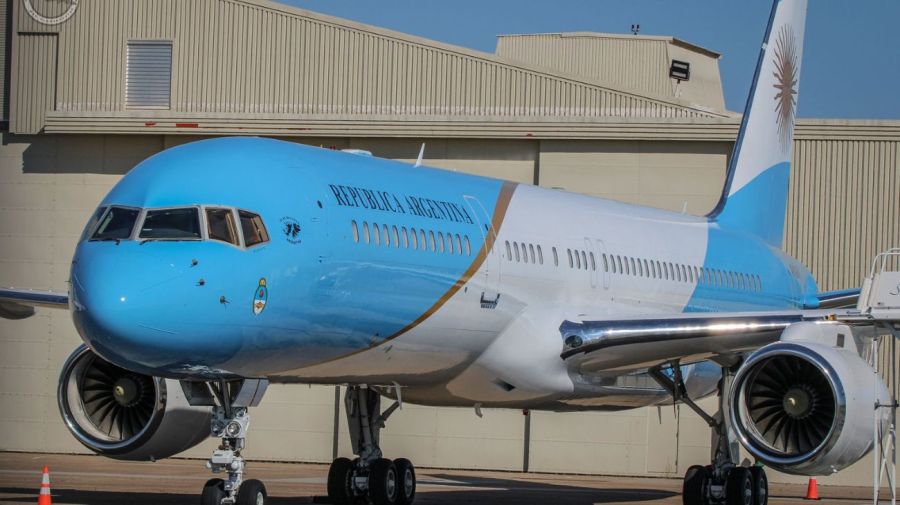 Comfort of ARG-01
– Main room: consists of 12 seats distributed over 2 chaise lounges with 4 seats each and 4 individual presidential armchairs.

– This is a room with a private bathroom.

– 2 meeting rooms consist of 2 facing chaise longues with 3 seats, 1 stowed. These rooms can be converted into bedrooms.

– Main bathroom, aft bathroom, crew bathroom

– The rear cabin consists of 12 seats for passengers to rest.

– Crew rest areas and two galleys feature advanced technology and practical configurations that facilitate the functioning of onboard services.

– A system of electric windows that can completely darken an area or reduce the light intensity.

– Intruder detection system by camera with video recorder. An infrared sensor captures external motion.
All of the above plus 5 high-speed digital steam ovens, 3 refrigerators, 2 coffee makers, 2 Nespresso machines, 2 microwaves, 1 garbage compactor and 1 refrigerator/freezer.
These are equipped with backup lighting systems that can continue to power some specific systems even when the aircraft's main power is off.
Finally, it was detailed that the plane has an air conditioning system, electricity, and an LED lighting system.
This reduces consumption, improves lighting capacity and prevents possible sources of fire on board due to overheating.
Source: Biobiochile