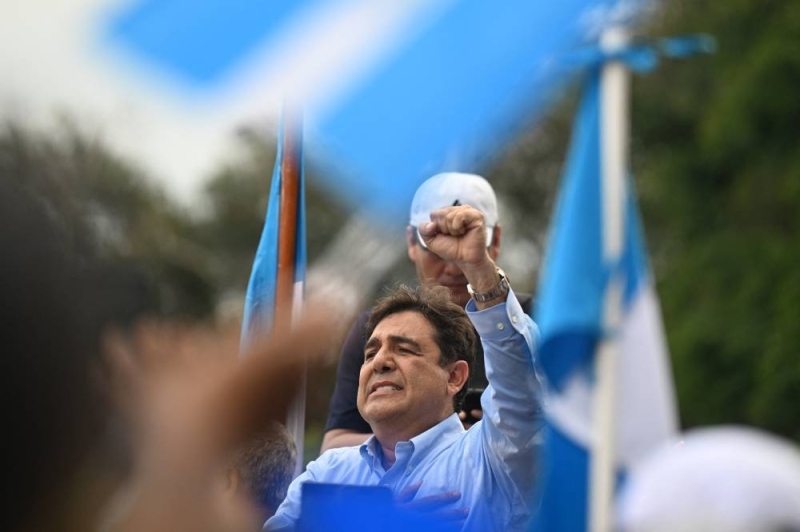 Guatemalan presidential candidate Carlos Pineda (center) of the Prosperida Ciudadana Party speaks with supporters outside the Constitutional Court of Guatemala City on May 20, 2023.
Guatemala's supreme court of justice, the Constitutional Court (CC), on Friday allowed the temporary exclusion of a businessman who led several polls from the presidential candidacy for June's election.
In a statement, the CC said it had declared "inadmissible" an appeal by candidate Carlos Pineda seeking to overturn a court ruling last Friday that barred the candidate from running because of allegations of cheating at the party's convention.
"Corruption won, Guatemala lost. No to election fraud." After learning of the CC interim resolution, the right-wing candidate wrote on Twitter: Judgment is likely to be handed down in the next few days before the verdict is finalized.
Shortly afterwards, Pineda, 51, who is running for the Prosperida Ciudadana party, joined a demonstration by dozens of his supporters in front of the courthouse. The complaints keeping him out of contention were made by the CHANGE group he was a part of.
The Supreme Electoral Court has already ruled out several candidates for the June 25 general election, including indigenous activist Thelma Cabrera (left) and former president Alvaro Arzu, who was eager to vote. (1996-2000) son Robert Alz.
In Cabrera's case, he said election officials had a current complaint against his vice-presidential candidate and determined that Ars started campaigning before he was allowed to.
In a statement released last Saturday, the European Union expressed "concern" over "repeated decisions on the exclusion of electoral candidates".
A poll by Prensa Libre in early May found Pineda at the top of the list with 23.1% willingness to vote, followed by former Social Democratic first lady Sandra Torres at 19.5%.
Former UN official Edmund Murlett (center) followed at 10.1%, followed by conservative Zuri Rios, daughter of the late dictator Efrain Rios Mont (1982-1983), at 9.2%.
Another study by Prensa Libre found that about 9.3 million Guatemalans were asked to vote to elect the successor to President Alejandro Giammatti, but 75% of the population disapproved. .
160 members of parliament, 340 mayors and 20 members of the Central American Congress are also elected.

Source: Diario.Elmundo