Ahead of the national holiday celebrations, the National Consumer Service (Cernac), in collaboration with the Ministry of Agriculture (Minaguri) and Odepa, Research and comparison of "Canasta Dieciochera".We detail the lowest and highest priced supermarkets When purchasing representative products for these dates.
When you purchase "Canasta Disiochera" (product details will be described later) at a supermarket, etc., The cheapest chain was Santa Isabel, priced at $38,301. Unimarc, on the other hand, was the most expensive, valued at $53,980.
That's a difference of up to $15,679.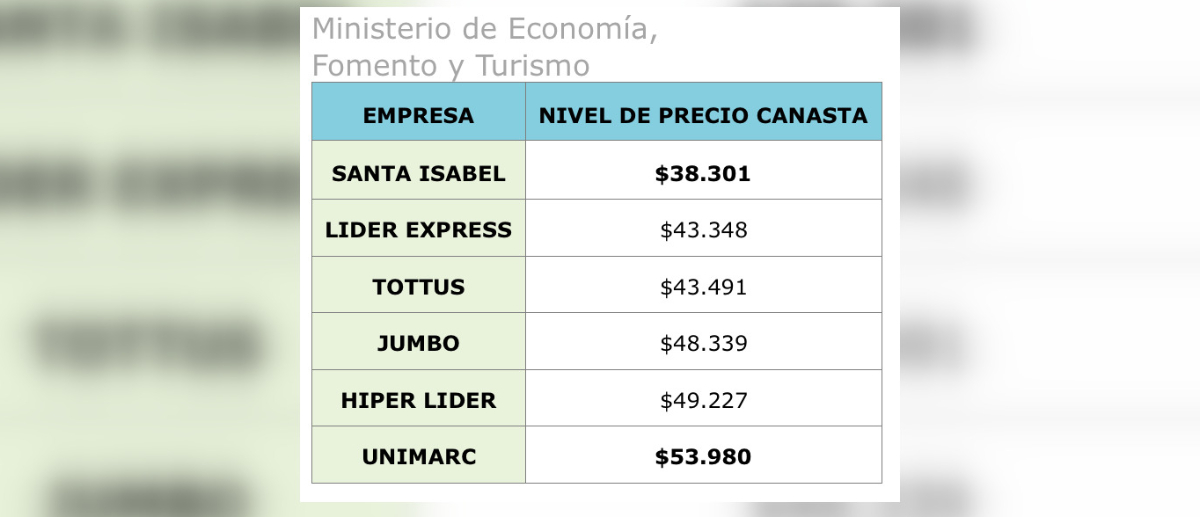 For this analysis, Cernak considered: 14 products A typical basket for 4 people (for example, 300 grams of meat per person), representing the September 18th celebration, requires:
-Butcher roast: 1.2 kg.
-Pork ribs: 1.2kg.
-Chicken breast: 1.2kg.
-Green chilli: 0.3kg.
-1st grade rice: 1kg.
-Disposable fantasy drink: 2 liters.
-Coal: 2.5kg.
-Onion: 0.5kg.
・Lettuce: 1 piece.
-Lemon: 1kg.
-Grilled sausage: 0.7kg.
-Maraquet: 0.5kg.
-Potato: 1kg.
-Tomato: 1kg.
Note that this analysis includes 17 supermarket chains (Abugosh, El Canario, Santa Isabel, Jumbo, El 9, Familia Center, Mayorista 10, Provimarket, Puritan, Rofil, Super 10, Tottus , Único, Unimarc, Lider), Hyperreader).
Big differences between products
Cernak said that in analyzing a supermarket chain with all products in a basket, he found significant price differences for each product that made up the basket, and that this was primarily found in meat products and their derivatives. It is said that it will be done.
for example, The highest price for a kilo of grilled sausage at Supermercado Unimark was $8,694, while the lowest price at Mayorista 10 was $2,933. That's a difference of $5,761 (196%).
"It is important to consider that price also depends on consumer choices regarding the brands and types available," Cernak said.
Another relevant difference is found in kilograms of pork ribs. Its highest price is his $11,268 for the Hyperrider. Meanwhile, the lowest price is Santa His Isabel's his $5,535. That's a difference of $5,733 (103%).
Butcher roasts also have important differences. The highest price per kilo was $11,508 for jumbo. Meanwhile, the cheapest was his $6,468 in Santa Isabel. This means a difference of $5,040 (78%).
In the case of potatoes, there is not much difference in prices in supermarkets. Unimarc, Tottus and Super 10 reach a maximum price of $2,390 per kilo. The lowest price reaches $1,990 at Supermercado Único. That's a difference of $400 (20%).
There was an important price difference in green chillies. For example, the highest price was $1,986 for 300 grams at Unimarc. Meanwhile, the cheapest one was Tottus, which reached $1,287. That's $699 cheaper (-54%).
Source: Biobiochile