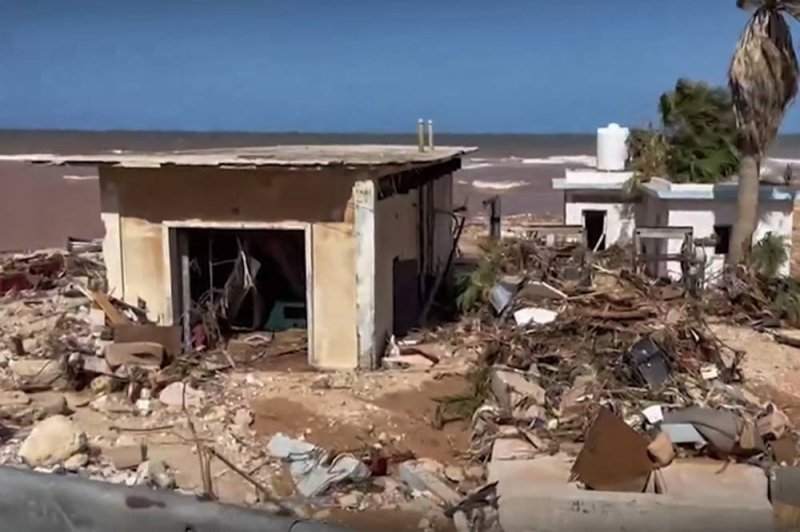 This image, taken from an image posted on social media by Libya's Almasar TV channel on September 13, shows the extensive damage caused by flooding after Mediterranean storm Daniel in the eastern Libyan city of Derna. It shows. /AFP.
Libya continued to be reeled by devastating floods on Wednesday, with authorities saying more than 3,800 people were killed and thousands more missing, displaced and partially submerged in water and mud in the coastal city of Derna. announced.
The death toll continues to rise in this eastern Libyan city hit by Storm Daniel on Sunday, with bodies piling up in the streets waiting to be taken by vans to cemeteries.
At least 30,000 people in the city of 100,000 people have been evacuated, the International Organization for Migration (IOM) said on Wednesday, while uncertainty remains over the exact number of victims of the disaster.
Images broadcast on social media by a local television station showed a post-apocalyptic scene in Derna, with desolate streets, demolished buildings, destroyed bridges and landslides.
Derna is currently only accessible from two entrances on the south side (there are normally seven). IOM said communications were limited due to widespread power outages and disruptions to communication networks.
The organization also reported 3,000 displaced people in al-Bayda and more than 2,000 in Benghazi, two cities further west.
Libya is divided between two rival governments, the internationally recognized one based in Tripoli and another in the disaster-hit east. Both authorities have cited "several thousand" deaths.
So far, 3,840 deaths have been recorded in the city of Derna, of which 3,190 have already been buried, said Lieutenant Tarek al-Kharaz, a spokesman for the government's interior ministry in the east of the country. The victims included at least 400 foreigners, mainly Sudanese and Egyptians.
Eastern authorities say more than 2,400 people are still missing and fear the final cost of the floods could be even higher, given the plight of the victims and the difficulty of rescue efforts. .
big explosion
Osama Ali, a spokesman for the Libyan Emergency and Relief Agency in Tripoli, said on Tuesday that flooding had left "more than 2,300 people dead" in Derna, around 7,000 injured and more than 5,000 missing.
Officials from the International Federation of Red Cross and Red Crescent Societies (IFRC) reported that 10,000 people may be missing.
These floods are the worst natural disaster in Libya's eastern Cyrenaica province since the 1963 earthquake that shook the city of Al-Marj (eastern part).
Storm Daniel reached Libya's east coast on Sunday, first moving east from the large city of Benghazi, and reaching the areas of Jabal al-Akhdar (northeast), Shahat (Cyrene), al-Marji, al-Bayda, and Susa (Apolonia). Proceeded towards the city. Delna.
Two dams burst in Wadi Derna early Monday morning, blocking water from the wadi. A wadi is a waterway in the center of a city that usually carries water during the rainy season.
Witnesses told Libyan media they heard a "huge explosion" before a huge torrent reached the city, flooding the embankments and sweeping away bridges and entire neighborhoods, along with their residents.
Bodies began surfacing in the Mediterranean Sea on Tuesday, as the water turned muddy brown.
risk
The European Commission announced on Wednesday that it would send aid to Derna from Germany, Romania and Finland as part of the European Union's civil protection mechanism, also mobilizing 500,000 euros (about $540,000).
Britain announced £1 million ($1.25 million) in aid and the United Nations said it had released $10 million from its Central Emergency Response Fund (CERF).
Jordan sent a plane full of humanitarian aid, and Italy announced Wednesday that a ship and two military planes would set sail to transport experts and logistics equipment.
Egypt plans to set up a camp in the country's west to protect survivors, state-run newspaper Al-Ahram said.
"Given the scale and complexity of the needs, it is essential to develop a well-coordinated multi-agency approach," stressed the United Nations Office for the Coordination of Humanitarian Affairs (OCHA).
Erik Thorfsen, an official with the International Committee of the Red Cross (ICRC), warned that the floods had "washed unexploded explosives into areas that were previously free of weapons contamination." This poses "significant risks to survivors and humanitarian assistance."


Source: Diario.Elmundo